20th Anniversary of the Yukon River Quest – Race to the Midnight Sun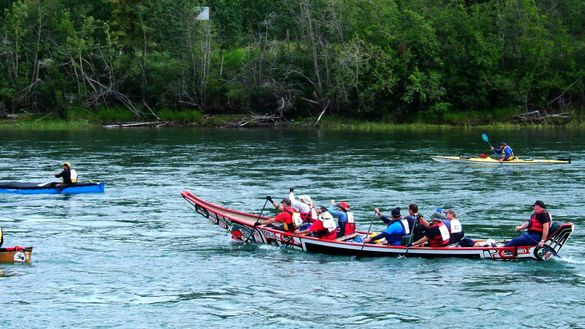 ---
The 444-mile wilderness adventure paddling race is held on the Yukon River from Whitehorse to Dawson City in Canada's Yukon Territory. Taking place during the last week of June (27 June – 1 July, 2018), the Yukon River Quest is the world's longest annual canoe, kayak and stand-up paddleboard race. It is known as the "Race to the Midnight Sun," as paddlers race round-the-clock under a sky that never gets dark. There are just two mandatory rest stops at Carmacks (7 hours) and Coffee Creek (3 hours) as teams paddle non-stop to reach the "City of Gold". The allure of the Yukon River Quest has made it a huge success, and for its 20th anniversary year in 2018, there are already 122 teams registered with paddlers from 16 countries including the United Kingdom. www.yukonriverquest.com
Another major event taking place at the end of June is the Adäka Cultural Festival (29 June – 5 July, 2018). Celebrating and showcasing Yukon First Nations arts and culture, the Festival offers a vibrant program of events incorporating a balance of traditional and contemporary music, dance, drumming, arts and crafts, storytelling, film, artist demonstrations, workshops, cultural presentations, a community feast and more. Featuring local, national, and international artists this Festival encourages artist interaction and the sharing of knowledge, skills, and ideas. At its idyllic location on the Whitehorse waterfront the Adäka Cultural Festival is a great opportunity to learn about the traditional values and time-honored stories of Aboriginal culture. www.adakafestival.ca
Northern festivals are times of enthusiasm and release for Yukoners. Visit the Yukon during the Yukon Sourdough Rendezvous, Discovery Days, Klondike Outhouse Races, Yukon International Storytelling Festival, Yukon Quest Dog Sled Race, Frostbite Music Festival or Dawson City Music Festival and you will see for yourself what the fuss is all about!
Background on Yukon
Situated in the upper Northwest corner of Canada, next to Alaska, the Yukon is Canada's most accessible northern destination. Home to Canada's highest mountain (Mount Logan) and one of the largest non-polar icefields located in Kluane National Park – a UNESCO World Heritage site – breathtaking doesn't describe the vastness, or the beauty!
The Yukon is one of North America's major wilderness attractions; close to 80 percent remains pristine wilderness with 5,000-metre peaks, forested valleys, unspoiled waters and untamed wildlife. Roughly the size of Spain at 483,000 square kilometers, The Yukon is home to more than 160,000 caribou, 70,000 moose, 22,000 mountain sheep, 7,000 grizzly bears, 10,000 black bears and 250 species of birds… and only 40,000 humans!
Yukon canoe/kayak holiday packages available from the following tour operators:
Windows on the Wild  www.windowsonthewild.com   Tel: 020 8742 1556
Frontier Canada  www.frontier-canada.co.uk   Tel: 020 8776 8709
Wildlife Worldwide  www.wildlifeworldwide.com   Tel: 01962 302 086
Follow and Share with Jetsettersblog.