5 NEW Digital Detox Departures for 2018 with KE Adventure Travel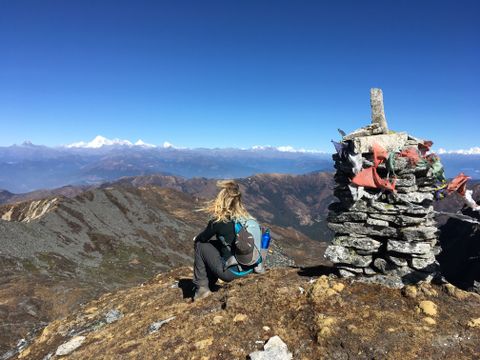 ---
KE Adventure Travel has just launched 5 NEW holidays, each with Digital Detox Departure Dates, for 2018. These holidays have been carefully selected in remote destinations like Bhutan's Valley of the 'Thousand Lakes' where mobile and Wi-Fi signal will be extremely limited. If travellers really want to unplug from reality, give the mobile a rest and go "off-grid" they can join one of KE's specified digital detox departures where at the start of the holiday, the guide will collect everyone's mobile telephone and look after it to the end of the trip.
Alex Greenwood – Head of Development at KE Adventure Travel
"Although we know many of our travellers have the best intentions to 'switch off' whilst they are on holiday – when wifi is available, it can just be too tempting. On these 'digital detox departures', our travellers won't be able share, like, post, tweet or retweet anything. With fellow disconnected travellers they can fully immerse themselves 'in the now' on our exciting new itineraries."

5 NEW Adventures for 2018 with Digital Detox Departure Dates
1.  Daga La and the Thousand Lakes Trek – NEW FOR 2018
Bhutan Digital Detox Departure Date:     04 Nov – 16 Nov 2018
Sensational Himalayan views crossing the Sinchu La (3530m) and Daga La (4520m)
Cross Bhutan's Valley of the 'Thousand Lakes'
Follow ancient trade routes, where few other visitors have trodden
Visit the Takstang Monastery and Punakha Dzong, the most iconic sites in Bhutan
Why? At KE we are pioneers of new trekking routes in all the countries in which we operate and we'll take you to parts of the beautiful Kingdom of Bhutan that other companies are yet to visit, expect quiet trails, friendly remote villages and pristine campsites.
13 days – From £2,995 Land only. £3,715 Ex London
https://www.keadventure.com/holidays/Bhutan-trekking-Punakha-Thimphu        
2.  Ganesh Himal Panorama Trek – NEW FOR 2018
Nepal
Digital Detox Departure Date:    11 Nov – 25 Nov 2018
Classic trekking and camping in style on Nepal's Great Himalaya Trail
The Pansang La and the beautiful ridge of the Tiru Danda
Views of the Annapurnas, Manaslu and the Ganesh and Langtang peaks
A great value holiday with no internal flights – perfect for a first Nepal trek
Why?  Trekking through an accessible and yet rarely-visited region, between Manaslu and the Langtang, this is a full service camping-based holiday and one which offers a taste of Nepal at its most authentic. With 30 years' experience of working in this welcoming Himalayan kingdom, KE is No.1 when it comes to Nepal trekking! Including all meals and services, this holiday also represents great value for money.
15 days – from £1,395 Land only. £2,085 Ex London
https://www.keadventure.com/holidays/Nepal-trekking-Ganesh-Himal-Great-Himalaya-Trail
3. Undiscovered Balkans – NEW FOR 2018
Bosnia and Herzegovina
Digital Detox Departure Date:    15 July – 22 July 2018
A spectacular walking and cultural holiday in Bosnia and Herzegovina with time to explore Mostar and Sarajevo plus Dubrovnik in Croatia.
Hike up Maglic (2386m) Bosnia's highest peak on the Via Dinarica trail
Wilderness areas in the Bjelasnica Mountains and Sutjeska National Park
Stay in the beautiful UNESCO World Heritage gems of Mostar and Dubrovnik
Wander through Sarajevo and enjoy wine-tasting in the old town of Trebinje
Why? With lovely day walks at the start of the holiday you'll be fully prepared for Mount Maglic. KE believes standing on Bosnia's highest peak deserves a reward so we've included wine tasting in Trebenje to help you celebrate
8 days – from £875 Land only
https://www.keadventure.com/holidays/bosnia-walking-croatia-sarajevo-mostar-dubrovnik
4.  El Hierro – The Secret Canaries – NEW FOR 2018
Spain Digital Detox Departure Date:    08 April – 15 April 2018
Unique European walking holiday to El Hierro an undiscovered UNESCO World Biosphere in the Canary Islands
Superb walking including Pico de Malpaso (1501m) El Hierros highest point
Explore Valverde, the laurels of sabinar, Gareo holy tree and Orchilla lighthouse
Walk the GR131 with views across to Mount Teide on Tenerife and La Gomera
Visit San Andres the highest village and look for El Hierro's Giant Lizard
Why? Join the Canary Islands walking experts on this NEW Exclusive to KE holiday which starts on neighbouring Tenerife with its excellent flight connections. We've included all meals plus the ferry and an internal flight back to Tenerife leaving you free to spend your holiday money on well earned treats – how about some of El Hierro's excellent wine for example?
8 days – from £1,095 Land Only
https://www.keadventure.com/holidays/europe-walking-canary-islands-elhierro-tenerife

5.    The Undiscovered Alps and the Valley of Marvels – NEW FOR 2018
France
Digital Detox Departure Date:    16 June – 23 June 2018
A superb one week walking holiday in the heart of the French Mercantour National Park
Go off the beaten track in the "Vallee des Merveilles" with our specially qualified guides to see the ancient petroglyphs
Quiet trails and wild trekking in the land of chamois, ibex and marmot
Enjoy French food in characterful refuges and gites
Visit Nice, the epicentre of Riviera glamour
Why? The Valley of Marvels has the most concentrated area of petroglyphs in Europe and will soon be a UNESCO world heritage site. Explore a quieter side of the French Alps and enjoy some Riviera glamour along the way.
8 days – From £1,025 Land Only
https://www.keadventure.com/holidays/france-nice-walk-alps-mercantour
Further details can be found here: https://www.keadventure.com/articles/item/325-are-you-ready-for-a-digital-detox
KE Adventure Travel offer over 350 holidays worldwide which include summiting Mount Toubkal in Morocco to trekking to Everest basecamp. Established in 1984, KE Adventure Travel is an IATA Accredited agent, a member of ABTA (W4341), AITO (5075) and holds ATOL license (2808).
Marketing Co-ordinator
emily@keadventure.com
Follow and Share with Jetsettersblog.