Abercrombie+ Kent Offers Free Car Hire On Selected Holidays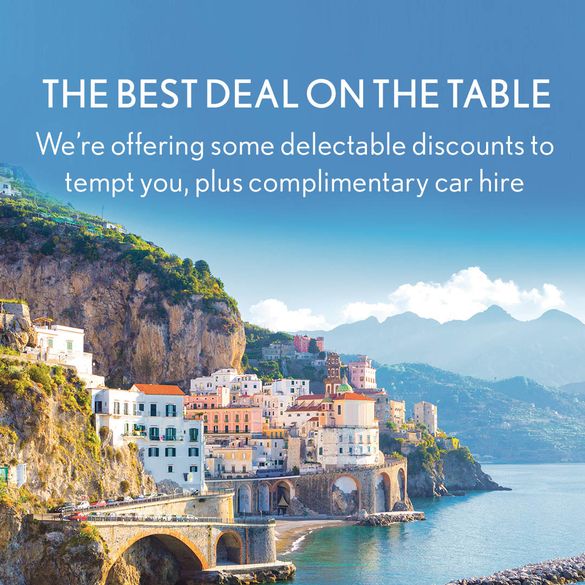 ---
Abercrombie & Kent Offers Complimentary Car Hire On Selected Holidays
For all new Europe*, South Africa and USA holiday bookings
Luxury tour operator Abercrombie & Kent is offering complimentary car hire across several destinations when booking a new luxury, tailor-made summer holiday or villa to select European destinations, USA or South Africa by 23 April 2019.
See below for a selection of our favourite suggested itineraries and hotel stays, as well as viewing our top offers and best beach getaways and our selection of villa holidays.
For more information:
James Treacy | PR & Communications Manager UK | 01242 546686 | Jtreacy@abercrombiekent.co.uk
Terms and conditions
Your holiday's departure must occur between 1 April and 30 September 2019. Minimum holiday length: 10 days. Max car hire duration: seven days. European destinations include Italy, Spain, Greece and France. Terms and conditions apply. Speak to a specialist for further details.
15 NIGHTS FROM £6,985
This tailor-made South Africa tour lets you explore cosmopolitan Cape Town and the delightful coastal drive along the Garden Route
15 NIGHTS FROM £4,975
If you're looking for an epic US road trip, this tailor-made California tour could be the answer
12 NIGHTS FROM £5,680
Tailored for today's family, this classic South West USA itinerary takes in sweeping desert vistas and sculptural sights at a rate and pace that's perfect with children
Discover Florence & Tuscany's food & wine
7 NIGHTS FROM £2,030
Italy's stunning countryside, coastline and culture are second only to its food, which is adored the world over
8 NIGHTS FROM £1,330
Immerse yourself in ancient Greek history as you explore the cultural riches and natural beauty of Athens and the Peloponnese.
Carry on down the Florida Keys
8 NIGHTS FROM £1,635
This Florida Keys itinerary will take you along one of the most iconic roads in the USA, the Overseas Highway to Key West
7 NIGHTS FROM £1,200
Uncover Puglia's historical treasures on this self-drive tour around the heel of Italy's boot
12 NIGHTS FROM £2,295
Hit the road on a self-drive around the Deep South
About Abercrombie & Kent:
Geoffrey Kent founded A&K in Africa in 1962 with little more than a refrigerated ex-Army truck and the best tents money could buy. Then, the company went by the motto 'off-the-beaten-track safaris'. A lot has changed in the intervening years, but we still want to take you down the road less travelled. We devise unique, meticulously planned journeys into hard-to-reach wildernesses and authentic cultures. We win awards for not only our bespoke luxury holidays and unparalleled escorted tours, but also our philanthropic efforts to protect and preserve the places we travel to… because sometimes it's the how as well as the where. Nearly six decades later, with Geoffrey Kent still at the helm and leading our expedition team, we have grown into a family of over 2,500 travel specialists. These experts have all turned their passion for travel into a vocation and between them visited nearly every country on Earth. They continue to go off-the-beaten track every day. They are passionate about helping you find authentic experiences and pushing your boundaries, wherever they might lie. Our long-standing networks allow us to uncover local secrets beyond the reach of most. We can open doors to private palaces; arrange out-of-hours tours of museums and galleries; take you to monuments when not another soul is there. Not much is truly impossible we ensure that your time away is the time of your life. www.abercrombiekent.co.uk
Follow and Share with Jetsettersblog.