Active Family Holidays in France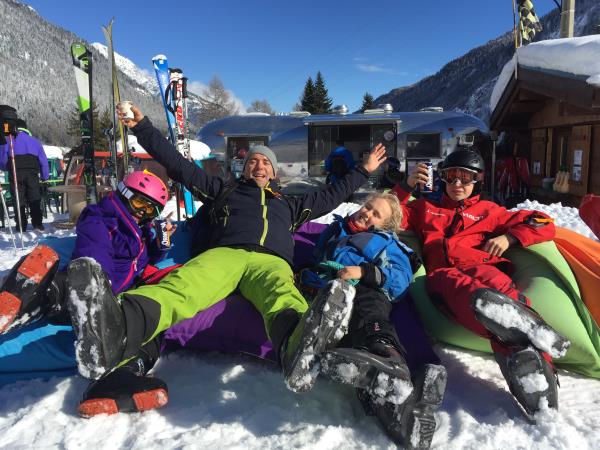 ALTERNATIVE FAMILY WINTER HOLIDAY IN CHAMONIX, FRANCE
Can you imagine a Family Ski Ashram? A community of up to 24 lovely families staying in a rustic ski-in, ski out Outdoor Centre in a quiet hamlet in the Chamonix Valley?… Practising yoga, dance and circus skills and making igloo's in the backcountry? Well, here you have it!!
This is the lowest budget, best value Half Term ski trip possible. It is all inclusive! Each of the 24 families has their own en suite dormitory room. It is fully catered, including lunch. There are daily yoga, dance, and circus skills classes all included. Trips to the Glacier and Ice Cave and up the highest cable car in Europe are also included. In fact, a ski lift pass covering the whole of the Chamonix Ski Area including the Grand Montet and Aiguille du Midi (worth up to €250) is INCLUDED!
On the door step, there is a ski-in/ ski-out area perfect for the younger children, beginners and intermediates.
The whole of the Chamonix valley is a short free train ride away and the train station is 5 minutes walk.
Trains go every hour or you can ski to the Vallorcine Telecabine in 15 minutes. There are rarely queues even on this busy Half Term Week! The skiing at Vallorcine/ La Blame is fab and very extensive. You need to get the train back up to the Outdoor Centre unless you are up for a 30-minute walk.
Ski or snowboard hire is direct from the Outdoor Centre at a discounted €45 for the week including helmets.
The friendly local Ski School gives us a 10% off their published rates. Ski lessons are daily from 9.30-Midday. We have 2 hosts who will scoop up all the children and bring them back to the Outdoor Centre for picnics, crafts and games giving parents an extra few hours of skiing.
The Outdoor Centre has a massive communal dining area and lounge with an open fire. There is a yoga and a dance room, a games room with baby foot, pool and ping pong and a chill-out reading room.
Great friends are made on this trip – between the children but also the adults! We have a growing following and people are coming back on this trip again and again.
Our Circus teachers are great fun and are highly experienced professionals who run a full-time Woman's Circus Company.
There is a wonderful family friendly disco with guaranteed embarrassing parent dancing!!!
There are children from 0 to 18 on this trip although we recommend it for children from 6 and up. There are many single parent families and a big mix of complete beginners and expert skiers all of who are very well catered for on this trip.
Our trip runs Saturday to Saturday. We recommend self-driving or meeting up with other families and sharing a minibus (which will cost around £100 return per person). A car is not needed when you are here so the train and plane to Geneva are also options although the plane is extortionate this week.
We look forward to meeting you and your family!
DAY-BY-DAY ITINERARY
| | |
| --- | --- |
| Day 1: | Aim to arrive by 6pm. Most people drive as this is by far the cheapest option. Alternatively you can take the train to Chamonix or Martigny and then on to BUET, or you can fly to Geneva. If flying, aim to arrive by 3pm and budget £60 per person return for the transfer). There will be a welcome circle, orientation and dinner will be at 7.30pm on the first evening. |
| Day 2: | On Day 2 breakfast will be from 7-8am and you will get your skis and picnics from 8-9am. The ski lifts start running at 9am. Ski School is from 9.30-Midday. Our hosts will pick up the children (6+) and be with them until 1.30pm. From 5-6pm we will all meet in the Games Room downstairs. Dinner will be from 630-7.30pm with Circus skills from 8-9pm |
| Day 3: | Yoga is 7.15-8am Breakfast is 8-8.45am Ski School is 9.30-Midday Out hosts collect the children who are 6+ for picnics and games in the Outdoor Centre. From 5-6pm our hosts offer igloo building, sledging and movies. Yoga is sometimes offered from 5-6 too. The bar is open from 4.30pm and free hot chocolates and tea are offered each afternoon. Circus skills are offered 8-9pm. |
| Day 4 | See Day 3 There is an optional free trip up to the Monenver Railway to see the receding glaciers and Ice Cave museum. |
| Day 5 | As Day 3… Life is good!! Free optional trip up the Aiguille du Midi, the highest cable car in Europe. |
| Day 6: | As Day 3 except we have a big after dinner Disco!! |
| Day 7: | As Day 3. From 5-6pm we check back in our ski gear and return ski passes. |
| Day 8: | Breakfast is 6.30-7.30 to give us all a chance to get back home in time for school and work on Monday. |
Hello. If you'd like to chat about this holiday or need help finding one we're very happy to help. Rosy & team.