Audley Travel Expands Its Canada and Alaska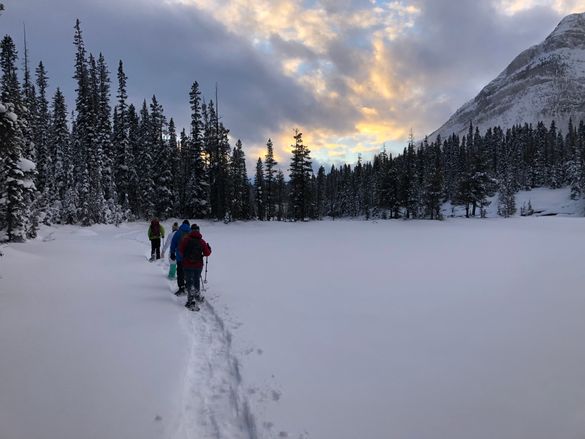 ---
Available to book for winter 2019 / 2020
Audley Travel's North America specialists have been sourcing authentic and exciting experiences for its tailor-made programme in Alaska and Canada during the winter season (November to April).  This Friday (26th April) they launch a dedicated winter offering for clients to enjoy the different world that Canada and Alaska become under the cover of snow.
Highlights range from witnessing the northern lights and dog-sledding through the snow to impressive ice-carving festivals and charming Christmas markets – all experiences that won't be found once the snow melts away.
The northern lights in Alaska, the Northwest Territories and the Yukon
Audley works with intimate, rural lodges located about an hour from the main northern lights viewing hubs of Whitehorse, Yellowknife and Fairbanks, where clients join a small group and can combine aurora watching with snowmobiling, dog-sledding, snowshoeing or ice fishing.
Audley's specialists recommend staying three to four nights for the best chance to see the lights. Staff at each property will wake sleeping guests (providing solar activity is high with no cloud cover) to enjoy the spectacle from beside a camp fire and adjust the programme the next day to allow them to catch up on their sleep.
Exploring the Rockies in the snow
Winter in the Rockies is all about being outdoors. The winter conditions transform the mountains to a different backdrop to that seen in summer, but they are still as accessible. Dog-sleds and snowmobiles enable guests to travel about, and the use of snowshoes means visitors can explore the miles of trails running through the national parks.
Audley's specialists recommend dog-sledding in Jasper, having a go at ice-hockey in Canmore, a Johnston Canyon guided walk in Banff, seeing the glaciers and mountain peaks of the Rockies on a helicopter tour and exploring Crescent Falls and Abraham Lake in Alberta (walking across the frozen surface to see the myriad bubble formations trapped in the ice).
Christmas markets and winter festivals in Canada's eastern cities
For clients keen to visit the cities in winter, Audley recommends Ottawa's Winterlude for ice sculpting and Québec City's Carnaval to enjoy street parties, night parades and a canoe race on the frozen Saint Lawrence river. The cities' attractions (including galleries and museums) remain open during the festivals and visitors can enjoy these with fewer people around.
European-style Christmas markets in cities including Toronto and Longueuil in Montréal are in full swing by the end of November, and frozen waterways across the cities become temporary ice rinks for locals and visitors alike.
Day trips from the cities give clients easy access to the snow-covered wilderness with snowmobiling or riding an e-fat bike (a wide-tyre and electrically-assisted two-wheeler) on Mont-Tremblant's forest trails a favourite for the Audley team.
Polar Bear watching in Hudson Bay
Whilst Canada's grizzly bears hibernate in winter, early November is the perfect time to see the polar bear. They gather in their scores on the edge of Hudson Bay, anticipating the big freeze that will enable them to step onto the ice and start hunting for ringed seals, their main food source.
Audley's clients will watch the bears as part of a small group, following their progress in a specially adapted tundra vehicle, led by an expert guide with a passion for the bears and their environment.
James Butler, Product Manager for Canada and Alaska at Audley Travel, says: "Canada and Alaska are both fantastic destinations to visit throughout the year and have always proven popular with our clients. We are delighted to be able to now offer carefully curated experiences for winter visits, in itineraries designed to showcase the best of the destinations in these snow-covered months."
Sample itineraries
Audley Travel offers tailor-made trips to Canada. A 10-day trip visiting Vancouver, Whistler and the Yukon costs from £3,390 per person (based on two sharing). The price includes flights, transfers, accommodation and excursions including dog-sledding, snowmobiling, shoeshoeing and northern lights viewing. For more information visit www.audleytravel.com/winter-canada or call 01993 223 480.
Audley Travel offers tailor-made trips to Canada. An 11-day trip exploring Canada's eastern cities by train costs from £2,390 per person (based on two sharing). The price includes flights, transfers, rail travel between cities, accommodation and excursions. For more information visit www.audleytravel.com/winter-canada or call 01993 223 480.
Highlights by month:
November – the best time to view polar bears on the edge of Hudson Bay
December – the ideal time to enjoy the Rockies at a much quieter time of year, staying in a log cabin or hotel
January to March – the best months to enjoy dog-sledding, snowmobiling and helicopter rides to see the landscape thickly iced in snow
February – ideal to enjoy the big winter festivals — Ottawa's Winterlude and Québec City's Carnaval
Follow and Share with Jetsettersblog.