British Guide Takes First Place at Wanderlust World Guide Awards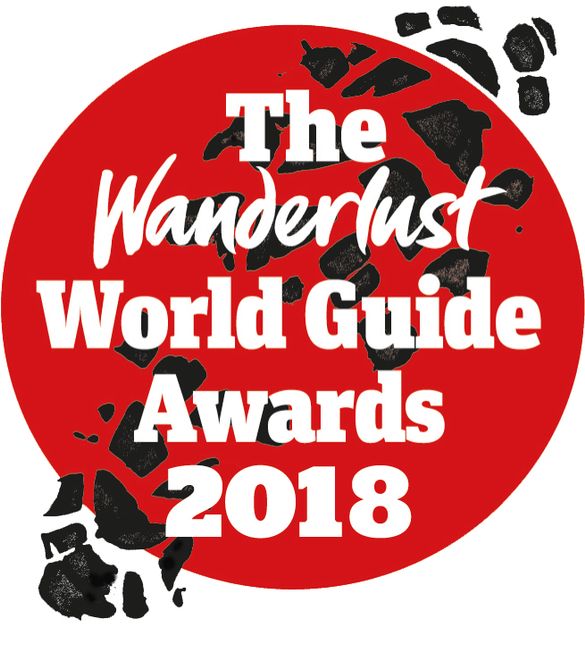 ---
As it celebrates its 25th anniversary, Wanderlust magazine has announced the winners of its 13th World Guide Awards. This year saw Brit Julie Gabbott presented with the Gold Award by renowned travel writer Bill Bryson at the ceremony, held at London's Royal Geographical Society on Thursday 4 October 2018.
These awards are sponsored by Craghoppers UK and recognise the world's best tour guides and honour the often unsung heroes of the travel industry, as voted for by Wanderlust readers and a panel of knowledgeable and experienced judges.
To mark its anniversary, Wanderlust also introduced three 'Special Awards' commending the Top Safari Guide, Top Conservation Guide and Top UK Guide, as well as a 'Special One-Off Award' on the night presented to London-based social enterprise company Unseen Tours.
Winning guide Julie, who guides for Dragoman, has had a passion for adventure since a young age, leaving her home in Preston at 19 to search for her next adventure. Before beginning her successful career as a tour guide, she designed self-drive tours and managed a ski company. She is now a real support to her team, training colleagues as well as leading trips all over the world, and has a strong willingness to help others as well as a considerable amount of empathy.
Canadian Neil Rabjohn won the Silver Award this year. His passion for travelling came about while studying in Hong Kong, and from there he has travelled all over the world, taking part in mountain and cycling activities. He now spends his time in South America where he has guided tours for the past five years for G Adventures.
The Bronze Award was given to Abderrahim Oukioud from Morocco, who has guided for Intrepid for over six years and is a dedicated campaigner for all sustainable and responsible travel in his country.
It was a tough job to choose the winners this year, with a record-breaking 4,300 guide nominations.
The industry experts who judged this year's awards include: Wanderlust co-founder and editor-in-chiefLyn Hughes; experienced wilderness and adventure guide Myles Farnbank; travel industry guru Derek Moore; author, photographer and TV wildlife expert Mark Carwardine; and Gill Russell from Craghoppers UK. At the ceremony, the panel were also joined by previous judges including legendary travel writer Bill Bryson, while Kate Humbleand Simon Reeve sent video messages of support.
Craghoppers have donated generous bursaries to all our winning guides, which they will put towards projects and charities of their choice.
Wanderlust co-founder and judge Lyn Hughes stated: "Judging the Wanderlust World Guide Awards is a bittersweet challenge. It's a joy because the judges and I are always blown away by the wonderful testimonials sent in, and the sheer amount of nominations this year meant that it was even harder than usual to choose the winners! I spend hours reading impassioned inspirational anecdotes – often with a tear in my eye."
Special One-Off Award for Unseen Tours in London
At the ceremony an extra one-off special award was given to Unseen Tours, a social enterprise that offers paid work to homeless people, guiding walking tours in London. Sponsored by new travel app MakeMyDay, the award was collected by Jasmine Awad of Unseen Tours and Pete Wilson, one of the guides who has been helped through the scheme.
"For our tour guides to be recognised in this way is a great achievement. We aim to build the confidence and skills of the homeless and formerly homeless people we work with, and for them to be able to share the stories of their lives, their communities and the local history of the areas of London that they know best is something that we're really proud of. The fact that we can change peoples' attitudes to homelessness while we do this means everything to us," commented Jasmine.
Other 'Special Award' categories saw Zimbabwe-born Garth Hovell, who guides for Abercrombie & Kent, commended as Top Safari Guide. Garth is regarded as a lifelong friend for clients, and judges commented that his passion jumped out.
Alex Graeme of Unique Devon Tours was awarded Top UK Guide, with clients describing him as "relaxed, warm and welcoming" as well as commenting that "he is a massive asset to tourism in the South-West".
Ecuadorian Pablo Valladares, who guides in Ecuador for Galakiwi, was awarded Top Conservation Guide. Before guiding, Pablo divided his time between the Charles Darwin Research Station and the Giant Tortoise Breeding Centre.
Congratulations to the 2018 Highly Commended Guides:
Ashraf Masoud, AHI Travel and Abercrombie & Kent, Egypt
Phauk Kimhoun, G Adventures, South-East Asia
Sara Bull, Exodus Travels, Worldwide
Gabo Candal, G Adventures, Europe
The full results of the World Guide Awards 2018 will appear in the November issue of Wanderlustmagazine, on sale from 11 October and priced at £4.50. The issue is the magazine's biggest ever and celebratesWanderlust's 25th anniversary with special features and a complete redesign. For more details on the above, please visit www.wanderlust.co.uk and www.worldguideawards.com.:
Full details of the Wanderlust World Guide Award winners announced today are as follows:
Gold Award – Julie Gabbott, Dragoman
Julie's passion for going above and beyond for clients has been seen throughout her entire career on the countless worldwide tours she has guided. Starting her career in New Zealand and then moving to France, she then joined Dragoman back in 2013 as a trainee guide and from here has travelled all over the world while moving through the ranks. Her fellow colleagues admire her enthusiasm and quick thinking. Julie is planning on splitting her winning bursary of £5,000 between Zara Charity in Tanzania (which works towards powering schools for Maasai children) and a charity supporting female victims of genital mutilation in Sierra Leone.
Wanderlust readers and Julie's past clients won the judges over by commenting on her empathy, humour and passion. She was nominated for numerous reasons, including being "the best guide I have encountered in 40 years of adventure travel" and "she did something much more valuable than many other guides I've travelled with: she gave a bit of herself to help me".
To book a trip with Gold Winner Julie Gabbott:
Dragoman is offering the Dragoman's Dakar and Accra via Togo and Benin Tour with Julie. This impressive 70-day trip (departing 12 November 2018 to 28 January 2019) covers West Africa, with highlights including spotting pygmy hippo, lions and elephants, plus visiting the Great Mosque of Touba in Senegal. Priced from £4,285 per person, excluding flights. To book, visit www.dragoman.co.uk or call 01728 861133
Silver Award – Neil Rabjohn, G Adventures
Neil's dedication to his clients is apparent (with hand-written postcards sent to each one), as is his enthusiasm for travel. His clients describe him as empowering, with one commenting, "Neil is the Chuck Norris of guides; the Batman of travel". He plans to donate his £2,500 bursary to G Adventures' charitable foundation Planeterra, which supports community-owned enterprises.
Bronze Award – Abderrahim Oukioud, Intrepid
With over six years of guiding at Intrepid, Abderrahim Oukioud has plenty of impressive tales to share and has a real passion for Morocco itself, having been born in the Atlas Mountains. He's described by clients as someone who "always goes above and beyond" by using his skills to add memorable experiences to trips, such as sunset camel rides and the opportunity to converse with the locals. He plans to donate his £1,000 bursary to the development of a school in Tarzout for Berber children.
25 years of Wanderlust magazine and the beginnings of the World Guide Awards:
Wanderlust was launched by Paul Morrison and Lyn Hughes in 1993. The couple were bored on a long flight from South America and decided to sketch out their dream travel magazine on the back of a sick bag. They soon decided that they could do it themselves and that there could be no other name for it but 'Wanderlust'. Over the past 25 years, the magazine has established itself as the bible for independent-minded travellers.
After Paul sadly lost a long battle with cancer in 2004, Lyn continued the magazine as a testament to Paul's love of travel. However, she wanted to do more and felt that recognising the unsung heroes of travel in this way was a perfect tribute to someone who always sought out the very best guides to bring his travel experiences to life.
About the sponsors:
Craghoppers UK – Craghoppers has established itself as a global outdoor and adventure clothing specialist aiming to create comfortable and practical kit since its debut in 1965. It is now the world leader in all outdoor and adventure trousers and has had its greatest success with NosiLife – a lightweight collection that provides permanent protection against biting insects and their diseases. www.craghoppers.com
Follow and Share with Jetsettersblog.