Bunk Campers 7 Day Motorhome Driving Holiday – Germany to UK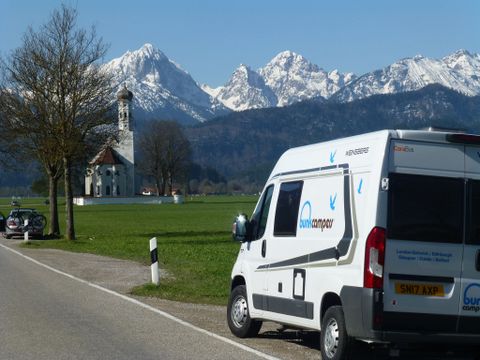 ---
UK & Ireland Motorhome Hire Company, Bunk Campers, are offering a unique 7 day driving holiday from historic Bavaria in Germany to the UK or Ireland in a brand new motorhome. The annual Bunk Campers motorhome relocation, next year taking place between 10 – 21 April 2018 costs from just £499 per couple and includes flights (for two), transfers, motorhome hire and return ferry crossing.
Building on success in recent years, Bunk Campers are once again expanding their fleet and offering the motorhome relocation holiday to deliver the vehicles back to the UK & Ireland on time for the 2018 campervan season.
For 2018, Bunk Campers have over 70 motorhomes up for grabs and will fly almost 150 people out to Munich to collect the new vehicles. The lucky road trip enthusiasts booking the relocation deal will enjoy a factory tour on arrival then have 1 week to ramble across Europe in the motorhome before returning to Bunk Campers depots in London, Edinburgh & Dublin.
Customers will be the first to drive Bunk Campers brand new 2018 models of 2-6 berth Weinsberg motorhomes, enjoying the views from their tour through Europe in a 'home on wheels.' With transport and accommodation in one, campervan hire gives road trip enthusiasts the freedom and flexibility to park where they please – stop, shop and cook along the way.
Each motorhome will come fully equipped for the road trip including fixed beds, fridge/freezer, gas hob, sink, dining area, toilet, shower, GPS, media connectivity and reversing camera. Bunk Campers will also equip the motorhome with all the required home comforts including, bedding, kitchen kit & kettle, a full bottle of camping gas, electric hook-up cable and water hose.
Andy and Janice Harrower, from Dunfermline, made the trip last year after enjoying a previous Bunk Campers motorhome relocation from Italy in 2014 and have already booked again for 2018.
 "The Germany holiday seemed an ideal opportunity to give us another chance to experience a motorhome as we are currently caravaners but are seriously considering whether it is the time to change over. It also seemed an ideal adventure to help us celebrate our 40thanniversary year."
For Melanie and Darryl Bowden, from Doagh, County Antrim, a campervan holiday was a complete mystery and involved turning up with a guide book to Europe tucked under one arm! After picking up the new Bunk Camper at the Bavarian factory, Melanie said: "We set the sat nav to Cherbourg as our end destination, looked up the local weather, checked the guide book and pointed the van towards the Bavarian Alps! … Every day we found a new delight –  Neuschwanstein  castle ( Disney's Cinderella castle was inspired by it). The mountains were awesome and the camper was always there to have a cuppa in or just sit and admire the view."
The 7 day driving holiday starts from £499 and includes:
Flights for 2 people:
EDINBURGH (EDI) – MUNICH (MUC) on Tuesday 10th April.
LONDON GATWICK (LGW) –MUNICH (MUC) on Thursday 12th April.
DUBLIN (DUB) – MUNICH (MUC) on Friday 13th April.
1 piece of hand baggage per person.
1 night hotel stay at Ibis Hotel Munich Airport (For Edinburgh customers only)
Coach transfers from Munich International Airport to Jandelsbrunn, Germany
7 day motorhome hire in one of Bunk Campers brand new motorhomes
Comprehensive vehicle demonstration at check-in
Insurance for 1 named driver, over 25 with a full, clean UK/EU driving licence
Calais – Dover ferry crossing / Cherbourg – Rosslare ferry crossing (including cabin)
Vehicle helpline
For full information on the trip including T&Cs and booking, please visit the Bunk Campers website or call +44 (0) 2890 813057.
About Bunk Campers:
Established in 2007, Bunk Campers are one of the UK & Ireland's largest campervan rental companies with a fleet that is 100% company owned.
Starting with rental depots in Belfast and Dublin they expanded into the UK market in 2012 with the opening of Edinburgh followed by London Gatwick in 2014.
Bunk Campers offer Europe's widest choice of vehicle types from the compact 2-person campers, VW Campervans to large 6 person motorhomes.
Bunk Campers was established by husband and wife team, Keith Charlton and Louise Corken. Inspired by their travels in Australia and New Zealand, they returned and set up the campervan hire business in 2007.
Keith bought and lovingly restored his first camper van in 1987, a bright orange Volkswagen T2 camper van built in 1973 never imagining that 20 years later he would own a business renting out campervans!
Follow and Share with Jetsettersblog.