Campervan tour Northern Ireland's Causeway Coast,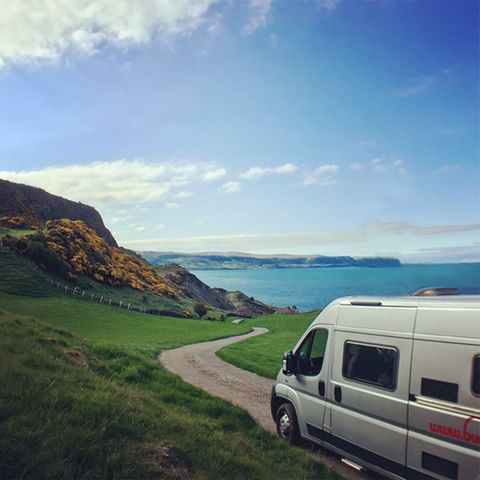 Belfast & the Causeway Coast in Northern Ireland has been named the Number 1 Region in the World for travellers in 2018 in Lonely Planet's Best in Travel awards – a  highly anticipated collection of the world's hottest trends, destinations and experiences for the coming year. The region beat off stiff competition from the likes of Alaska and the USA's Deep South, Italy and Bahia to receive the accolade.
For those wanting to explore the wild coasts, 'magical basalt columns' of the Giant's Causeway (a UNESCO World Heritage site), historic castles, the daring Carrick-a-Rede rope bridge and landscapes that have inspired artists and writers throughout the centuries, campervan hire is a convenient alternative to car rental and B&B giving independent travellers the freedom and flexibility to tour the Causeway Coast at their leisure. With transport and accommodation in one, holiday makers can tour from coast to castle in their camper – stopping, shopping and cooking along the way in their 'home on wheels'.
Bunk Campers, Ireland's largest campervan rental company have a large fleet of campervans and motorhomes for hire from their depot close to Belfast airports, making it easy and convenient to get on the open road to the Causeway Coast. Customers can choose from a wide range of 2-6 berth campervans and motorhomes – from budget 2 person camping cars, VW Campervans to large 6 berth family motorhomes, there is something to suit all tastes and budgets. Those flying in from further afield can also hire a camper or motorhome from Bunk Campers depot close to Dublin airport, just 2 hours south from Belfast and the start of the Causeway Coastal route.
Northern Ireland's Causeway Coast has also long been used for Game of Thrones medieval set with locations dotted along the coast for tourists to re-enact their favourite moments. Some highlights of the route include a visit to the Iron Islands, the road to King's Landing & most recently, Dragonstone. Campervan hire is already proving popular for those wanting to get connected to the locations and watch the scenes unroll before their eyes.
All Bunk Campers vehicles come equipped with everything required to enjoy a road trip around the Causeway Coast including: beds, cooking facilities, heating and electricity (shower and toilet in larger models). No need to pack and unpack at each holiday destination with models such as the Aero Plus or Grande equipped with a garage to store kids toys, bikes and luggage.
Prices for campervan hire start from £45 per day in 2018 with 10% discount available on Early bird bookings made before 29 December 2017.
For more information or inspiration on touring the Causeway Coastal Route, please visit Bunk Campers Causeway Coastal Route and Bunk Campers Game of Thrones Driving Route.
ENDS
For more information, please contact:

Leanne Cromie
Business Manager
Bunk Campers
+44 (0) 2890 813057
Notes to editor:                                                                             
About Bunk Campers:
Established in 2007, Bunk Campers are one of the UK & Ireland's largest campervan rental companies with a fleet that is 100% company owned.
Starting with rental depots in Belfast and Dublin they expanded into the UK market in 2012 with the opening of Edinburgh followed by London Gatwick in 2014.
Bunk Campers offer Europe's widest choice of vehicle types from the compact 2-person campers, VW Campervans to large 6 person motorhomes.
Bunk Campers was established by husband and wife team, Keith Charlton and Louise Corken. Inspired by their travels in Australia and New Zealand, they returned and set up the campervan hire business in 2007.
Keith bought and lovingly restored his first camper van in 1987, a bright orange Volkswagen T2 camper van built in 1973 never imagining that 20 years later he would own a business renting out campervans!
Follow and Share with Jetsettersblog.