Chase the Spectacular Northern Lights in Scotland (And on a Budget)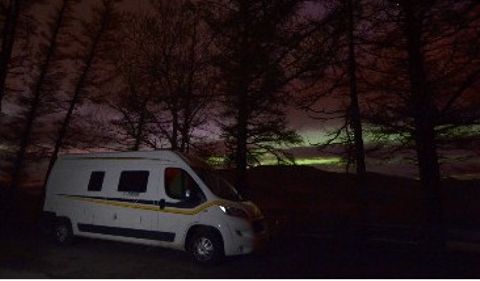 ---
With the Arctic Circle a far cry from most peoples' reach of places to visit, it may come as a surprise that another great place to catch nature's very own theatrical performance is along the northern reaches of Scotland. Bunk Campers, Scotland's largest campervan rental company, offer a practical and budget alternative for enthusiasts wanting to experience the Northern Lights.
With transport and accommodation in one, a campervan is an alternative to car hire & B&B and gives customers freedom to move around and photograph the Northern Lights as they appear from one location to the next. All Bunk Campers campervans & motorhomes for hire can be taken on ferries to the Scottish Islands, meaning enthusiasts are within easy reach of even the most isolated locations and the best views of the Aurora Borealis.
With on-board camper heating, customers can stay warm even in the coldest winter nights and enjoy all the perks of home; including comfortable beds, cooking facilities, dining area and electric hook up (shower and toilet in larger models).
Bunk Campers offer a wide range of 2-6 berth vehicles to suit all tastes and budgets from their Scotland depot located close to Edinburgh airport. Rental rates during the winter period start from only £45 per day with additional long rental discounts of up to 10% available for those wishing to take an extended trip.
To inspire enthusiasts, Bunk Campers have put together 5 tips to chase the Northern Lights in Scotland on a budget. Full article can be found here.
For more information and bookings, visit the Bunk Campers website, email enquiries@bunkcampers.com or call +44 (0) 2890 813057.
About Bunk Campers:
Established in 2007, Bunk Campers are one of the UK & Ireland's largest campervan rental companies with a fleet that is 100% company owned.
Starting with rental depots in Belfast and Dublin they expanded into the UK market in 2012 with the opening of Edinburgh followed by London Gatwick in 2014.
Bunk Campers offer Europe's widest choice of vehicle types from the compact 2-person campers, VW Campervans to large 6 person motorhomes.
Bunk Campers was established by husband and wife team, Keith Charlton and Louise Corken. Inspired by their travels in Australia and New Zealand, they returned and set up the campervan hire business in 2007.
Keith bought and lovingly restored his first camper van in 1987, a bright orange Volkswagen T2 camper van built in 1973 never imagining that 20 years later he would own a business renting out campervans!
Follow and Share with Jetsettersblog.