Enjoy Tromso Norway Luxurious Lodges + Fjords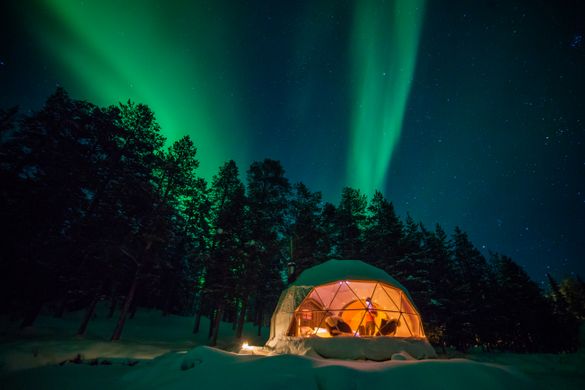 ---
New Ice Domes, a cosy Loggers Lodge and a luxurious Svalbard retreat are amongst the innovative accommodation options added to specialist tour operator Best Served Scandinavia's Winter-Spring 2018/19 brochure.  There are also exciting new experiences ranging from tasting locally made gin, vodka and aquavit at the world's northernmost distillery – the fjordside Aurora Spirit Distillery to sampling delicious Arctic tapas and gourmet dinners at ice hotels.  More adventurous travellers can enjoy husky safaris, daytime aurora hunts or perhaps even try their hand at the art of Viking Axe throwing. These experiences sit alongside traditional Scandinavian winter pastimes such as aurora viewing, incredible wildlife opportunities and visits to Santa in Lapland.
The Arctic capital of Tromso is a perennial favourite for aurora-seekers. This year it has been given a new twist with the introduction of a range of activities and itineraries taking guests beyond the city lights.  The four-day Tromso Ice Dome break combines a city stay with a night at at the newly created Tromso Ice Domes – seven intricately carved suites nestled in the Tamok Valley just 90 minutes away from Tromso. Enjoy a night of adventure with snowshoe hiking and a wilderness dinner cooked on an open fire as well as a thrilling husky safari.  There's even the chance to try some Arctic tapas. Also new is a superb Wildlife, Huskies and Northern Lights On Sommaroy holiday. Starting with a night in Tromso, it offers the chance to explore the beautiful nearby islands of Sommaroy and Kvaloya, with their picturesque fjords, mountains and forest wilderness. Expect wildlife such as sea eagles, otter and reindeer, fireside feasts as well as various opportunities to view the Northern Lights.
For the first time, Tromso has also been twinned with a Swedish icon – the ICEHOTEL. In an exciting five day journey – Tromso and the ICEHOTEL by Train – combine two days exploring the Northern Lights capital, before heading to Narvik, where you can climb to the summit of Narvikfjellet by cable car. After a night here, take the Arctic Circle train for a memorable cross-border journey into Swedish Lapland past the mountain resort of Bjorkliden and Abisko National Park to and the iconic ICEHOTEL, where your journey culminates in a stay in one of their iconic ice rooms.
A stay at the popular ICEHOTEL features a new overnight option, with two nights at the ICEHOTEL and one night at a nearby wilderness cabin, reached via a husky safari.  Travel by snowmobile across the frozen Torne River before meeting and mushing your own team of huskies through the Arctic landscapes and on to your wilderness cabin. After settling them in their kennels, you can cosy up in one for the five rustic log cabins in the forest for the night, keeping an eye out for the dancing aurora.
The Finnish phenomena of Glass Igloo accommodation – which Best Served Scandinavia is recognized as the 'go-to' operator for – is this year taken into 'glamping' territory with the introduction of the new Torassieppi Aurora Domes.  Rather than just a glass roof – these Aurora Domes offer fabulous private views over Lake Torassieppi – frozen over in winter, glittering in spring and summer.  Inside, log burners and large double beds provide cosy comforts.
In a growing trend towards more luxurious, boutique accommodation a number of new properties have been introduced such as Hotel Nangu in Finnish Lapland; Loggers Lodge and Fjellborg Arctic Lodge in Swedish Lapland; Funken Lodge in Svalbard and Hotel Grimsborgir in Iceland. Arctic Escape to Hotel Nangu features a stay at the recently opened Wilderness Boutique Hotel Nangu, on the shores of Lake Inari, offered on an adult only basis throughout the winter months.  For those looking for the ultimate romantic Scandi-style bolthole, Loggers Lodge is new to Best Served Scandinavia.  A one-time wilderness cabin turned luxury retreat for two, furnished with native timber, scattered furs and with a giant fireplace, this beautiful, cosy hideaway is in the heart of the Boreal Forest.  With a private chef preparing mouthwatering local dishes such as Arctic char or moose steaks, a private outdoor hot tub and a range of wintry activities, it's a luxurious winter escape.
Another luxurious option is Fjellborg Arctic Lodge, an exclusive four-bedroom log cabin on the frozen shores of Lake Vakkara, which comes complete with a private guide and Chef. The flexible nature of the accommodation in The Master Cabin makes it suitable for a range of guests from the ultimate romantics to families or groups of friends looking for an exclusive experience.  The Fjellborg Arctic Lodge and ICEHOTEL itinerary combines three nights in this luxury cabin and one night at the iconic ICEHOTEL. Highlights include husky transfers, snowmobile safaris, fabulous foodie experiences and your own Master Sculptor to help create your personal work of ice art.
The super-stylish Funken Lodge in Longyearbyen, Svalbard's only permanently inhabited town, combines contemporary Scandi-chic with spectacular views over the Lars glacier and the majestic Hiortfjellet mountains.  Its location offers the chance for incredible experiences including a unique daytime aurora hunt amidst the blue haze of the Polar night or a visit to an ice cave with its spectacular formations.  Up above ground, there's also the opportunity for champagne tasting at Nordpolet liquor store, home to the world's most northernmost wine collection.
Finally, Hotel Grimsborgir, a short hop from Thingvellir National Park, is also new to the programme and combines perfectly with a night in Reykjavik for a memorable Icelandic adventure.  Ideally located in the heart of Iceland's Golden Circle, it has sleek, stylish rooms – think whitewashed wooden walls and gentle pastel shades – with Junior Suites featuring private terraces.  The outdoor hot tubs offer the perfect spot for viewing the Northern Lights and relaxing after a day experiencing the magnificent landscape of the region, or perhaps a spot of whalewatching.
For the first time, Best Served Scandinavia have a dedicated section within the brochure focusing on spring holidays to Scandinavia.  A favourite time for locals to travel, but away from the summer crowds, spring sees the region coming into its own as the ice and snow melt, waterfalls are at their peak and the snowy landscapes are replaced by blossom and rich green valleys. Itineraries include Blossoms of Hardangerfjord, with the chance to see the fruit trees in full bloom; Spring in Norway's Fjords, where mirror glass fjords reflect clear blue skies and snow-capped mountains and Nordic Cities in Spring, offering the opportunity to enjoy Scandinavia's vibrant cities with their outdoor festivals, blooming parklands and pavement pubs and cafes.
For those who want to experience highlights of what Scandinavia has to offer in the company of fellow travellers, Best Served Scandinavia has introduced a number of new Escorted Tours to its portfolio. These include Hunting the Aurora in North and South Iceland – a comprehensive tour combining both ends of the country; an escorted Santa break and a five day Iceland's Northern Lights and Winter Wonders tour.
Commenting, Sue McAlinden, General Manager, Best Served Scandinavia says.  'We're delighted to launch our latest brochure combining a fantastic choice of holidays and experiences across Scandinavia and the Nordic region which start from just £635 per person for a 4 day break at Sweden's famous ICEHOTEL.  From Finnish Glass Igloos to luxury lodges and from iconic Ice hotels to Scandi-chic boutique hotels, the region continues to innovate and inspire.  Whether you're looking to travel on a romantic Northern Lights retreat for two, escape into the wilderness of Svalbard, or take the family to meet Santa, there is something for everyone to enjoy.  This year, for the first time, along with showcasing all that the region has to offer during the snow-bound months, we have also introduced a new range of 'Spring in Scandinavia' holidays.'
For bookings or more information, call 0207 664 2241 or visit best-served.co.uk
Follow and Share with Jetsettersblog.