Fun Family-Friendly Cycle Tours, With Freedom Treks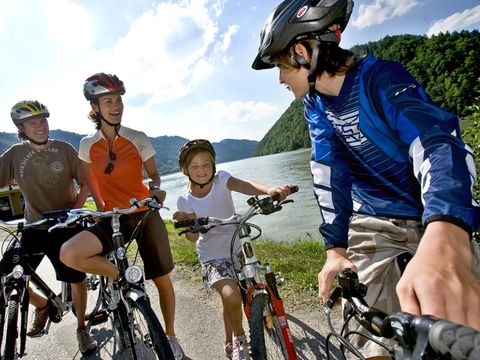 ---
With schools back in full swing after the October half-term holiday, there's never a better time to think about booking the next family holiday.
Specialising in guided and self-guided bike tours for all cycling levels, Freedom Treks offers 50 trips that are ideal for families, including those that are brand-new this year. The routes follow dedicated cycle paths or very quiet roads, the daily distances are shorter and manageable for little legs, a range of children's bikes, trailers or seats are available and the accommodation comprises a selection of family-friendly hotels, or even boats.
Children aren't concerned about ticking off a country's 'must-see' sights and a cycling holiday is an ideal way to explore the great outdoors. The world's exciting natural environments make for perfect adventure playgrounds, plus, families can practice their navigational skills and improve their geography and history knowledge on route.
And with multigenerational, or '3G' holidays, still rising in popularity, grandparents need not worry about keeping up – Freedom Treks offers electric bikes on most of its tours, so people of all fitness levels can enjoy cycling in areas and for distances they may not have previously considered.
There are many options, but here are five family-friendly cycle tours to start.
NEW: Family Sri Lanka
Gear up for a family holiday to remember, with seven days of leisurely cycling in Sri Lanka. Starting in Colombo, known as the gateway to Sri Lanka, pedal across and then down through the heart of the island towards Galle, all the while looking out for various wildlife, beautiful villages, rows of tea plantations, colonial towns and spectacular vistas. The bike routes have all been chosen for their quiet or traffic-free environs, allowing everyone to relax and make the most of the magnificent scenery. Children can enjoy a treasure hunt at the top of a rock fortress in Sigiriya: formed from magma from an extinct volcano, the plateau sits 200 metres above the surrounding jungle and of is one of the most valuable historical monuments in Sri Lanka; the locals refer to it as the Eighth Wonder of the World. The whole family can admire the complex and colourful Buddhist statues in Dambulla, learn about the fascinating history of Nuwara Eliya, sample delicious fresh tea at a small factory and go wildlife spotting in Sinharaja Forest. Accommodation ranges from colonial or boutique hotels to comfortable resort complexes, all of which are family-friendly.
Level: Easy to Moderate
A six-night Family Sri Lanka tour costs from £1,649 pp (for a family of four) and includes full-board accommodation in a selection of hotels, well-maintained mountain bike with handlebar bags, the services of a local English-speaking guide, air-conditioned support van, transfers and train journey during the tour, luggage transportation, water and snacks when riding, entry costs and attractions listed on the itinerary, cycling jersey and a water bottle. Kids 12 and under can benefit from a 20% discount. Return flights, transfers, visa, alcohol, soft drinks and tips extra.
Departures: April, July, August, October and December
Leisurely Passau to Vienna
The title says it all: spread across eight days, tour along the lush riverbanks of the Danube on flat paths at a relaxed pace, with daily cycle rides lasting no more than three hours; ideal for children. Beginning in the pretty riverside town of Passau, pedal alongside the famous waterway passing magnificent monasteries, extraordinary museums and impressive castles before finishing in the beautiful city of Vienna, the capital and largest city of Austria. Families can pause for a picnic or a long lunch in the enchanting towns, and take time to explore the ancient streets and discover the stories around them. Climb up to the Schlögener Lookout Point for panoramic vistas, marvel at the open-air museum in Mitterkirchen and enjoy the fun train ride from Vienna to Passau and the two ferry crossings. The Danube is one of the most ecologically diverse areas in all of Europe; play 'spot the wildlife', from bright-blue kingfishers, to the Danube Clouded Yellow Butterfly and the rare Danube Sturgeon. And when the going gets tough, there are multiple opportunities to stop for refreshments, including homemade liqueurs and local wines.
Level: Easy
A nine-night Leisurely Passau to Vienna tour costs from £465 pp (for a family of four, with children aged 7-11) and includes B&B accommodation at a selection of 3* and 4* hotels, luggage transportation, maps and route information, welcome drink upon arrival in Passau, two ferry rides with bikes on the Danube, train ride from Vienna to Passau, train ride from Krems to Vienna and one bottle of wine per room in Wachau. Return flights, transfers, meals not on the itinerary, bike hire and cycle helmet extra. Kids 14 and under can benefit from a discount of 25% plus. And children aged six and under are free.
Departures: 24 March to 20 October (any day)
Family Sardinia
Comprising pristine beaches, offshore islands and historic towns, Sardinia's south coast is an idyllic place for a cycling break. Designed with families in mind, this gentle tour involves easy rides with shorter distances and an option to hire trailers and kids' seats. The picturesque island of Sant'Antioco, which connects to Sardinia's southwest corner via a mile-long causeway, forms the start of the tour. Set out and explore the turquoise lagoons – home to vibrant pink flamingos – near the village of Carloforte, enjoy a refreshing dip in the bay at Cape Malfatano and take a break from cycling and walk along the old Roman road above Sa Colonia beach and Cala dei Pini. August is the hottest month in Sardinia, but even then, the average temperature is 25°C; ideal for a laid-back cycle ride. Families will stay at three different hotels over the seven nights, so they can choose to take a break from the cycling and enjoy the gorgeous sandy beaches.
Level: Easy
A seven-night Family Sardinia tour costs from £428 pp (for a family of four, with children aged 7-12) and includes B&B accommodation at 3* hotels, luggage transportation and maps and route information. Return flights, transfers, meals not on the itinerary, admission to museums and archaeological sites, tickets for the ferry to Carloforte, local taxes, bike hire and cycle helmet extra. Kids aged 7-12 can benefit from a discount of 30%. Children aged 3-6 can benefit from a discount of 50%.
Departures: Every Saturday throughout the year
Family Adventure Cruise – South Dalmatia
Tailor-made for parents travelling with children aged 5-13, this multi-activity cruise is a must-do treat for all. Families will not only be cycling their way around Croatia, but hiking, rafting and even jumping off the boat, from the swim platform, and swimming, before returning to the elegant Princeza Diana, a luxury motor yacht with three masts, each evening. Highlights include trekking to the Spanish fortress in Hvar, which offers breathtaking views of the sophisticated streets and Dalmatia's scattered islands, rafting through the crystal green waters of Cetina river, cycling past secluded beaches and Roman palaces and cooling off in the cobalt-blue sea. After an active day, sink into the whirlpool on the sun deck before tucking into the delicious food, all made using fresh, locally-sourced produce. The Princeza Diana is also well-suited to e-bikes, meaning family members who might have struggled with Croatia's undulating terrain, can feel confident they will complete the routes. And from Split Airport, the port is just four kilometers away, meaning a very short transfer time.
Level: Easy
A seven-night Family Adventure Cruise – South Dalmatia deluxe tour costs from £915 pp (for a family of four sharing a quad cabin on the lower deck) and includes four nights' full board and three nights' half-board accommodation, an English-speaking tour guide on board and on bike/foot, maps and route information, welcome meeting and daily cabin cleaning. Return flights, transfers, entrance fees to museums, churches and transport, tax and port fees, optional activities, bike hire and cycle helmet extra. Kids 16 and under can benefit from a discount of 25%.
Departures: 21 July to 11 August on Saturdays
Family Special – Ijssel Lake
Spend a week discovering Holland's coastal lakes, villages and nature reserves on this exciting boat and bike tour that's been created with children aged 7-11 in mind. The cycle rides do not exceed 20 miles and can easily incorporate multiple ice-cream breaks along the way. Starting and ending in the elegant city of Amsterdam, cruise and cycle around sparkling lakes, old-fortified towns, past spinning windmills and through deep-green woodlands. Kids will love the Walibi World theme park in Harderwijk and a chance to build sandcastles on Lake Veluwemeer beach. They can also see the exhibits of local Zuiderzee fishermen and famous Dutch hydraulic engineers at Zuiderzee open-air museum and having a go at steering an electric motorboat through the canals around Giethoorn. Stay on a basic-class barge, which offers 16 cabins with shared facilities, a spacious saloon where you can get to know the other families on board. Amsterdam Airport Schiphol is located 20 km from the city centre, with transfer times taking circa 30 minutes.
Level: Easy
A seven-night Family Special – Ijssel Lake tour costs from £470 pp (for a family of four) and includes full-board accommodation, an English-speaking tour guide on board and on bike, maps and route information, welcome meeting, visit to the open-air museum at Zuiderzee, canoe trip in National Park Weerribben and a city walk. Return flights, transfers, drinks aboard the barge, bike hire and cycle helmet extra.
Departures: 7 July to 18 August on Saturdays
To find out more about any of these new tours visitwww.freedomtreks.co.uk, call 01273 224 066 or follow Freedom Treks on Facebook (Freedom Treks).
About Freedom Treks
Freedom Treks, part of Ski Safari Ltd, has been offering a wide choice of cycling holidays throughout Europe since 2003.
With more than 180 self-guided and guide-led bike tours offered across 30 countries, Freedom Treks' destinations are chosen to introduce active travellers to the most scenic parts of Europe and Asia.
Its itineraries offer pedalling at a relaxed pace by day and comfortable accommodation in characterful hotels, guesthouses, boats or barges by night.
All tours enjoy the practical benefits of having luggage transported separately and the security of knowing local assistance is available if needed along the way. Freedom Treks holidays are ABTA bonded.
To find out more visit www.freedomtreks.co.uk, call 01273 224 066 or follow us on Facebook (Freedom Treks)