Instagram Has Final Say On The Best Of East + Southern Africa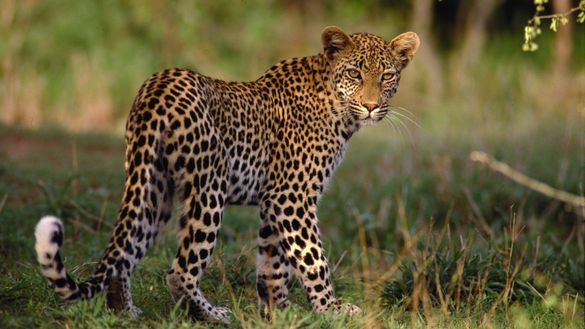 e are plenty of travel lists out there with insight on where to go in 2018, but if you're planning to come to Africa, Acacia Africa's top 10 is one you won't want to miss. The tour operator compiled predictions from over 20 expert sources including bloggers, travel publications and online media, to discover the best destinations to visit in Southern and East Africa, and asked Instagram to give the final word.
All the more reason to book with Acacia Africa, the safari specialist is freezing its camping and accommodated overland prices at 2017 rates (excluding Adventure Pass) if 2018 tours are booked before 03 January. Offer valid on all 2018 departures.
10. MOZAMBIQUE
Mozambique is home to some of Africa's best dive locations, Tofo's hippy, laid-back ambience appealing to the backpacker crowd and Instagrammers. Kristin Addis, CEO, of Be My Travel Muse, said in a recent CNN Travel article (20 Holiday Destinations The Experts Say Not To Miss), "There was very little online about this coastal country in Southern Africa," which proves Mozambique is still one of the regions best kept secrets. Acacia Africa's 14 day Mozambique & Zimbabwe Explorer visits Tofo, Vilanculos and Xai-Xai. From £1,485pp (no single supplement) + Adventure Pass from £150pp. Book before 03 January and save £150pp. Full 2018 tour price £1,635pp.
9. UGANDA
With "Secrets In The Mist" – a three part documentary charting Dian Fossey's life, work and mysterious murder over 30 years ago – now airing globally in 171 countries on the National Geographic Channel, gorilla permits could well be in short supply. Acacia suggest booking early as places for this activity are limited for reasons of conservation, and even earlier if you're considering travel to Uganda's Bwindi Impenetrable National Park – permits for Uganda currently half the price of those in neighbouring Rwanda. Six day Troop to the Gorillas from £605pp (no single supplement) + gorilla & chimp permit from £555pp. Book before 03 January and save £50pp. Full 2018 tour price £655pp.
8. ZAMBIA
If you want to feel the full force of "The Smoke That Thunders," travel in May and June. In Acacia's Instagram poll, the natural wonder was pipped at the post by South Luangwa, the Zambian national park said to be the birthplace of the original walking safari. With more remote places expected to be on our radar in 2018, the park will be one to watch, its 9,050 square kilometres renowned for amazing wildlife sightings, from the hippos that crowd the river to its rare Thornicroft giraffes and leopards. Visit both attractions on the 21 day East African Explorer from £1,595pp (no single supplement) + Adventure Pass from £840pp. Book before 03 January and save £90pp. Full 2018 tour price £1,685pp.
7. ZIMBABWE
Zimbabwe secured seventh place, but in the post Mugabe era, Acacia claims it could well climb even further up the popularity polls. Hwange National Park is home to an estimated 50,000 elephants, many of which are in breeding herds as large as 300. Add in 100 different kinds of mammals (including the endangered wild dog) and around 500 bird species, plus little competition for vantage points, and it's a no brainer for Africa fans. Obviously, no trip here would be complete without seeing the largest falling curtain of water in the world. Starting and ending at the Victoria Falls, Acacia's seven day Southern Africa Safari includes two game drives in the Hwange National Park. From £665pp (two sharing) + Safari Pass from £480pp.
6. TANZANIA
Iconic Africa, the Serengeti is home to the Greatest Wildlife Show On Earth – Tanzania's premier national park playing host to the migratory herds in the early part of the year. Ideal if your Africa bucket list is on a budget, skip Africa's dry season and catch the wildebeests in the Serengeti from January through March. In calving season the chance of witnessing a wildebeest birth is high and you can be assured of plenty of predator interaction. Mount Kilimanjaro was hugely popular on the photo sharing site, and with talk of extreme travel trending in 2018, Acacia is expecting plenty more activity from the Roof of Africa on Instagram. See the Serengeti on the 11 day Highlights of Tanzaniafrom £1,125pp (no single supplement) + Adventure Pass from £790pp. Book before 03 January and save £90pp. Full 2018 tour price £1,215pp.
Take on Mount Kilimanjaro and trek the Marangu, Machame or Rongai route.
5. MALAWI
Malawi is a country where overland overcomes the solo challenges of getting around. The ninth largest lake in the world, Lake Malawi is a diver's paradise, but the time to go is now. If you're looking for crowd free beaches its golden sands won't stay that way for long – the popular Lake of Stars festival celebrating its 15th birthday in 2018. Rachel of The Taylor Made Travels, says "It might not boast any bucket list-worthy attractions, but that doesn't mean Malawi isn't magical,"- and according to Acacia, being relatively undiscovered is all part of its allure. Dive into Malawi on the 22 day Zanzibar, Victoria Falls & Kruger from £1,725pp (no single supplement). Book before 03 January and save £140pp. Full 2018 tour price £1,865pp.
4. NAMIBIA
Want to visit places where time stands still? Then you're one of the world's new timeless travellers. Yes, going to places where you can feel the absence of progress is now a thing. Namibia does vast expanses of stunning, untouched landscapes like no other African country, which also makes it one of the most popular overland destinations for solo travellers. Sossusvlei is an Insta-hit – climbing dunes, which are amongst the highest in the world, a bucket list photo op. Etosha National Park came a close second, and with eight months of wildlife viewing, you can still get your game on before the year is out. Visit both on the 11 day Cape Desert Safari from £755pp (no single supplement). Book before 03 January and save £80pp. Full 2018 tour price £835pp.
3. BOTSWANA
Botswana's got green travel going on, and with 2018 being tipped as the year sustainable travel goes big, the Gem of Africa will be a stellar safari choice. The Okavango Delta and Chobe National Park took Acacia's coveted hotspots, and since the now engaged, Prince Harry and Meghan Markle, are firm fans of Africa's last wetland wilderness, a possible honeymoon could see the delta's popularity sky rocket. More of a real steal than royal, Acacia Africa's prices make Botswana a bargain. Visit Chobe and the delta on the nine day Best of Botswana from £1,130pp (two sharing) + Safari Pass from £440pp.
2. KENYA
The UK currently tops the list of international arrivals to Kenya, the world-renowned Masai Mara and the chance to book front row seats to the Annual Migration, a major drawcard for first time safari-goers. The game reserve is clearly still a top contender in the insta-stakes, and combined with Diani Beach – journeys to Kenya's coastline made even easier by the new Standard Gauge Railway – Kenya secured the number two spot on Acacia's "best of" list.
With the Obama's rumoured to be heading to Nairobi next year, Acacia claim interest in Africa's Wildlife Capital could also surge in 2018. Sources say the former president might be planning a June trip, his proposed itinerary including a visit to the African Heritage House, the Pan-African art museum home to American designer and architect, Alan Donovan. Once described as "the most photographed house in Africa," Donovan's residence is only a 20 minute drive from the centre of Nairobi. Combine a four day small group safari in the Mara from £680pp (two sharing) + Safari Pass from £470pp , with Acacia Africa's NEW three day Nairobi Park Stay (launching 03 January) from £740pp (two sharing) including a game drive in Nairobi National Park, Sheldrick Elephant Orphanage visit, return airport transfers, all food and drink and twin share ensuite accommodation at a tented camp (inside Nairobi National Park).
1. SOUTH AFRICA
South Africa has been busting the bucket lists recently, the Rainbow Nation landing a much coveted spot on Lonely Planet's top 10 Best Countries To Visit In 2018. Its diverse landscape and favourable exchange rate were just some of the reasons to go, South Africa's many attractions likely to be bolstered by Nelson Mandela Centenary 2018: Be the Legacy, a programme of events aimed at honouring the legendary leader. Cape Town and the Kruger National Park were hotspots, the Mother City the jumping off point for Robben Island (where Mandela served 18 years of his 27 year sentence) and the perfect place to feel the Madiba buzz post your Big 5 safari.
One to watch, in 2018 the Otter Trail will celebrate its 50th year. The complete route is a serious five day trek, but you can experience a taster of South Africa's oldest hiking spot in a single afternoon on a visit to Tsitsikamma. Visit the Kruger, Cape Town and Tsitsikamma on the 19 day Kruger to Cape Town from £885pp (no single supplement) + Adventure Pass from £190pp. Book before 03 January and save £210pp. Full 2018 tour price £1,095pp. The tour also stops in Durban, South Africa's "seaside playground" partnering with the Discovery Channel in its "Discover Durban" campaign, one of its ambitious aims, to be one of the top 20 destinations in the world by 2022.
Surprise Destinations To Watch Out For In 2018
Acacia Africa has seen a ten fold increase in bookings for its camping overland tours going via Swaziland and Lesotho in 2017, since launching tours to the destinations mid 2016.
Arno Delport, Marketing Manager at Acacia Africa comments, "Both countries are still off the radar, even for neighbouring South Africans, so we're surprised to see the boom in bookings for our tours visiting Swaziland and Lesotho. Interestingly, Lesotho made CNN's list of places that deserve more travellers, and we'd have to agree as there are some impressive insta-worthy sites including the Botsoela Waterfall in Malealea, the destination only accessible on foot or on horseback. Swaziland is also very much undiscovered, but if cultural heritage, the environment and local communities are important criteria when you travel, the kingdom is particularly good at fusing all three. Bound to be a popular destination next year, Swaziland is about to be thrust into the limelight – King Mswati III celebrating his 50th birthday and the country marking its 50th year of independence in 2018."
12 day Coast, Lesotho & Cape Town from £585pp (no single supplement) + Adventure Pass from £80pp. Book before 03 January and save £130pp. Full 2018 tour price £715pp.
Seven day Kruger, Swaziland & Beach from £355pp (no single supplement) + Adventure Pass from £120pp. Book before 03 January and save £70pp. Full 2018 tour price £425pp.
-ends-
All of the above tours operate year round. Prices include transport, camping or twin share accommodation, most meals and services of a tour leader/driver and exclude return flight. Acacia Africa's Camping and Accommodated Overland tours are strictly targeted at travellers aged 18-39 years. The  tour operator's small group safaris are open to travellers from eight years, as are many of Acacia's Short Safaris & Treks and City Breaks & Short Stays. Acacia Africa (020 7706 4700; acacia-africa.com). SATSA membership No. 1931, Atta membership no. 20151, ATOL No. 6499 and ABTA No. W4093 PROTECTED.
Notes to Editors:
Please note: If you are searching for tours after 03 January 2018, please go via the Acacia Africa homepage, as all of Acacia Africa's tour links will be updated for 2018. Acacia's website will always highlight the highest discount available, and with several promotions running at any one time, it may not correlate with the offers/prices mentioned in the release. The above promotion relates to all 2018 scheduled camping and accommodated overland tour departures booked before 03 January.  If you need further clarification please email mseven7studio@gmail.com or call 020 8180 1614.
View expert predictions and Instagram data.