KE Adventure Travel's Hottest European Destinations for NYE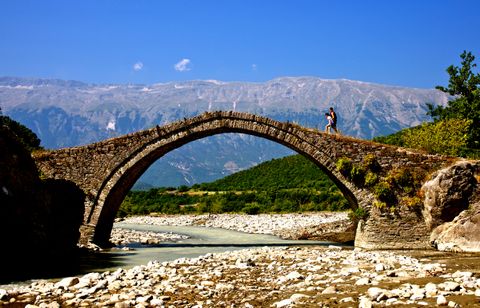 ---
KE Adventure Travel gives an expert opinion on where adventure travellers will be heading to in Europe in 2018.
Alex Greenwood, Head of Development, says " 2018 sees some really unique and exciting experiences opening up for the first time in Europe, and for adventure travellers there's never been so much variety offered, so near to home."
1. Sazan Island – opens to tourists in 2018 for the first time, Albania
Why 2018? Be the VERY FIRST tourists to visit secretive Sazan Island – Albania's former secret military base which was once home to over 3000 troops and built to withstand a nuclear attack. With its abandoned buildings, underground tunnels and concrete bunkers, the island is a rich part of Albania's history and was once an isolated and unreached spot. The island is strategically located where the Adriatic and the Ionian seas meet and until now, tourists have not been allowed to visit.
Tour: NEW-for-2018 Walking the Secret South of Albania 8 days
Walk in Llogara national park, stroll along Albania's rivieria and visit UNESCO Butrint
Take a boat to the former military island of Sazan with secret tunnels and bunkers
Stay in the beautiful Ottoman town of Berat and walled city of Gjirokaster
Walk along the new section of the St Thomas trail
Hike through the breath-taking Cika Mountains and soak up Tirana's atmosphere
Price: £775 land only, £1,255 incl return flights UK to Tirana
Includes: Guides throughout, 7 night hotel, all meals, transport and transfers
Weblink: https://www.keadventure.com/holidays/albania-walking-tirana-berat-ionian-mediterranean  
2. Mercantour National Park , France – set to get UNESCO status in 2018 – beat the crowds
Why?  At the heart of the range on the French side, the Parc National du Mercantour covers 7 valleys and 28 "perched" villages, including famous Belvedere at the entrance to the spectacular Gordolasque valley. One of the most interesting aspects of France's 10th national park is the valley below Mont Bego (2872m), the "Vallee des Merveilles", the aptly named Valley of Marvels. In this valley are 40,000 mysterious ancient petroglyphs dating back to the Bronze Age illustrating weapons, cattle and human figures – the largest concentration is the whole of Europe.
Tour: NEW Undiscovered Alps and the Valley of Marvels 8 days
A superb one week walking holiday in the heart of the French Mercantour National Park
Go off the beaten track in the "Vallee des Merveilles" with our specially qualified guides to see the ancient petroglyphs
Quiet trails and wild trekking in the land of chamois, ibex and marmot
Enjoy French food in characterful refuges and gites
Visit Nice, the epicentre of Riviera glamour
Price: £1025 land only (take advantage of low costs flights to Nice)
Includes: 2 nights hotel, 2 nights gite, 3 nights mountain hut, all meals, guides, baggage transfers and transport
Weblink: https://www.keadventure.com/holidays/france-nice-walk-alps-mercantour 
3. Bosnia and Herzegovina, fast becoming the coolest Balkan destination of all
Why? Bosnia and Herzegovina with its fascinating history, delicious cuisine, vibrant cities, primeval forests, rich cultures and warm welcome is the latest Balkan country to hit a lot of travellers 'must-do' list. First, there's the Balkan gem of Mostar and its spectacular Ottoman Bridge, then there's hiking in the Cvrsnica and Bjelasnica Mountains – a timeless landscape where life has stood still for over a 100 years. Reaching the summit of Mount Maglic (2386m), the highest peak in the country, is a highlight too. The vibrant capital of Sarajevo is now becoming one of Europe's hippest cities plus the country's and Bosnian & Herzegovina's wine deserves an evening of wine tasting in the charming old town of Trebinje. Once part of Former-Yugoslavia, Bosnia and Herzegovina has risen like a phoenix for 2018.
Tour: NEW Undiscovered Balkans – Bosnia and Herzegovina 8 days
Hike up Maglic (2386m) Bosnia's highest peak on the Via Dinarica trail
Wilderness areas in the Bjelasnica Mountains and Sutjeska National Park
Stay in the beautiful UNESCO World Heritage gems of Mostar and Dubrovnik
Wander through Sarajevo and enjoy wine-tasting in the old town of Trebinje
Price: £875 land only (take advantage of low costs flights to Nice)
Includes: 7 nights' accommodation in hotels and guesthouses, all meals except 2 lunches, 2 dinners, guides, baggage transfers and transport
Weblink: https://www.keadventure.com/holidays/bosnia-walking-croatia-sarajevo-mostar-dubrovnik 
4. El Hierro – the lesser known Canary island at the 'End of the World'
Why? What El Hierro lacks in size this remote Canary Island makes up for with nature on a grand scale. The UNESCO World Biosphere is home to volcanic moonscapes, dramatic cliffs, timeless villages, flower meadows, sculpted lava, lush forests, fragrant groves of juniper and views across to neighbouring La Gomera and Tenerife. Aiming to being 100% sustainable, El Hierro is often overlooked in favour of the larger Canary Islands. However the phrase "large treasures come in small packages" is no truer than when used to describe this volcanic gem in the Atlantic Ocean. Known as Isla del Meridiano and a compact 280 square kilometres, up until 1492 Columbus described it as "the end of the world" and even today its remoteness teamed with a breath taking landscape, slow pace of life and simple lifestyle is captivating. Reached by local ferry from Tenerife and return inter-island flight by Binter Canarias, the award-winning local airline – even the journey is a pleasure. Only KE Adventure Travel offer guided walking trips on the island.
Tour: NEW El Hiero- The Secret Canaries 8 days
Superb walking including Pico de Malpaso (1501m) El Hierros highest point
Explore Valverde, the laurels of sabinar, Gareo holy tree and Orchilla lighthouse
Walk the GR131 with views across to Mount Teide on Tenerife and La Gomera
Visit San Andres the highest village and look for El Hierro's Giant Lizard
Price: £1095 land only (take advantage of low costs flights to Tenerife South)
Includes: 7 nights accommodation in El Hierro, all meals, expert local guide, baggage transfers and transport to and from the island
Weblink: https://www.keadventure.com/holidays/europe-walking-canary-islands-elhierro-tenerife 
5. For Families – unspoilt Portugal continues to break sales records
Why? A centre-based family holiday in a farmhouse in South West Alentejo, with extensive gardens featuring a fresh-water swimming lake, jumping platform, kayaks, table tennis, an African shower and hammocks. Home-cooked organic food cooked by the hosts, with veggies from their kitchen garden and lots of local wine. Immensely relaxing for adults while children can run, almost completely, free in the grounds.  Guided group activities, with expert qualified leaders, every day including surf lesson, rock climbing, river-kayaking and bike riding. Pleasing for children aged 8-18!
Tour: Family adventures in the Algarve, 8 days
Centre-based at a charming farmhouse in a remote and unknown corner of Portugal
Kayak along the river and the fresh water lake at the accommodation
Surf lesson, rock climbing, beach time, t-shirt painting, boat trips and much more!
Enjoy delicious home-cooked food and local wine
Price: Child £695, Adult £795 land only (take advantage of low costs flights to Faro)
Includes: 7 nights country farmhouse accommodation, all home-cooked meals and lots of local wine, expert qualified guides and necessary equipment
Weblink: https://www.keadventure.com/holidays/family-multi-active-portugal-adventure-holiday
6. Lofoten Islands, midnight sun and magical islands
Why? Now ranking at the top of Norway's most popular destinations, the Lofoten archipelego is a stunner – the sharpest peaks risking out of glacier cut fjords and towering over silver sanded beaches. Add tiny colourful fishing villages nestling by the sea edge with their iconic fish-drying racks and red wooden rorbu (fisherman's cottages) and its already perfect. Now add the beautifully eerie light of the midnight sun, and it does feel like entering Asgard, one of the Worlds of the Viking Gods. Summiting several of these peaks, gains an indescribable view across the islands and back to the mainland. Then get an Arctic beer in groovy Henningsvaer, a den of artists that's suitably picturesque. Sold out last year, so we have additional dates to avoid disappointment.
Tour: Walking the Wild and Untamed Lofoten Islands, 8 days
Walking in Norway deep within the Arctic Circle in the Land of the Midnight Sun
Explore the Lofoten Islands of Moskenesoya, Vestvagoya, Austvagoya
Stay in traditional 'Rorbu' accommodation in tiny, colourful fishing villages
Hike up to Reinebringen Ridge (448m) for one of the most iconic views in the Lofoten Islands
Price: Land only £1895, with flights from £2185
Includes: 7 nights in hotel and rorbu accommodation, all meals, expert qualified guides and ferry journeys
Weblink: https://www.keadventure.com/holidays/norway-lofoten-islands-walking-holiday
KE Adventure Travel offer over 400 holidays worldwide from summiting Mount Toubkal in Morocco to trekking to Everest Basecamp. Established in 1984, KE Adventure Travel is an IATA Accredited agent, a member of ABTA (W4341), AITO (5075) and holds ATOL license (2808).
Follow and Share with Jetsettersblog.