Magnetic North Travel Deep Sleep Journeys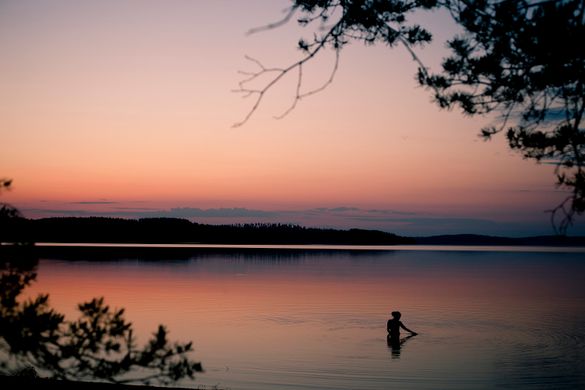 ---
Sleep has become a luxury in a 'switched on' world. According to the Sleep Council, 30% of all Brits suffer from sleep problems predominantly caused by stress and worry. Poor sleep hygiene including watching TV (38%) or checking emails (14%) is partially to blame. On the bright side, the 50 million+ downloads of sleep storytelling apps such as Calm and Headspace reveal a shift from awareness to action. People are now embracing the art of a good night's sleep as part of a wider self-care regime.
Inspired by the art of sleep storytelling, Magnetic North Travel identifies three themes that put travellers at the centre stage of their own sleep story.
Re-learn the art of going to bed
As adults, we may have forgotten the value of a good bedtime routine to help boost the quality of our sleep. So Magnetic North is inspiring travellers to explore new routines and rituals to aid deep slumber, like a sauna at twilight or Nordic spa routine practised at a Finnish lakeside cabin.
Immerse in nature
Sleep improvement apps often evoke nature in words or sound. The scent of the forest, the sound of water and the quality of air support the process of drifting into a deep sleep. Magnetic North is encouraging travellers to learn new ways to seek rejuvenation in Nordic nature and bring home some good habits to compliment usage of a sleep app.
Nurture an active mind
New experiences and settings have the power to chase away fears and worries that keep us awake at night. Magnetic North is helping travellers to engage with their surroundings through its Deep Sleep programme – whether that's meeting local people, learning a new foodie skill or embarking on a journey by bicycle or boat.
Introducing: Finnish Lakeland as a Deep Sleep destination
Helsinki residents often escape to the "land of a thousand lakes" for its blend of nature-based spa culture, gentle water-based adventures, and awe-inspiring scenery. Magnetic North's Managing Director, Laura Greenman says, "Europe's largest lake district boasts two national parks and countless cottages, houseboats, and wilderness cabins, many of them come with a lakeside sauna. This southerly region of Finland can help relax body and mind by combining time spent outdoors with Finland's famed sauna culture. We've partnered with Visit Finland to bring together a selection of calming Deep Sleep itineraries."
Deep Sleep stays in Finnish Lakeland
Short spa break in a Nordic houseboat
Embrace the soothing waters of Finland's largest lake, Lake Saimaa, on this 4-day spa break. Stay in a spacious Nordic-style houseboat with views across the forest-encircled bay next to spa Hotel Jarvisydan. Enjoy the delights of a traditional Nordic spa experience located just a short walk from the jetty as well as forest bathing and slow tours by boat and SUP.
From £1395 per person, based on 2 persons sharing on a Full Board basis
https://www.magneticnorthtravel.com/tour/details/Finland-Houseboat-Holiday
Luxury Bear Hide Cabin
The sound of bears cracking through the undergrowth may be unsettling but holed up in the Bear Hide Cabin, guests can drift off to sleep safely and to the added comfort of birdsong piped in from the surrounding wilderness. The brand new wildlife-watching cabins come with  floor-to-ceiling windows, stylish Nordic interior and views across lakes, fells and forests. Combine the trip with another unique, hilltop retreat which comes in the shape of a giant birdhouse.
From £2300 per person based on 2 person sharing on a full board basis
https://www.magneticnorthtravel.com/tour/details/Finland-Deluxe-Bear-Watching-hiking-canoeing-holiday
Cycling from capital city to national park
Helsinki is one of the greenest and most sustainable capital cities of the world. The city consistently ranks high in the Global Sustainability Index and emphasises the importance of keeping nature within a short 15-minute walk, bike ride or train journey. Just outside the capital, Nuuksio National Park invites holidaymakers to explore well-marked trails snaking through soothing pine forest and colourful coastal villages. Experience the best of Southern Finland's scenery at your own pace on a self-guided e-bike tour. Kick back in cosy cottage accommodation and inhale the fresh forest air blended with fresh sea breeze as you prepare yourself for a good night's sleep.
From £699 per person, based on 2 persons sharing
https://www.magneticnorthtravel.com/tour/details/SouthernFinland-Cycling-Holiday
Food for mind and body
Uncover the secrets of Finnish cuisine on a foodie holiday designed to rediscover cooking from scratch. The guesthouse hopping tour takes holidaying amateur chefs to Karelia nestled in the Finnish-Russian borderlands. Learn about the secret ingredients behind Finland's famous rye bread, cake making, and salmon. Your foodie hosts will be delighted to share their tips and tricks during this 7-night holiday. Round off the Finnish foodie experience with smoke sauna sessions.
From £1310 per person based on sharing a double room on a Full Board basis
https://www.magneticnorthtravel.com/tour/details/Finnish-cooking-holiday
A self-drive journey into the heart of Lakeland 
Follow the road less travelled into the heart of Finnish Lakeland, where design villas, cosy log cabins, foodie farm stays, and Nordic spa retreats showcase the best of Nordic outdoor culture. Sleep well with slow adventures by day, sauna experiences at twilight and comfortable beds to send you off to a deep slumber.
From £930 per person based on two sharing
https://www.magneticnorthtravel.com/tour/details/Finnish-Lakeland-Self-Drive-Eastern-Loop
Why sleep?
Sleep is taken for granted by those who enjoy a good night's snooze on a regular basis. The ever-growing demand for sleep improvement apps like Calm, Apple's app of the year, and a 116% spike in 'sleep optimisation' searches on Pinterest, however, suggest that 2018 has not been a great year for sleep.
In recent years terms like 'Junk Sleep', have been used to describe the decline in what the Sleep Council refers to as 'sleep hygiene'. 'Many Britons have poor 'sleep hygiene', particularly with regard to watching television (38%), checking their emails (14%) or using their laptop/tablet (12%) in bed. All of these electrical devices emit bright light which can disrupt the production of the body's natural sleep hormones.' (SleepCouncil)
Equally, it is worth noting that self-care has moved sleep into focus. Amongst, Millennials, self-care was the most important new year's resolution in 2018. A good night's sleep and improved bed-time habits appear to be part of this self-care regime. We spend a third of our life asleep after all. As self-care is showing no signs of slowing down in 2019, it is expected that it will also affect lifestyle choices including travel.
So regardless of whether the sleep has become a bigger issue or it simply gained more recognition, helping travellers choose sleep-friendly holidays will be something Nordic specialist tour operator Magnetic North Travel will focus on in 2019.
About Magnetic North Travel
Based in Leicestershire, Magnetic North Travel is a UK-based boutique tour operator specialising in Canada, Scandinavia and the Nordic countries. Founded in 2009 by Laura Greenman after honeymooning in Sweden, the company's focus is primarily wilderness, nature, and outdoor adventures for independent travellers and small groups. The company offers a year-round programme.
Website:  www.magneticnorthtravel.com
Twitter: twitter.com/MagNorthTravel
Facebook: Facebook.com/magneticnorthtravel