Never Forget Your Favourite Travel Spots With New App HOOF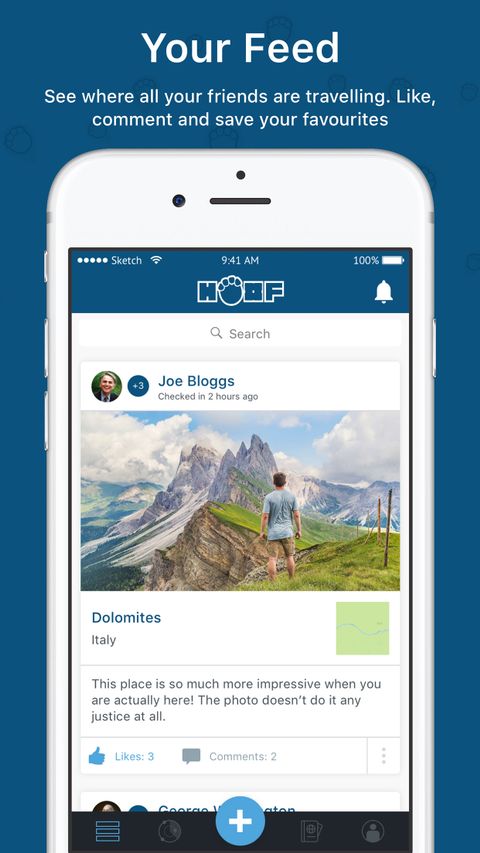 ---
A new trip curation app to log your travels and connect with like-minded travellers
A new travel app created by Elliott Grant, the former business director of award-winning luxury travel agent Black Tomato launches today.
HOOF, created for travellers by travellers, features elements never combined in one application before. HOOF is an app that lets you easily log your travels, share your experiences and manage who sees where you are, giving users absolute control of who sees their check-ins and posts. It helps you keep in touch with friends and family as well as allowing you to connect with those you meet along the way. The app enables you to check-in and store your travel experiences and photos into easily manageable folders which can be shared with chosen groups or individuals. You can live share these check-ins with friends, but unlike other apps where you share everything with everyone, HOOF allows you to create groups, giving users the ultimate privacy control.
Furthermore, once you've checked-in, the app will connect you with your friends, telling you who else within your selected groups is near you, alerting them that you've just checked-in nearby. Proximity boundaries can also be set to widen the notification area. An element of gameification has also been developed into the app which allows users to collect miles, country 'passport' stamps and check-ins and establish themselves as an influencer.
Elliott Grant, founder of HOOF said: "Travel has always played a big part in my life and losing track of where I had been had always been frustrating. There wasn't any kind of medium for storing check-ins as you travel around which led me to believe there was a 'missing travel app'. I wanted to create an app which features elements never combined in one application before and most importantly, an app which aims to bring together a community of like-minded fellow globe trotters.
Grant goes onto say:  We know there is demand for a new travel app designed specifically for travellers on the road. In a recent survey we conducted, 78% of Gap Year travellers say they are likely to use HOOF however, it is useful for all ages whether you're backpacking or travelling for business and want to network with new contacts at a conference."
HOOF launched this week and is available on all Apple devices running iOS 8 and above, available in all countries through the App Store.
For images and more information contact April Cernuschi on 0207 3269880 april.cernuschi@brightergroup.com
About HOOF
HOOF was created in the summer of 2017 by Elliott Grant and Olly McGinn – both ardent globetrotters.  Innovated by travellers for travellers, HOOF enables users to check-in to locations around the world and log travel experiences into easily manageable folders. Users can live share check-ins with friends, create specific groups and maintain total control of who sees check-ins. HOOF is available free on all Apple devices running IOS 8 and above from the Apple Store.
Follow and Share with Jetsettersblog.