Star in Your Own 'Orient Express' Adventure with Luxury Gold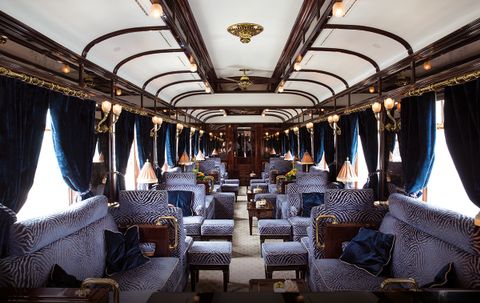 ---
The legendary Orient Express holds such great mystique that it has been a staple of popular culture since its maiden journey in 1883. The star of several novels, a half-dozen songs and countless films, the fascination continues all the way to the present day with the November 10 release of the new 20th Century FoxTM movie "Murder on the Orient Express," based on the classic Agatha Christie book.
Though it's changed routes and names several times in the past 134 years, Luxury Gold's guests can still experience the romance and elegance of the Venice Simplon-Orient-Express. A four-day journey including the storied train is available in 2018 on both the Ultimate Italy and La Serenissima itineraries. For a day and a night guests enjoy the elegant atmosphere and timeless indulgence of the train, then disembark in Paris where they spend another day and night exploring the City of Light.
With its polished wood, sumptuous upholstery and antique fixtures, the Venice Simplon-Orient-Express epitomizes the glamour and elegance of the Golden Era of travel. Guests are transported back in time as they journey from Venice to Paris in elegant cabins dressed in fine fabrics, wood paneling, soft lighting and crisp sheets. In the exquisite dining cars guests feast on lobsters from Brittany, salt marsh lamb from Mont Saint-Michel, and local, seasonal produce that's brought on board at stops along the route.
Here's a peek at what else guests can expect on the two itineraries:
Ultimate Italy with Venice Simplon-Orient-Express: Taking in Rome, Capri, Assisi, Perugia, Florence, Pisa, Cinque Terre and Venice, this unforgettable 17-day journey includes an astonishing array of VIP experiences, exceptional restaurants, and five-star hotels. Guests get priority entrance to the Vatican Museums and a private tour of the Sistine Chapel;take an insider's tour of Florence with an art historian; have dinner at the two-Michelin-starred L'Olivo Restaurant in Capri; take a hands-on culinary masterclass with a professional chef in Tuscany; and experience a private after-hours tour of the Doge's Palace in Venice. Also included on select departures is an ultra-exclusive Chairman's Collection experience: lunch with an Italian count at his Tuscan wine estate. As with all Luxury Gold journeys, guests stay in the finest five-star properties with impeccable service, such as Villa le Maschere Barberino di Mugello in Tuscany and Capri Palace Hotel & Spa in Anacapri. The last four days of the itinerary are spent in Venice, on the Venice Simplon-Orient-Express, and in Paris.
La Serenissima with Venice Simplon-Orient-Express: New for 2018, this 26-day Italian itinerary is the ultimate in luxury and indulgence. It combines all the exceptional experiences of the Ultimate Italy itinerary with a 10-day river cruise on Uniworld's magnificentRiver Countess, and ends with the four-day Venice Simplon-Orient-Express journey. In Milan guests join a Local Expert for a guided walk through the city's many highlights, including the grand Gothic Duomo and Leonardo da Vinci's magnificent fresco 'The Last Supper.' On the way to Venice, guests stop at the revered Serego Alighieri estate near Verona for an exclusive tasting of Valpolicella wines and a multi-course lunch. Once in Venice, guests explore the city's legendary locations and take part in a private after-hours VIP lighting ceremony at St. Mark's Basilica.
The inclusion of this spectacular train journey on these two Luxury Gold itineraries embodies our commitment to elevating the concept of the modern luxury vacation, and demonstrates our unwavering pledge to provide incredible, exclusive experiencesfor guests. 
2018 is the year that Luxury Gold has truly transformed from a guided vacation company to a luxury travel company. In addition to the Venice Simplon-Orient Express, we are also offering nine new small-group itineraries (to France, the UK, Scandinavia, Croatia & Montenegro, Japan, New Zealand, Costa Rica and South Africa); the Chairman's Collection of the world's most exclusive travel experiences; and private door-to-door airport transfer service.
For more information, please contact your favorite travel agent, call Luxury Gold at 888-862-5952, or visitwww.luxurygoldvacations.com.
Follow and Share with Jetsettersblog.