Tasmania's Mountain Bike Addition – It's Gravity Nirvana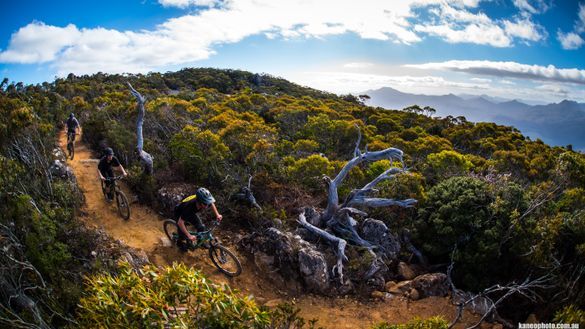 ---
Tasmania is shaping up as Australia's premier cycling and mountain biking destination, boasting breathtaking scenery from soaring mountain ranges and cliffs to Jurassic style temperate rainforest. A brand-new mountain bike park only 75 minutes from the Capital Hobart is the latest addition to Tassie's world-class mountain biking offerings.
The Maydena Bike Park (www.maydenabikepark.com) in Derwent Valley, opened in January, with 31 trails, covering 21 miles. The park will offer 60 miles of trails by the end of 2018.
Maydena Bike Park on the edge of the South West World Heritage Wilderness area is a year-round, all weather bike park with an unrivaled 2600ft vertical elevation each run, and plenty of long distance, descending trails. The owners say that the vertical drop is more than any commercial bike trail in Australia (Mt Buller, Thredbo, Baw Baw) and in New Zealand (Skyline Rotorua, Skyline Queenstown).
Mountain bike enthusiasts say the trails, that wind through rainforest, with pristine streams and granite boulders are among the best in the world, offering big turns, big jumps and natural hand built trails.
The privately-owned park is built by trail developers, Dirt Art.
The Bike Park utilizes an old elementary school – rent your bike and book an uplift in one of the old classrooms, or grab a bite to eat from the school's cafeteria!
An uplift (20-minute bus shuttle) takes riders and sightseers to summit of the park, where visitors can commence their descent, or just settle in for a coffee, beer or a snack with 360-degree views across the rugged World Heritage Wildness.  Packages start at US$60 (A$80). Hire bikes, skills coaching and group skills sessions are also available.
Other than Maydena, Tassie offers Blue Derby in the state's north east, with nearly 60 miles of purpose-built single track and transforming the sleepy former tin mining town of Derby in the process.
Blue Derby Mountain Bike Trails, built by World Trail, has 52 miles of trail, with 18 more miles opening by mid-2018. Blue Derby's newest trails are ideal for beginners and families.
Derby, only 90 minutes from Launceston, hosted the Enduro World Series (EWS), in April 2017, the first time the race was held in Australia. One of the race stages was voted by the elite professionals as the best of the series, in a year where other races were held in France, New Zealand and Canada. Derby will host the EWS again in March, 2019.
Tasmania also has the country's first heli-biking experience. Rotor-Lift Aviation, a Hobart based helicopter operator has partnered with McVilly Velo to drops daredevils at the top of Maydena, to ride down, as well as taking riders to other remote mountains across the state.
If biking at a slower pace, and packing in history, local stories and tastings has more appeal, visitors to Launceston, Tasmania's major northern city can choose from a range of tours including 'Ride The River' and 'Ride The Harvest' that explores the famous Harvest market. Oenophiles can enjoy 'Ride The Vines', a two-hour cycle ride around, and through the vineyard that makes the Josef Chromy range of wines, finishing up with a tasting. www.onyourbiketours.com
Tasmanian E-Bike Adventures has half, and full day trips using electric mountain bikes to explore Bangor, a private, Tasmanian coastal property with nature trails through blue gum and oak forests to reach the stunning Cape Frederick Henderick. This includes the site of the Abel Tasman monument and the first documented interaction between European explorers and Aborigines.
http://tasmanianebikeadventures.com.au/
#discovertasmaniafb.com/tasmania @tasmania
Useful links –
www.discovertasmania.com.au/mtb
https://www.discovertasmania.com.au/what-to-do/outdoors-and-adventure/cycling-and-mountain-biking
Follow and Share with Jetsettersblog.