The Blue Train Reinvention 2019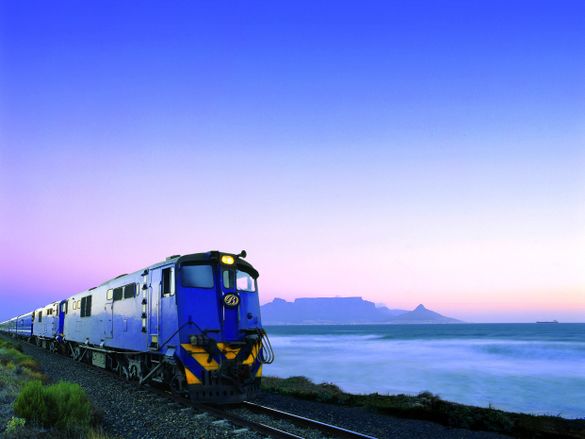 ---
In 2019, South Africa's iconic Blue Train will be reinventing its classic Pretoria to Cape Town (or vice-versa) experience from a 1-night to a 2-night journey.
There are many benefits of extending this luxury rail experience on top of it being a slower, more relaxing journey to better enjoy the scenery.
Guests will be able to begin their journey on the same day as their flight lands in SA, since the train will depart in the evening at 18h30 from Pretoria, and in the late afternoon from Cape Town at 16h00 – so they no longer HAVE to book a hotel the night before – and there will be no more early morning wake-up calls to make their way through the traffic for the previous station check-in time of 07h30.
Delays will also be unlikely going forwards as the trains will depart and arrive during off-peak hours so that no clashes occur with other commuter or freight trains. Guests can also book flights or make other forward arrangements after the train journey in either Pretoria or Cape Town, as both trains arrive at 10h30.
Furthermore, guests can enjoy day tours in either Pretoria or Cape Town before departure.
Both northbound and southbound departures will have a guaranteed extended 2.5 hour off-the-train excursion in Kimberley at the famous diamond mine's "big hole" and museum giving them more time to linger – which is always more popular than the previous Matjiesfontein excursion on northbound departures.
But the best news of all is that the rate will only increase by around £115 per person ie from R16 430 pp (about £953) to R18 405pp (about £1,067) – but for this, guests will enjoy around 40 hours of fully-inclusive wining, dining and a butler-service, compared to the previous 27 to 30 hours.  Plus they save on the costs of that extra night in a hotel.
Images: https://www.dropbox.com/sh/vly55iqi99xvnoz/AADLw4Bv67UkovZb5tGAGOC2a?dl=0
For more information please email claire@ethosmarketing.co.uk.
Ethos Marketing – proudly representing The Blue Train for over 20 years…
If you share this news – please let me know?  Would be very much appreciated. :o)
Follow and Share with Jetsettersblog.