Top 15 Must-Visit Destinations for 2018 and the Perfect Time to Go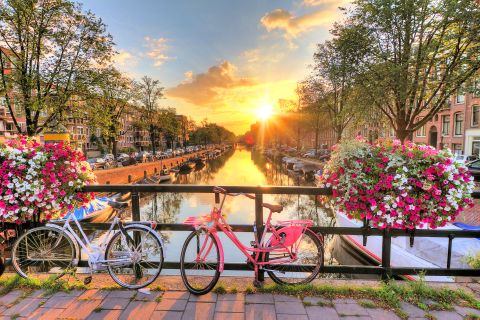 ---
Our booking trends tell us that travel planning tops the agenda at the end of the year and the start of the next when you've got your full holiday allocation to play with . So to give travellers some wanderlust inspiration, lastminute.com has revealed its top 15 travel destinations for 2018, to ensure Brits spend less time at work and start prioritising the stuff that really matters, like making memories.
lastminute.com compiled the list using the knowledge and predictions from its in-house travel experts and by analysing data on the fastest growing destinations this year and what people are searching for and booking in 2018. They combined this with information on the latest openings and new flight paths to compile its top 10 countries and top 5 cities for travel in 2018.
Topping the country list, Namibia has seen a massive 56% increase in bookings this year with visitors seeking out the eerie shipwrecks of the famous skeleton coast and conservation-friendly safaris. Celebrating 100 years of independence next year, Georgia has seen bookings rise 41% since the increase in popularity for its wines and outdoor activities. Tallinn tops the list for city breaks, whilst Amsterdam has seen a 15% uplift in bookings with the imminent Eurostar route opening.
Commenting on the 2018 list, Reigo Eljas, Country Director at lastminute.com said: "Every year we find that travel gets more exciting and people spend more time planning and discovering new and less explored parts of the globe, as the world continues to open up. We're really excited to launch our travel bucket list for 2018, and while we know that some jet-setters will already be planning their trips, we hope our selection will help others decide where to spend those precious holiday days."
To help you max out that 2018 allowance, we've also recommended the best time to visit each destination – so you're covered whatever month of the year you want to travel.
lastminute.com's top 15 destinations for 2018:
Top 5 City Breaks
Reigo says: "I might be a bit biased as this is my hometown, but Tallinn is the perfect destination to start the new year as you mean to go on with a warm spa break in the winter – we recommend the Swissotel Tallinn spa or Telegraaf hotel spa. Also, it's not every year a country turns 100 – so join the celebrations and combine a visit here with a trip to Helsinki (just a 2 hour ferry ride) – we think a combination twin-city break will be a huge trend for 2018."
Best time to visit: February – to join the 100th anniversary celebrations   
The Big Apple continues to reel in holidaymakers for 2018, with over 60,000 people searching for holidays to the US city for 2018 already. Opening next year is the much-anticipated Hudson Yards Food Hall from D.C. chef José Andrés and the Adrià brothers — the Spanish chefs famous for their work at El Bulli.
Best time to visit: October – avoid the freezing winter weather and see Central Park in the fall
Reigo says: "Amsterdam has become a hub of hot hotels and slick restaurants, with new openings for next year including the Rosewood Hotel and Q-Factory Hotel. The new Eurostar route from London in spring 2018 will really open up Amsterdam for a more relaxed and convenient way of travel, particularly for repeat visitors, who can also include a quick day stopover in Brussels too."
Best time to visit: June – sunny for cycling and trips down the canal  
lastminute.com has seen a 26% uplift in bookings to the Romanian capital of Bucharest, where travellers will now find trendy cafes and fascinating museums among the unreconstructed communist exterior. It's also home to some of the most beautiful castles in the world (Peles Castle and Bran Castle in Transylvania) and the glacier-formed, Balea Lake to have your instagram followers weeping. With guaranteed snow-mountains at Christmas, Bucharest is the ultimate destination for a festive trip.
Best time to visit: December – to visit its Christmas market and for a guaranteed white Christmas
With Emirates adding more flights to Dubai, travellers can now grab a bargain and jet off to the glamorous city for a weekend. If you're in need of winter sun, pampering spas, and michelin-starred food, Dubai is the answer.
Best time to visit: January – for some out of season winter sun
Top 10 Countries
Every year we hunt for destinations further off the beaten track, and this year, Namibia tops the most intrepid countries as the least densely populated in the world. Lastminute.com bookings were up 56% in 2017, with visitors flocking to book holidays along the famed skeleton coast.
Best time to visit: August – to avoid the rainy season and have the best wildlife spotting opportunities during the dry season
Georgia is celebrating its 100 years of independence in 2018, so visitors can expect year long festivities along with fantastic winelands, cave monasteries, and Black Sea beaches. And, with bookings through lastminute.com up 41% in 2017, it's set to be a big draw in 2018.
Best time to visit: September – to avoid the summer heat wave and winter freeze. September temperatures are perfect for exploring its beautiful landscapes comfortably
Reigo says: "While Croatia and Greece remain hugely popular in that region, we think this could be the dark horse in European holidays this year. Why? It's got the most rugged mountains in Europe, countless UNESCO heritage sites, and some sparkling blue coves – Montenegro has our vote for next summer's holiday."
Best time to visit: July – to make the most of the hot weather and beautiful coves
If you're looking to uncover the secrets of Latin America, Colombia has to be the country of choice. Every year, more of the country is opened up to travellers who can explore the lofty Andes, crumbling pre-Hispanic ruins, colonial towns, and Amazonian jungle.
Best time to visit: February – to travel within its driest months and for the Barranquilla's Carnival 
Tourism is booming in Oman, and lastminute.com is seeing this with over 4,000 searches for holidays in 2018 already, with some of the world's most luxury hotel chains opening their doors in the country. Head to the Musandam Peninsula for Arabia's answer to the Norwegian fjords.
Best time to go: November – to avoid the scorching summer months and enjoy out of season fares
With the staycation still trending as a top holiday choice, the lastminute.com UK destination of choice is the Isle of Man. Not just famous for its offshore tax credentials – with rolling moorlands, sandy beaches and a heritage railway line, it's perfect for a family outdoor adventure holiday.
Best time to go: August – for the best weather and a cheaper family holiday destination during the school breaks
While some of the Cape Verde islands are known as ideal winter sun destinations, there's more to the islands than just all-inclusive resorts. lastminute.com bookings were up 34% for 2017 so if you're looking to combine hiking with warm weather, head to the volcanic Santo Antão or farflung Fogo with its sparkling coves.
Best time to visit: December – for less rain, more pleasant temperatures and an alternative festive destination
lastminute.com's experts have this year chosen Taiwan as the best place to get your Asian holiday fix. And for good reason. The country is full to the brim with tempting hot springs, dramatic mountains, busy night markets and three national parks.
Best time to visit: October – to avoid the monsoon and typhoon season
lastminute.com has seen a whopping 27,000 searches for holidays to the tropical island of Mauritius for 2018 already. As the country celebrates its 50th anniversary of independence next year, it'll be the perfect time to visit its beautiful white sand beaches and join the celebrations.
Best time to visit: April – just outside of the peak season for cheaper fares but still great weather
With lastminute.com bookings up 23% in 2017, New Zealanders won't have to get annoyed about being left off the map for much longer. And with 15 years since the last Lord of the Rings film, you'll be itching to get over to New Zealand to relive the drama amid some of the world's most stunning scenery.
Best time to visit: March – to visit during its most beautiful season, autumn  
For more information on these unmissable destinations and for fantastic deals to book your own 2018 adventure, head to: http://www.lastminute.com/holidays/where-to-go-in-2018.html
About lastminute.com
Every year over 10 million culture vultures, sun worshippers, adrenaline junkies and spa-goers book their travel and leisure experiences with us. We're been among the worldwide leaders in the online travel industry since 1998.  We focus on making every second of the customer journey count and creating cutting edge content that inspires audiences from click to trip and beyond. Whether it's hotels, flights, holidays, city breaks, theatre or spa, we are lastminute.com and great things happen here.http://www.lastminute.com/
Follow and Share with Jetsettersblog.