Travel Hacks for Families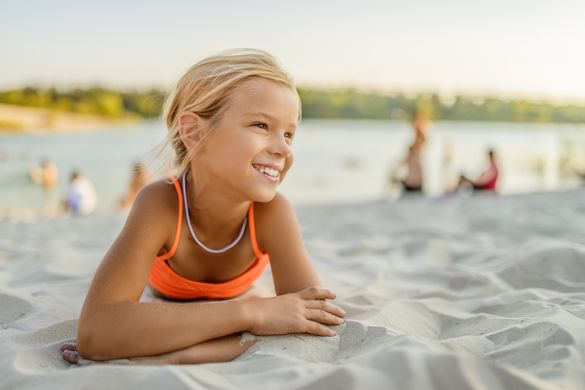 ---
With team members on the east and west coasts of America, plus all over Europe, Kid & Coe has a diverse take on family travel. Wherever you live and wherever you're going, these tips will make it easier.
Pack your own bags, kids! – Joanna, Customer Service, Brooklyn
One thing I've been doing since the kids were really little is packing their own carry-on backpack (the Fjallraven mini Kanken) with new activities they can open one by one during the trip. I'll set a budget of $15–20 and get them a mini Lego set they can build, a new pack of washable marker and activity book, stickers, inexpensive costume jewellery to play dress up with, a new surprise book to read, play-doh, cards games, and a combo of fun and healthy snacks. They can use the toys/activities while we are in the new location as well and the book can be used for bedtime.
For me, I find that accessories go a long way. Adding a great piece of jewellery can dress up more casual stuff for a dinner out, and a chic summer hat is also dual purpose — protecting you from the sun and adding a little style to a simple outfit.
Don't lose the plot (or the tickets!) –  Laura, Marketing, Copenhagen
My tip is to keep things organised with Trip It (and Google Trips is great for this too). I deal with so many emails on a given day and it's so easy to lose track of travel info, so I organise my travel plans in Trip It so I don't struggle to to find the things I've booked or places I want to visit.
I hear packing cubes are great but you know what's better? Traveling with just a backpack (for a week or less). I take absolutely as little as possible and make the kids travel with a change of clothes and pyjamas in their rucksacks. Works best if you're going somewhere that has toys or something to do on arrival, and maybe a washing machine…(hello, Kid & Coe!!). A good rucksack (mine is Scandinavian standard issue Fjallraven Kanken just like Joanna's kids!) is always a good idea.
Sidenote: a wise dad once told me that he plans trips with his family so his wife has a half day or day before the trip without the kids. It gives her time to have a hair cut, manicure, pick up sunscreen or buy new tshirts, and starts the trip off on the right foot. His words — a happy wife is the best start to a family trip away. Yes and yes…
Only pack 10 pieces of clothing! – Zoie, Operations, Ibiza
Packing cubes. I do a packing cube for each child and stick it all in a big duffel, plus one packing cube for all undies (never more than a week's worth even if we're away for longer) and two pairs of jammies. I travel with a fresh roll of Ziplocks (always useful!), and stain remover so I can soak and rewash kid clothes in the sink.
Fashion-wise, I try and stick to 10 pieces of clothing, all in same palette to go together. Bring scarves, bring leggings (they can always go under a dress if the weather changes), and add a big pair of earrings — they make anything cuter.
For planes: raisin boxes and those little Post-it tags and a little pill box with days of week filled with little goldfish and raisins saved my life on the recent Singapore flight with baby. Brutal.
Be nice — it's worth it! – Colleen, Social Media, Los Angeles
I second toys and snacks, and Zoie, I'm with you on the gift of post-it! I also take a scarf to use as a blanket and a fashion statement, and I pack light. I can also recommend putting a dryer-sheet in my luggage to make everything smell clean when I arrive.
Find a pair of shoes that work for day or night. I've been seeing these shoesmaking the rounds on influencer pages and almost ready to give them a try.
My last hack is pretty mom'ish — be nice to everyone at the airport. It sounds simple but not taking travel frustrations out on airline hosts and ticket agents have gotten the whole family bumped to business, changed minds about bringing oversized bags on planes and most importantly, free wine.
For more travel inspiration from Kid & Coe, sign up to the newsletter via www.kidandcoe.com.
Follow and Share with Jetsettersblog.