Trekking: World Expeditions Adds the Trans Caucasian Trail to Its Portfolio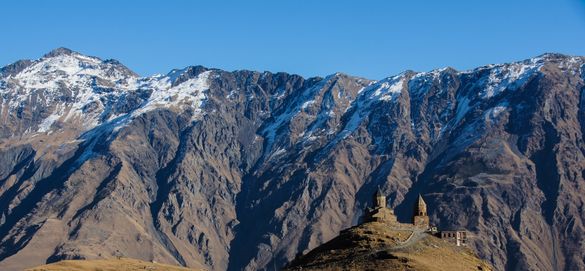 ---
It may still be in development but the Trans Caucasian Trail is already anticipated by hiking enthusiasts as the next big thing in trekking – and World Expeditions is thrilled to be the first UK operator to offer the option to trek selected sections of the long-distance trail in both Armenia and Georgia, the only two countries adequately mapped so far.
In development since 2015, once completed the Trans Caucasian Trail will extend more than 3,000km in length. It will connect more than 20 National Parks and protected areas in Azerbaijan, Georgia and Armenia, the three countries collectively known as Southern Caucasus.
From high-altitude grasslands and permanently snow-capped peaks to thick forests and shrubby plateaus, the dramatic Caucasus range ranks among the most inaccessible mountains in the world due to a lack of reliable and detailed recent data. The best available topographic maps are thought to be decades-old Soviet military maps, while public domain aerial imagery is often of low quality and inconsistent.
Yet, the Caucasus is a 'biodiversity hotspot': a quarter of the approximately 6,500 plant species that have been found in the mountains are estimated to exist nowhere else on earth, while the varied native fauna includes the iconic Caucasian leopard and Bezoar goat, as well as wolf, brown bear, jackal, lynx and hyena.
In addition, the region has preserved a distinct identity and cultural heritage: the earliest evidence of wine-making, more than 8,000 years ago, has been found in Georgia, while Armenia is considered as the first nation to adopt Christianity as its officially religion, already in 301 AD. Home to a number of ethnic groups, with more than 40 indigenous languages spoken across the region it is one of the most linguistically diverse places in the world, surpassed only by Papua New Guinea and the Amazon.
Commenting on the new trek, UK Manager for World Expeditions Gordon Steer said:
"This is one of the most exciting itineraries we are launching this year. Geographically, biologically and culturally the Caucasus range is one of the most diverse regions in the world.
The Trans Caucasian Trail offers the ultimate trekking experience in central Asia and it has already started to capture the imagination of many travellers.
At World Expeditions we always strive to offer to our customers the 'next big thing' and this trail is so unique that we feel it has the potential to be on every hiker's wish list".
Although the two sections are offered as separate itineraries, the dates have been especially chosen so keen hikers wishing to tick off both countries in one trip can complete the Armenia segment first and then continue the trail in Georgia.
NEW! Trans Caucasian Trail Hike with World Expeditions:
– Armenia (https://worldexpeditions.com/THA) – 8 days, launching 20 May; monthly departures until September; from £1,150 per person, including all meals
– Georgia (https://worldexpeditions.com/THG) – 10 days, launching 28 May; monthly departures until September; from £1,290 per person, including all meals
In addition to offering the option to trek parts of the Trans Caucasian Trail in Armenia and Georgia, World Expeditions is adding in 2019 a new, two-week Armenia to Georgia by Bike itinerary that starts in Yerevan and finishes in Tbilisi.
For more information and bookings please visit www.worldexpeditions.com or call 0800 0744 135.
World Expeditions' policy ensures there are no local payments. Prices do not include international flights, however these can be arranged on request. Tailored private departures are available for most World Expeditions trips.
– One of the very first operators in what is now becoming a very popular area in travel, since its inception in 1975 World Expeditions has earned itself an outstanding reputation as a world leader in small group adventure holidays and cultural journeys.
– World Expeditions remains independently owned and a truly global company, with seven offices around the world, including the UK, Canada, Australia and New Zealand.
– The two factors that distinguish World Expeditions from its competitors, the number of inclusions and the exceptional value of its trips, can be found today in more than 500 stand-alone itineraries across all continents, escorted by expert leaders and meticulously designed for those travellers who want to 'take the paths less travelled'.
– Always innovative, it was, among others, the first operator to offer cycling holidays in India (1977) and China (1978) and trekking trips in Mongolia (1980), Tibet (1981) and Japan (1999). As of 2011 World Expeditions is the only commercial company to offer the Full Nepal Traverse of the newly mapped Great Himalaya Trail.
– Exclusive to World Expeditions, a number of permanent eco-campsites, designed to increase travellers' comfort levels, are in operation in the Himalaya (Everest, Annapurna); new design-led campsites can also be found on the iconic Larapinta Trail in Australia.
– The European division of World Expeditions, activity holiday specialists UTracks and Sherpa Expeditions, cover over 20 countries, with more than 400 stand-alone itineraries, from short four-day breaks to longer two-week trips.
– The World Expeditions Travel Group consists of 10 travel brands in total, also including Adventure South, Australian Walking Holidays, Great Canadian Trails, Huma Charity Challenge, Tasmanian Expeditions and World Youth Adventures.
Follow and Share with Jetsettersblog.