Unique Things to Do in South Africa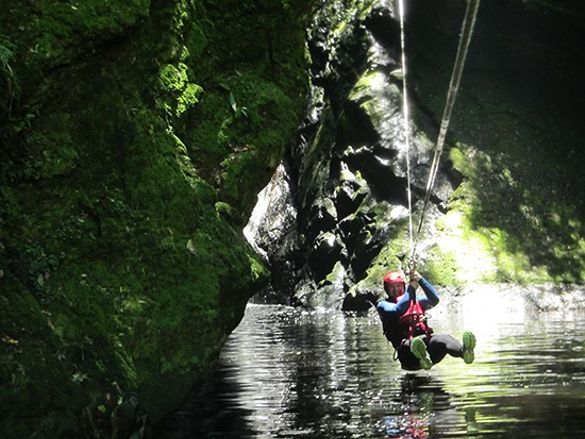 7 Unique Things to Do in South Africa
Thought South Africa was just wildlife watching? Think again. It has plenty of quirky and thrilling activities that can be added onto a Flight Centre tailor-made South Africa holiday.
Abseil Table Mountain
Why just look at a landmark icon when you can abseil down it? With Abseil Africa's Table Mountain challenge you can take a cable car or hike to the top, then leave your sanity at the summit and abseil all the way down. It's a 112-metre drop with just you, a harness, and one incredible view.
Dive with great white sharks
Nothing prepares you for the moment when a great white shark comes barrelling towards you, teeth bared, and the only thing separating it from dinner (you) is a wire mesh. It is quite possibly the most terrifying, but equally thrilling, experience in South Africa.There are lots of ethical debates about cage diving so it's important you choose your company wisely. Shark Cage Diving has strict conservation guidelines; they attract the sharks responsibly and operate in a remote part of the coast (thereby not actively attracting sharks to the public beaches).
Bathe in bio-phosphorescence
Kogel Bay is a hotspot for surfers and sunbathers who like a good-looking beach. With almost 1.2 miles of powdery sand and beautiful mountain views, the water even lights up on some nights with the glow of phosphorescence. The dark ocean is illuminated with clouds of sparkling blue light – an ethereal sight that's utterly hypnotic. It's a rare occurrence, but this is still a cool spot for a sandy sundowner.
Sunbathe with penguins
Hundreds of penguins flock to this bay at Boulders Beach, near Cape Town, and although you're not allowed to approach or touch them, that doesn't stop them from waddling all over your towel and trying to steal your snacks.
Scad dive in Soweto
What is Scad diving, you ask? Well, it's a free-fall from a very high spot. The massive disused cooling towers in downtown Soweto aren't exactly the most obvious location for this new adrenaline craze, but that's all part of the fun. At Orlando Towers you can free-fall (in a harness) down into one of the towers.
Tour South Africa's Big Things
In Calvinia (Northern Cape) an old water tank has been converted into a giant red postbox – and yes, you can send your postcards from it. Bathurst is also home to a 17-metre high pineapple and Rooiberg winery, in Breede River Valley, to Africa's biggest chair. It's nine metres high and is painted bright red.
Kloof through the canyons
Splashing through rivers, abseiling down waterfalls, zip lining across gorges… is there a better way to get around South Africa? Kloofing is the ultimate high-energy introduction to the country's dramatic river canyons – and it's seriously addictive. Head to Africanyon in Plettenberg Bay for the most thrilling four hours you'll ever have in a river.
Experience the best of South Africa and incorporate these thrilling activities into your itinerary with Flight Centre's tailor-made holidays to South Africa.
About the Flight Centre Travel Group (FCTG):
The Flight Centre Travel Group (fctgl.com) is one of the world's largest travel companies with over 18,000 staff and 2500 stores across its leisure, corporate and wholesale businesses. The company's turnover in 2014/2015 financial year was £9 billion. After starting with one shop 30 years ago, FCTG has enjoyed remarkable growth and is one of the top 100 publicly listed companies on the Australian Securities Exchange.
All specialist brands under the FCTG Corporate banner offer 24/7 support and the benefits of a blended offline/online solution; global negotiation strength and unique and superior business travel products.
About Flight Centre:
The team at Flight Centre are experts when it comes to travel and are committed to providing customers with a great experience. The company's success comes down to its people, experienced Travel Experts who are passionate about finding their customers the holiday they want, for the price they want.
Since establishing the first Flight Centre store in 1995, the business has grown its team of Travel Experts to include over 80 stores within the United Kingdom, with new stores opening regularly. Worldwide, Flight Centre has an amazing 2,500 stores across the United Kingdom, Australia, New Zealand, South Africa, United States, Canada and more, making Flight Centre one of the largest and most successful independent travel retailers in the world. With its global reach and close relationships with the world's best travel providers, the company is able to provide competitive travel deals.
The Flight Centre team can organise anything from flights to holidays, hotels, car hire, tours, travel insurance, visas and more. They also have dedicated First and Business Class flight teams and Business Travel teams to help with any specialised travel needs.
For more information go to www.flightcentre.co.uk,www.facebook.com/FlightCentreUK, www.twitter.com/flightcentre_UK or www.instagram.com/flightcentreuk.
Follow and Share with Jetsettersblog.