Unite for Great Barrier Reef. Action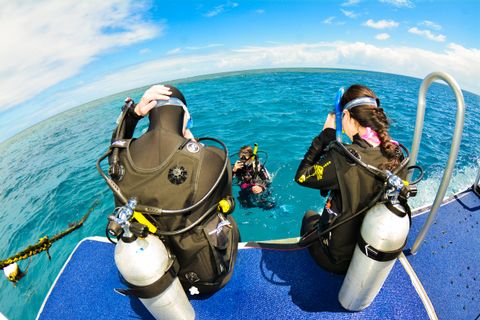 ---
A new social movement launched in Cairns today aims to put vivid pops of colour into millions of social media feeds as a global network of people unite to support the Great Barrier Reef.
Spearheaded by Earth Hour founder, Andy Ridley, Citizens of the Great Barrier Reef uses digital technology to mobilise individuals to take simple actions that will track their impact on the Reef.
The actions, which range from saying no to straws to donating funds to the Crown-of-thorns starfish eradication program, collectively feed into a global dashboard that tracks the mass impact of each person's choices.
Mr Ridley launched the movement today midway between a split coral spawning season, a powerful symbol of ongoing life on the Great Barrier Reef and a reminder that it's action – not apathy – that will secure the Reef's future.
"We are in the middle of a split spawning, an event where the reef, the animals, the clams, and the coral, spawn and regenerate," said Mr Ridley.
"We launched Citizens at exactly the same time, essentially trying to recreate and mimic nature and do a social spawning."
Ridley added that Citizens of the Great Barrier Reef shows that an action on one side of the planet can make a difference for the whole planet.
"As an individual citizen, everything you do will make a difference," Mr Ridley said.
"The future of the Reef is in our hands. We are the generation that has the power to save the Great Barrier Reef. Now is the time to act."
"Whether it's making a decision about never using one-use water bottles or take-away cups; even these small decisions when you scale them up to many, many millions, start to make a massive difference.
"Whether you are in Rio, Amsterdam or Beijing, we need your help. We need you to become a Citizen and unite for the Great Barrier Reef."
Australian actress and model, Teresa Palmer, is the first of a number of celebrities signing up to Citizens of the Great Barrier Reef.
"The Great Barrier Reef is a beautiful part of the world and it really breaks my heart to think future generations won't be able to experience it in the same way that we've been able to.
"I know myself and many fellow Australians are really passionate about protecting it. […] (But) it's not just an issue facing Australians, it's a global problem […] and we should all be working together to ensure it stays strong for future generations."
In a statement, Teresa Palmer calls on her friend and singer Sia, Australian retailer David Jones and Australian actress Phoebe Tonkin, to become a Citizen.
"I really hope that people get behind this movement and we can really work together to save the Reef."
Sixty-five kilometres out to sea from Port Douglas, snorkelers on the Great Barrier Reef yesterday agreed with the concept of Citizens of the Great Barrier Reef.
Ruth Ogier, 44-years old from London who joined the Divers Den trip said the Reef is definitely worth protecting.
"Today was so clear, I could see so many different types of fish –  really brightly coloured – and lots of different corals. It was amazing."
"I think it's a great idea, making sure everyone feels globally connected to this space, and protecting it for the future."
Nakita Russell, 24-years old from Fiji can't wait to sign up for Citizens of the Great Barrier Reef.
"I think everybody should sign up for it. I don't think it should be a second thought. I think it should be compulsory. And yes, I will be signing up to it. Right now."
CEO of Citizens of the Great Barrier Reef, Mr Ridley said it's easy to become a Citizen.
"You just go to the site citizensgbr.org, you sign up and then you start to choose the actions you are going to take."
By signing up to citizengbr.org, individuals and organisations can claim their own colour of the reef and through social media networks encourage friends, families, supporters and clients to do the same.
Citizens of the Great Barrier Reef also support reef management and conservation projects along the 2,300 kilometres stretch of Queensland's coastline. These include tackling outbreaks of coral-eating crown-of-thorns starfish, protecting endangered loggerhead turtle habitat and supporting graziers to decrease sediment runoff into Reef catchments.
In early 2018, the platform will open to allow Citizens and organisation to initiate and add their own tangible actions all around the world.
Join the movement today by becoming a Citizen of the Great Barrier Reef at citizensgbr.org.
Follow and Share with Jetsettersblog.