Discover Corsica's Beauty With Air Corsica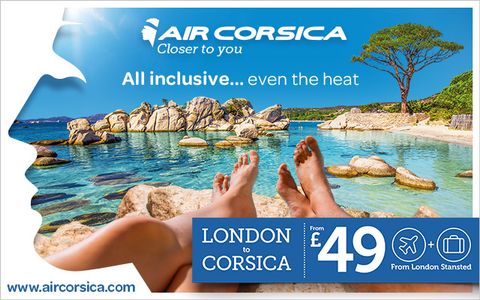 Discover Corsica's beauty with Air Corsica – French airline Air Corsica is launching new routes from London Stansted to three airports on the island from spring 2018
London, UK – 19 October 2017. In a bid to extend the summer season and reach a wider network of British travellers, Air Corsica is introducing flights from London Stansted to Ajaccio (Corsica's capital), Bastia and Figari between 3rd May and 4th November 2018.
The new flights will operate twice a week to Ajaccio on the west coast (Thursday mornings and Sunday evenings), twice a week to Bastia on the east coast (Thursday lunchtimes and Sunday mornings) and once a week to Figari in the south (Saturday mornings and lunchtimes).
The number of flights will increase to nine weekly during the peak months from June to September; these will include Friday lunchtimes and Saturday mornings to Ajaccio, Friday lunchtimes and Saturday afternoons to Bastia, and Wednesday afternoons to Figari.
A total of 64,000 seats will be available across the three routes between May and November.
Single fares start at £49 from London and €59 from Corsica, with a hold luggage allowance included up to 23kg, and cabin baggage up to 12kg. Ticket booking is now open online at www.aircorsica.com, with free seat selection and customer service available daily.
Flights take a maximum of two hours and 15 minutes, and the new timetable allows for three-night stays as well as longer holidays of a week or 10 days. An additional car rental service, 'Drive +' with rental company Hertz, is also available to book in conjunction with flights, in order to further open up the island to tourists next year.
– To contact Air Corsica, please email : mececchi@aircorsica.com
About Air Corsica:
Air Corsica is Corsica's principal airline and among largest company in the island. Founded 28 years ago, the regional airline rapidly took a leading position as the island's air transport specialist, carrying 1.7 million passengers a year. Main shareholder is "Collectivité Territoriale de Corse" and annual turnover is €192 million. Air Corsica operates over 20,000 flights a year across 33 routes with a fleet of six Airbus A320s and six ATR72s serving four Corsican airports along with mainland destinations in France and Belgium. Tickets can be booked online at www.aircorsica.com, with free seat selection and customer service available seven days a week.
Follow and Share with Jetsettersblog.