EVA Ai New Furla and Sport B. Amenity Kit Designs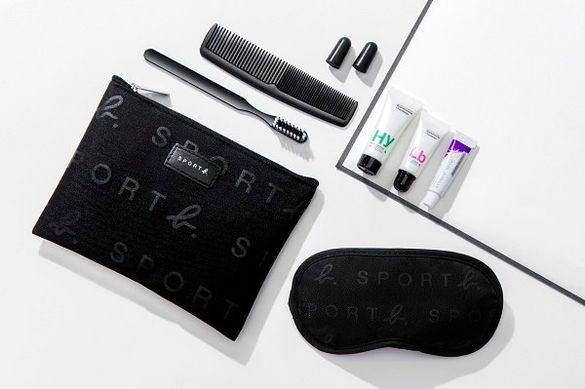 TAIPEI, TAIWAN (March XX, 2019) – EVA Air, Taiwan's leading independent airline, has launched brand-new designs of its FURLA and Sport b. amenity kits for its Premium Economy long-haul flights, including the London to Taipei route.
Premium Economy Class travellers on long-haul flights to Taiwan will now receive the brand new 'Sport b. Logo Pouch' in black. The new kits are designed by Sport b., of the French boutique group Agnès b., which is famous for its youthful and avant-garde style. Inside, passengers will find skincare products from UK-based brand Scaramouche & Fandango.
For Premium Economy Class passengers departing Taipei on long-haul flights, the FURLA Yellow Clutch amenity kits provide a contemporary touch. Designed by Italian lifestyle brand Furla, a major global player in the leather goods market and a brand known for its quality and creativity, the kits contain a skincare set from luxury French brand Payot.
The new-design kits launched on March 28th 2019 and also contain a comb, sleep mask, dental kit and ear plugs.
###
About EVA Air:
EVA Air, a Star Alliance member, was formed in 1989 as Taiwan's leading independent airline. It is part of the respected Evergreen Group and a sister company to global container-shipping leader Evergreen Line. It flies to more than 60 international destinations throughout Asia, Oceania, North America and Europe where gateways include London, Paris, Amsterdam and Vienna. It operates daily nonstop flights from London Heathrow to Bangkok that continue to Taipei where passengers can easily connect on to every major city in Asia, including close to 20 gateways in Mainland China. It has a reputation for innovation, warm, friendly service and an impeccable safety record.
EVA Air launched the industry's first premium economy cabin in 1992. Named Elite Class, this cabin was voted Best Premium Economy in an annual SKYTRAX poll. SKYTRAX's annual World Airline Awards have rated EVA Air as one of the World's Top-10 Best Airlines and No. 1 for Cleanest Cabins multiple times, including in its 2017 awards. In 2017, EVA Air was presented with the award for Best Business Class Comfort Amenities by SKYTRAX.
Travellers can learn more about EVA Air and schedule, book and buy tickets at www.evaair.com.