European Waterways' Celtic Cruises Take Flight With Exclusive Falconry and Birds of Prey Demonstrations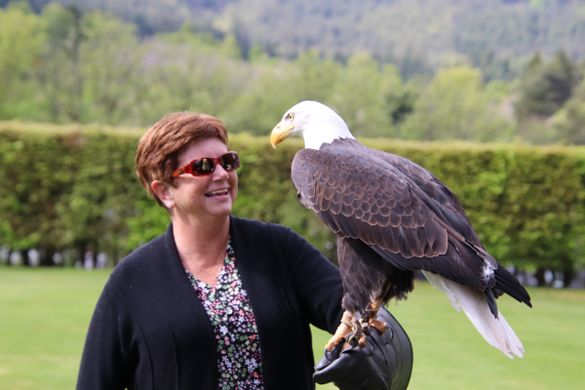 ---
For the first time, eagle-eyed European Waterways' guests can now be treated to magnificent demonstrations of the art of falconry as part of the company's exclusive "insider experiences" on hotel barge classic cruises aboard the Spirit of Scotland and Scottish Highlander in Scotland; and Shannon Princess in Ireland.  These striking displays, accompanied by experts, feature aerial acrobatics from birds of prey that include falcons, hawks, eagles, owls, and vultures. Set against the backdrop of the Scottish Highlands, or the walled gardens of a stately manor in Ireland, guests are also invited to get "up close and personal" with the birds, as they perch and take off from their arms, swooping high above the countryside.
According to Derek Banks, managing director of European Waterways: "Our continuing commitment to providing unusual and exclusive 'Insider Experiences' is driving record bookings for the company this year.  It's an incredible experience to watch these amazing birds and interact with them first-hand," said Banks. "The birds come from all over the world, with many of them on the endangered list. People rarely get to see them in-person, let alone hold them.  Our guests leave the demonstrations with a greater appreciation for their unique and magnificent beauty and the importance of ensuring their survival."
There is some limited availability remaining in 2018 on these classic cruise itineraries for all three vessels and 2019 departures are already selling fast, as customers take advantage of prices that are still at 2018 levels across most of the fleet. Six-night cruise fares start at £2,850 per person, or £20,700 for whole boat charters on the Scottish Highlander; £2,950 per person, or £29,500 for charters of the Spirit of Scotland; and £3,290 per person, or £27,800 for a whole boat charters of the Shannon Princess. All cabin prices are based on double occupancy.
Flying Colours
The 8-passenger Scottish Highlander and 12-passenger Spirit of Scotland – one of the newest in the European Waterways fleet – cruise the Caledonian Canal through the celebrated highlands of Scotland, past famous castles, historic battlegrounds and spectacular wildlife, glens and lochs, including Loch Ness, where the falconry demonstrations take place.  In addition to a visit to the private Highland Club, a former 19th century Benedictine Monastery and the birds of prey experience, guests also enjoy a tour and private tasting at the Glen Ord whisky distillery, among other excursions.
The hotel barges drift through many of the renowned Scottish lochs, including Dochfour, Ness, Oich, and Lochy.  Along the way, guests will also tour Cawdor Castle and gardens, inspiration for Shakespeare's Macbeth and the Eilean Donan Castle – filming location for the James Bond thriller, The World is Not Enough. The sweeping beauty of the highlands is a constant source of fascination, punctuated by frequent sightings of the diverse wildlife that calls the region home. Alternatively, tailored golf, whisky trail, honeymoon and family charters are also available.
The 10-passenger Shannon Princess cruises the River Shannon through the legends and lore of the Irish countryside.  Its panoramic windows look out to the rolling green landscape and ancient Celtic landmarks that include historic ruins, castles and grand estates.  The falconry demonstrations take place inside the walled garden of Adare Manor, a magnificent estate on the banks of the River Maigue.
Exclusive tours take guests through Portumna Castle, a carefully restored, semi-fortified castle overlooking the river in the town of Galway and the legendary 6th century Clonmacnoise ruins, an ancient monastic site that was visited by Pope John Paul II while in Ireland in 1979.  Guests will also visit Leap Castle, believed to be haunted due to its violent past, which includes murder, deceit and great treachery amongst its former owners and local clans. The cruise also offers an excellent opportunity for fishing and walking and, throughout, a sampling of the "black stuff," Guinness.
About European Waterways: Hotel Barging is a boutique, unique experience which offers an immersive, all inclusive "gentle voyage of discovery" that focuses upon the culture, history, fine wine and gourmet cuisine of the region. With a 6 to 20 person capacity and 1:2 crew to guest ratio, European Waterways is able to provide an impeccable level of on board service and can transport their guests on the intimate inland waterways that are inaccessible to larger vessels. This fascinating network of smaller canals allows for flexibility, spontaneity and ample opportunity to hop off and explore the beautiful surroundings via bicycle or on foot. In addition to this there are daily chauffeured excursions "off the beaten track" to a wide variety of enthralling locations, from exquisite wine tastings to private tours of stately homes. With over 40 years' experience and a fleet that spans nine countries it is the largest luxury hotel barging company in Europe.
Follow and Share with Jetsettersblog.