Explore the Oceans With YOTHA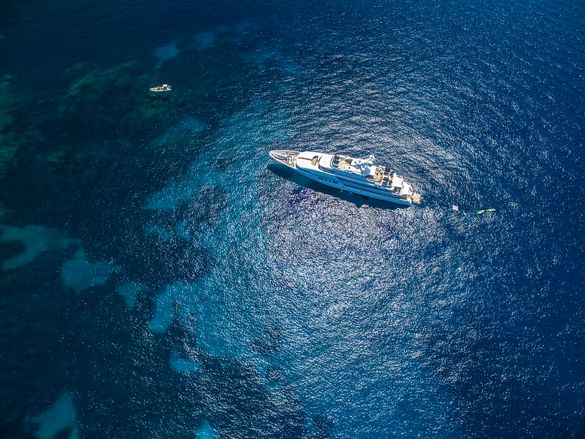 ---
Seamless technology to create your unique luxury experience
As the Mediterranean gears up for the summer season and temperatures are set to soar, charterers can now use YOTHA to create their ultimate vacation experience. The new, innovative online platform and On-Board mobile app have just launched. Charterers already have almost 40 luxury yachts to choose from and, using the latest technology, can design their perfect charter break.
Established in Monaco, YOTHA brings digitalisation to the charter industry, thanks to its global interactive online and mobile services. Designed to help charterers, owners, captains and brokers work together to get the best and fairest deals, YOTHA's objective is to make chartering simple.
Philippe Bacou, owner of YOTHA, says, "YOTHA leverages digital technology to offer a new yacht charter experience. Navigating the charter market can be complicated even if you are a seasoned adventurer. We want to help open up the market with a focus on simplicity and fairness. With YOTHA, the dream vacation becomes easily accessible to a new generation of yacht charter clients. We want to work closely with other yachting professionals to encourage more people to charter yachts. We've created YOTHA to expand the range of exceptional classic and contemporary, sail and power vessels that charterers can access.With the combination of a highly experienced team, exceptional partners and a 24/7 customer care department, offering personalisation is our objective. YOTHA charterers benefit from direct access to the captain and crew's wealth of knowledge."
YOTHA offers state-of-the-art tools to help choose your perfect yacht. Real time availability, 360° virtual tours, high definition pictures and detailed descriptions make selection easy. Moreover, the charterer and owner can also negotiate directly through the platform.
YOTHA does not only facilitate booking, but also the journey on-board thanks to its exclusive On-Board app. Captains are formally notified of their guests' booking requests and preferences weeks before departure. Guests can create tailor-made itineraries and activities including access to partner Quintessentially's luxury concierge services. At the end of the charter, guests can complete the digital "livre d'or" which will enhance other guests' comments for a better evaluation of each yacht.
More than YOTHA – When excellence attracts excellent partners
YOTHA has created the best tool for comprehensive charter management from A to Z. YOTHA strives to deliver enchantment to its clients and cooperates exclusively with the best partners in each specialty. The YOTHA spirit is to create a community of owners, charterers and partners aiming at excellence, recognizing it is the quality of the service that creates the ultimate charter experience rather than the size, and therefore the price, of the yacht.
To find out more about YOTHA visit www.yotha.com
Ends
Notes to Editors:
For further press information, an exclusive demonstration of the YOTHA platform and app or to arrange an interview, please contact Pippa Treavett or Tel: +44 (0) 1460 241 641 or email: pippa@adpr.co.uk
About YOTHA
YOTHA opens the way for the digital transformation of the luxury yachting industry. The innovative new solution for chartering will improve the clients experience, offer new services to attract new clients to luxury yachting. As a digital-first, tech start-up, YOTHA is keen to explore new ways of expanding the charter business and is forming partnerships with investors, yachting professionals and luxury providers. YOTHA allows owners and charterers to sign contracts online and ensures a global security guaranty for each payment made to the platform by utilising a Swiss Bank acting as stakeholder.
U-Boat Investment S.A. is a Luxembourg SOPARFI with 3.8M€ paid in capital. It owns the intellectual property and the brand, YOTHA, which operates the yotha.com platform.
Follow and Share with Jetsettersblog.