New voyage or HM Bark Endeavour, replica of Captain Cook's ship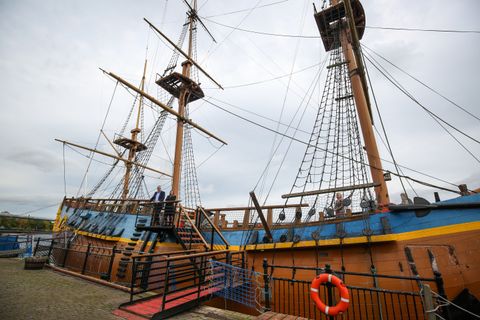 ---
The North York Moors coastline is set to get a major new visitor attraction next year when one of the most famous ships in the history of maritime exploration berths in Whitby.
HM Bark Endeavour, one of only two full-scale replicas in the world of the ship commanded by explorer Captain James Cook for his voyage to Australia and New Zealand will relocate from Stockton-on-Tees to Whitby in spring 2018.
The legendary tall ship was recently bought at auction by Whitby businessman Andrew Fiddler for £155,000, safeguarding the replica's future as a North East visitor attraction, after beating competing bids that could have seen it move to Portsmouth, London or Dubai.
After a refurbishment, repair and transportation programme costing up to £750,000, HM Bark Endeavour will re-open to visitors in Whitby, where the original ship was built in the 1700s and where the explorer forged his maritime career.
The arrival of the ship in Whitby in 2018 will coincide with the 250th anniversary when Captain Cook first set sail from Portsmouth on-board Endeavour to observe the transit of Venus at Tahiti, circumnavigate and chart New Zealand and chart the East coast of Australia.
Mr Fiddler intends re-opening HM Bark Endeavour as an historic tourist attraction and centre of learning for schools and colleges, with the aid of product development and business support from the Coastal Communities Fund project being delivered by the North York Moors National Park Authority.
Catriona McLees, Head of Promotion and Tourism for the North York Moors National Park Authority adds: "We're delighted to help support a project that has such a strong resonance with the National Park particularly with Cook's early years being spent near Roseberry Topping and Great Ayton before he moved to Staithes and then onto Whitby where his maritime career began.
"The ship will be a great draw for visitors and encourage them to make their own discoveries of the wonders along our coast."
Follow and Share with Jetsettersblog.