Princess Cruises Australia 2020 Voyages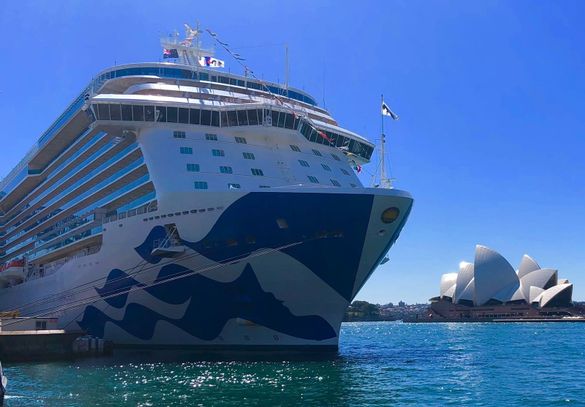 Princess Cruises has announced its sailings from Australia for April – October 2020. A total of 18 voyages will depart from Sydney, Brisbane and Perth, as well as Auckland in New Zealand.
The cruises range from a two-day Australia getaway to a 106-day world voyage. They go on sale on Wednesday October 10, 2018 at 23.00.
Example itineraries include:
·        Cruises to Tokyo from Sydney, Brisbane or Auckland, covering Asia destinations such as Hong Kong, Shanghai and Busan in South Korea
·        A Pacific Ocean voyage, sailing roundtrip from Brisbane to islands including Tahiti, Bora Bora and Maui
·        A 'northern explorer' cruise, departing from Sydney to Perth and calling at the likes of Brisbane, Cairns and Darwin
The world cruise sails roundtrip from Sydney or Auckland and takes in 27 countries with 41 ports of call. Destinations in Asia, Europe and North and South America are covered as well as a visit to the Arctic Circle. Overnight stays will be held in Dubai, Venice, New York and Lima.
The world cruise is additionally available in smaller segments, ranging from 19-70 days.
A 'circle pacific' cruise will also take place, sailing roundtrip from Sydney or Brisbane, and taking in Asia, North America and the South Pacific along the Pacific Rim. A variety of Alaska ports of calls are included, as well as two glacier-viewing experiences and overnight stays in Vancouver and San Francisco.
All voyages are on the 2,000-guest Sun Princess or Sea Princess.
Tony Roberts, vice president Princess Cruises UK and Europe, said: "Once again Princess Cruises is offering a fantastic variety of Australia cruises, so whether you're an experienced traveller Down Under or want to dip your toe in the water for the first time we'll have a sailing to suit you.
"From iconic landmarks such as the Sydney Opera House, to stunning vistas such as the Great Barrier Reef, there's a cruise and a destination for everyone."
A 17-day 'northern explorer' cruise sets sail from Sydney on August 27, 2020. Ports of call include Brisbane, Cairns, Alotau, Darwin, Kimberley Coast for scenic cruising, Broome, Geraldton and Perth (Fremantle). Prices from £1,739 per person.*
To book visit www.princess.com, call 0344 338 8663 or contact your local travel agent.
* Price is cruise only and excludes flights, hotels and transfers
About Princess Cruises
One of the best-known names in cruising, Princess Cruises is a global premium cruise line and tour company operating a fleet of 17 modern cruise ships, carrying two million guests each year to more than 380 destinations around the globe, including the Caribbean, Alaska, Panama Canal, Mexican Riviera, Europe, South America, Australia/New Zealand, the South Pacific, Hawaii, Asia, Canada/New England and World Cruises. Itineraries range in length from three to 111 days.
Three new Royal-class ships are currently on order with the next new ship, Sky Princess, under construction scheduled for delivery in October 2019. Princess recently announced that two new (LNG) ships which will be the largest ships in the Princess fleet, accommodating approximately 4,300 guests with expected delivery in 2023 and 2025.  Princess now has five ships arriving over the next six years between 2019 & 2025. The company is part of Carnival Corporation & plc (NYSE/LSE: CCL; NYSE:CUK).