Princess Cruises West Coast Sailings for 2020-2021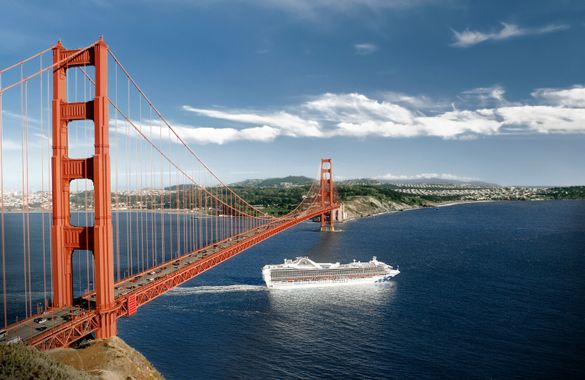 ---
Princess Cruises has announced its largest ever west coast deployment for 2020-2021, to destinations including Hawaii, the California coast and Mexico. The voyages depart from September 2020 to May 2021 and go on sale today.
Hawaii
A range of Hawaii options are open to guests, with roundtrip cruises available from four ports – Los Angeles, San Francisco, Seattle and Vancouver – and sailings to destinations including Maui, Oahu, Kauai and Hilo.
New for the season are two 16-day cruises from Seattle on Emerald Princess and Ruby Princess. Star Princess (roundtrip Los Angeles), Ruby Princess (roundtrip San Francisco) and Grand Princess (roundtrip Vancouver) will also sail 15-day Hawaii cruises.
Emerald Princess and Star Princess will offer a 28-day Hawaii and Tahiti cruise roundtrip from Los Angeles, featuring visits to Tahiti, Moorea and an overnight stay in Bora Bora, plus Pago Pago and Samoa in addition to the Hawaiian Islands.
During days at sea, guests can experience the Hawaiian and South Pacific cultures onboard with activities including lei-making, ukulele playing, hula dance lessons and Polynesian language classes.
California coast
A variety of voyages along the California coast will be available including seven-day cruises from Los Angeles on the 3,560-guest Royal Princess and seven-day cruises from San Francisco on Ruby Princess and Star Princess. Guests can experience coastal towns and cities including Astoria, San Diego, Santa Barbara and Monterey. A Grand Princess 10-day option from Vancouver also includes stops in San Francisco and Los Angeles.
Guests can choose from seven-day Pacific wine country cruises sailing between Los Angeles and Vancouver, which highlight the wine regions along the coast. Shorter, one-to five-day cruises are also available. Royal Princess' sister ship, Regal Princess, will make her west coast debut with seven-day Pacific wine country cruises to San Francisco, San Diego and Astoria.
On land, Princess Cruises has developed exclusive culinary shore excursions in Santa Barbara, San Diego and Ensenada, as well as trips to the California wine country, visiting local vineyards and winemakers throughout the region.
Mexico
Royal Princess will offer 25 cruises to the Mexican Riviera from Los Angeles, including seven-day options to destinations such as Cabo San Lucas, Mazatlán and Puerto Vallarta. Shorter, five-day sailings to Cabo San Lucas are also available with an overnight stay so guests can spend more time in port.
Ruby Princess will be based in San Francisco and depart on three 10-day cruises to the Mexican Riviera from the port of San Francisco including a sailaway under the Golden Gate Bridge. In addition Emerald Princess and Star Princess will sail on five, 10-day Baja Peninsula & Sea of Cortez voyages, visiting Cabo San Lucas (overnight), La Paz, Loreto and Puerto Vallarta, roundtrip from Los Angeles.
Princess' ships in Mexico will offer locally-inspired food and drink with menu items such as ceviche, tacos and mole, as well as margaritas and a premium tequila tasting. Meanwhile younger cruisers can enjoy Mexican arts and crafts while learning about the traditions and customs of the places they'll visit.
Example sailings:
Princess Cruises is offering a 15-night Hawaii Islands sailing on Ruby Princess, roundtrip from San Francisco. Departing November 23, 2020 ports of call include Hilo, Honolulu, Kauai (Nawiliwili), Maui (Lahaina) and Ensenada. Prices from £1,389 per person, with up to $200 onboard spending money per person, a complimentary bottle of wine and free speciality dining.
Princess Cruises is offering a 7-night Classic California Coast sailing on Royal Princess, roundtrip from Los Angeles. Departing October 31, 2020 ports of call include San Francisco, Monterey, San Diego and Ensenada. Prices from £779, with up to $125 onboard spending money per person, a complimentary bottle of wine and free speciality dining.
Princess Cruises is offering a 7-night Mexican Riviera sailing on Royal Princess, roundtrip from Los Angeles. Departing January 9, 2021 ports of call include Cabo San Lucas, Mazatlan and Puerto Vallarta. Prices from £689 per person, with up to $125 onboard spending money per person, a complimentary bottle of wine and free speciality dining.
For more information or to book visit www.princess.com, call 0344 338 8663 or contact your local travel agent.
*Fare price based on two guests sharing an inside stateroom.
Onboard spending money varies by cruise duration and stateroom category.
Onboard spending money applies to guests one and two only.
Speciality dining restaurant will be pre-assigned by Princess Cruises based on seating availability and guests will be informed  of dining date, time and restaurant once onboard. One meal per guest.
One bottle of wine voucher each (guests one and two in the stateroom only) up to a value of $32per bottle will be placed in the stateroom upon arrival and is only available to passengers aged 18 years and over. To redeem the wine voucher guests can visit any of the bars.
About Princess Cruises
One of the best-known names in cruising, Princess Cruises is a global premium cruise line and tour company operating a fleet of 17 modern cruise ships, carrying two million guests each year on 170 itineraries to more than 380 destinations around the globe, including the Caribbean, Alaska, Panama Canal, Mexican Riviera, Europe, South America, Australia/New Zealand, the South Pacific, Hawaii, Asia, Canada/New England and World Cruises. Itineraries range in length from three to 111 days.
In 2017 Princess Cruises, with parent company Carnival Corporation, introduced MedallionClass cruises enabled by the Ocean Medallion – the cruises industry's most advanced wearable device, provided free to each guest sailing on a MedallionClass ship. The award-winning innovation offers the fastest way to a hassle-free, personalised cruise, giving guests more opportunity to enjoy their time onboard. Ocean Medallion will be activated on five ships by the end of 2019. An activation plan will continue across the global fleet in 2020 and beyond.
Princess Cruises continues its multi-year, "Come Back New Promise" – a £330 million-pound product innovation and cruise ship renovation campaign that will continue to enhance the line's onboard guest experience. These product innovations include partnerships with award-winning Chef Curtis Stone; shows created in partnership with Broadway-legend Stephen Schwartz; immersive activities for the whole family from Discovery and Animal Planet from exclusive shore excursions to onboard activities; the ultimate sleep at sea with the award-winning Princess Luxury Bed and more.
Three new Royal-class ships are currently on order with the next new ship, Sky Princess, under construction scheduled for delivery in October 2019. Princess recently announced that two new (LNG) ships which will be the largest ships in the Princess fleet, accommodating approximately 4,300 guests with expected delivery in 2023 and 2025.  Princess now has five ships arriving over the next six years between 2019 & 2025. The company is part of Carnival Corpora
tion & plc (NYSE/LSE: CCL; NYSE:CUK).
Follow and Share with Jetsettersblog.