Save Over 45 percent on Captain Cook Whale Watching Cruise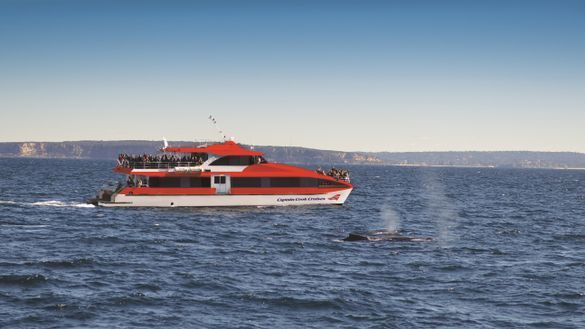 ---
Save over 45% on Captain Cook Whale Watching Cruises
Captain Cook Cruises has launched a Sydney Whale Watching pre-season sale, offering over 45% discount on Whale Watching Cruises operating between 19 May and 30 June 2018. The amazing deal is only $45 per person, normally $85 when booked before 17 May 2018.
This fantastic open-water cruise takes passengers past the Sydney Opera House, Fort Denison and the beautiful eastern suburbs, before passing through the Harbour headlands.
Once in open water the excitement begins as Humpbacks are spotted visiting Sydney's coastline as part of their annual migration. On occasion, Southern Rights, Orcas and Minke whales can also be seen, as well as seals, albatross and fairy penguins. Dolphins nearly always accompany the cruise, with some pods numbering up to 100 individuals.
According to Ecological Consultant and Captain Cook Cruises Marine Commentator, David James, 2018 looks set to be another great Whale season.
"2017 was the most incredible whale watching season on record. Whales were spotted on over 95% of departures and up to 18 whales seen each time. With whale sightings increasing every year, 2018 will blow those statistics out of the water."
"The whale activity is increasing too as more Humpback Whales migrate through the same stretch of water, resulting in pods travelling closer together.  This increases the social interaction between the pods which leads to more spectacular behaviour like breaching, spy hopping, pec and tail waving and slapping." Continues Mr James.
Captain Cook Cruises operate Whale Watching cruises throughout the Whale Watching season from 19 May to 31 October 2018.
Captain Cook Cruises offers every passenger a whale guarantee; if a whale is not spotted, passengers can cruise again for free.
Whale watching cruises are operated on ocean-going catamarans "Maggie Cat" and the new "Nancy Wake", both limiting passenger numbers to 120 to ensure great views. Each vessel is equipped with two passenger decks and spacious outdoor and indoor viewing areas including an all-weather lounge, ideal for the entire family. Snacks and drinks can be purchased on-board.
Each cruise features expert commentary and a highly skilled onboard team.
Whale Watching cruises operate daily from Circular Quay Wharf 6, departing at 1.30pm and returning at 4.15pm. Additional morning cruises operate on Saturday and Sundays departing at 10.15am and returning at 1.00pm.
Captain Cook Cruises Whale Watching pre-season cruise sale starts from $45 per adult and is valid for all direct bookings made before 17 May, 2018 on all Whale Watching cruises operating from 19 May to 30 June, 2018.
For bookings visit www.captaincook.com.au or T: +61-2-9206 1111
For further information and bookings, please contact Captain Cook Cruises on T: +61-2-9206 1111 or visit www.captaincook.com.au
Follow and Share with Jetsettersblog.