The Strand Cruise Through Myanmar in 2018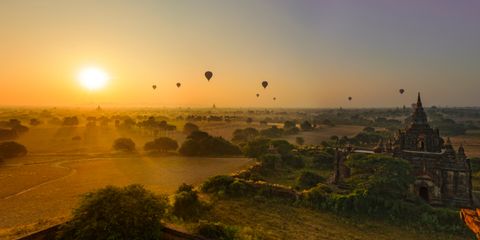 ---
The Strand Cruise in Myanmar has revealed the latest details of its new programme of expert-led cruises for 2018, which are offered in addition to its regular sailings on the beautiful and evocative Ayeyarwady River, which links the ancient capitals of Bagan and Mandalay. Each cruise will follow The Strand's regular four-night itinerary, but be enhanced by the presence of professional hosts expert in photography, cooking and classical music, who will organise additional activities on board and during shore excursions designed to enrich passengers' immersion into this mystical golden land.
Classical Music Cruise – departing 13th February 2018
Following two very entertaining voyages in 2017, on 13th February 2018, The Strand Cruise will welcome the return of professional musicians from the famous Orchestre de Paris over a special Valentine's Day voyage. Eight classically trained musicians will join passengers and perform an intimate concert each evening over cocktails, with a score featuring some of history's most famous composers, including Mozart, Dubussy, Vivaldi and Tchaikovsky. Played against a backdrop of romantic sunsets and a vista of thousands of pagodas, the musicians will perform in different locations, such as a private sandbank or on the ship's sundeck, and be present throughout the cruise, offering passengers the unique experience of interacting with, and spending time with, these top international musicians.
Gourmet Cruise – departing 12th March 2018
Passengers travelling on The Strand Cruise from Bagan to Mandalay on 12th March 2018 will spend a lively and interactive four days journeying through Myanmar's culinary heritage with The Strand's Executive Chef, Christian Martena, who will be joined by guest chef, Sylvain Royer, Michelin starred Chef de Cuisine of the Bangkok-based R&B Lab Company. Christian is responsible for all the cuisine on board the ship and at The Strand Yangon, including the fine-dining Strand Restaurant and The Strand Café, which has a 116-year reputation as being the best place in Yangon to sample authentic Burmese Cuisine. Sylvain is farm to table fanatic, responsible for several highly acclaimed restaurants in the region, including the Scarlett Wine Bar & Restaurant in Bangkok. As well as visiting ancient capitals and fascinating temples along the river, passengers can accompany Chefs Christian & Sylvain on visits to markets to discover local ingredients such as the tealeaf, which is used to make Laphet, a traditional Myanmar salad of fermented green tea, and infuse fish recipes such as Mohinga, a fish and noodle broth from the Shan region. They will also present some of their signature dishes pared with wines each evening, as well as encouraging passengers to try new tastes by leading a blind food tasting contest to discover or re-discover ingredients found along the banks of the Ayeyarwady River.
Photography Cruises – departing 26th March 2018 & 17th September 2018
Myanmar's The Strand Cruise will again host professional photographer, Lucas Gurdjian in 2018, following his successful cruise in 2017 which saw passengers capture breath-taking images of Bagan's golden skies and dramatic skyline, as well as the wealth of portraits of characters they encountered. Lucas will share his knowledge on how to capture this once in a lifetime experience and how passengers can improve their skills as a photographer. Lucas, who has over 15 years experience as a travel and lifestyle photographer, will coach passengers on different styles of photography, including landscapes, food photography and portraits; tips on framing, lighting, aperture and depth of field; as well as post-production techniques.
The Strand Cruise is also running special departures programmed specifically for modern families travelling with children in December 2017 and January, March and April 2018. Modern-minded global travellers looking for a premium product with a fresh vibe are also catered for with three special voyages in 2018 with on-board and onshore activities designed to appeal to the next generation luxury cruise passenger seeking a more active and social experience, with additional activities such as pool parties, sunrise yoga, silent disco and the option to explore Bagan by e-bike.
The Strand Cruise expert-led themed cruises operate on the ship's scheduled four-night cruises and are a value-added experience offered at no extra cost to passengers. Rates for a four-night cruise from Bagan to Mandalay are priced from USD 1,875 per person (from GBP 1,423 or AUD 2,446) sharing a Deluxe Cabin based on double occupancy.  Rates include all excursions and activities on board The Strand Cruise as described in the set itinerary, three meals during full sailing days, breakfast on day of disembarkation, soft drinks & local beer, house wine during meals, port charges, English speaking guides (alternative language guides can be provided on request subject to availability) and satellite WI-FI in all cabins and public areas. www.thestrandcruise.com
Follow and Share with Jetsettersblog.