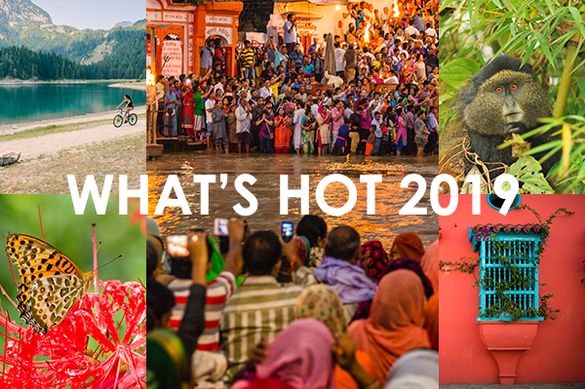 ---
What's Hot 2019
The nights are drawing in and almost certainly some shop somewhere has put up the Christmas lights so naturally we've decided to bypass all that and start thinking about 2019 instead. At Original Travel, we've looked deep into our crystal ball, studied the tea leaves and read the runes (whatever they are) and decided on the very best places to be in the next year…
1. Montenegro
Lesser-known than its well-known neighbours of Croatia and Greece, this tiny slice of Adriatic coastline has previously lacked high quality accommodation (other than the Aman) to rival its startlingly beautiful fjord landscapes. Well, not anymore. Montenegro is set for a luxury upgrade in 2019 with the Chedi Lustica Bay newly opened and One & Only opening its first resort in Europe next year with Portonovi in Boka Bay. Hotels aside, there is a plethora of experiences that we can organise to get under the skin of Montenegro's wild great outdoorsinstead of the usual fly and flopping on the Riviera. Venture on a private guided tour of Boka Bay and cycle around the beautiful Bay of Kotor before heading east to kayak through giant water lillies on Skadar Lake, which also happens to be excellent for bird watching and hiking. Heading further inland, the mountainous region of Durmitor National Park is home the deepest gorges and the greatest variety of butterflies in Europe and is a haven for hiking, canyoning in Nevidio Canyon and rafting on the River Tara. Go now before everyone else does.
2. Colombia
Experiencing a renaissance in luxury travel, Colombia's breathtaking jungle landscapes and colonial cities deserve more recognition. Away from Cartagena's colourful colonial architecture, visit the local Bazurto food market, home to some of the freshest seafood in the country, and learn about the city's fascinating street food history and culture. Enjoy a hands-on Caribbean cooking class with one of Cartagena's most renowned chefs. And to wash down the grub, we can arrange a tasting session of local aged rums with one of the country's top sommeliers. Escaping city life, transfer to the rainforest via helicopter, taking in aerial views of The Lost City, Tayrona National Park and an indigenous community before arriving at Casa Galavanta, a private property secluded in the heart of the Sierra Nevada de Santa Martamountainous jungle range. Enjoy a digital detox with no internet connection and minimal phone signal, and disconnect from the outside world. Enjoy private yoga sessions on your outdoor deck, with views of the mountains and ocean, participate in handpicking coffee, visit a small traditional Wiwa village, venture out on expert-led nature walks and enjoy a spot of birdwatching in this nature haven. Opening this November is the brand new and exclusive Corocora Camp, located inside a remote private reserve on the vast plains of the Llanos Orientales region, a two-hour drive (or 30 minute helicopter) from Yopal. This is the first camp of its kind in Colombia with safari-style tents and a wildlife focused camping experience. Spend your days soaking up the Llanero cowboy culture, herding cattle and riding in search of giant anteaters, capybaras, caimans, howler monkeys and – if you're lucky – rare pink river dolphins or a prowling puma. Bird watching is exceptional here, with over 350 exotic bird species in the area. Return to your luxurious campsite with delicious local gastronomy and sundowners by a bonfire in the solitude of the private reserve.
3. Egypt
Egypt is definitely back and remains a firm favourite at Original Travel, in large part thanks to the spectacular Steam Ship Sudan (we'll come onto that later). Opening at the beginning of 2019 is the long-awaited Grand Egyptian Museum which has been relocated and newly built overlooking the pyramids of Giza. The museum will house over 100,000 ancient Egyptian artefacts, many of which have never previously been shown in public, and includes King Tutankhamun's complete collection of over 50,000 artefacts. Once complete, the museum will be the largest in the world devoted to a single civilisation. After spending time exploring the pyramids and in chaotic Cairo, slow down the pace and head to the Nile for a cruise aboard Steam Ship Sudan. Possibly one of the most memorable boating experiences in the world, the beautifully decorated, authentic 19th century steamer (which inspired Agatha Christie to write Death on the Nile and also starred in the subsequent film) glides down the Nile between Luxor and Aswan, stopping at fascinating archaeological sites, temples and tombs along the way.
4. Rwanda
25 years after the appalling genocide in 1994, Rwanda is thriving. 2019 sees a whole host of new luxury openings with Singita's Kwitonda Lodge arriving in Volcanoes National Park in August 2019, One and Only's Nyungwe House near Nyungwe National Park just opened this month and Wilderness Safari's recently opened Bisate Lodge adjacent to Volcanoes National Park. Experience bucket-list gorilla and chimpanzee trekking and search for very rare golden moneys in Volcanoes National Park before heading to Nyungwe to search for black and white colobus monkeys, go birdwatching, and explore tea plantations and local villages. And if you're wanting an alternative big game safari destination, Rwanda is now home to all Big Five game since the relocation of 20 black rhinos from South Africa to Akagera National Park. (Who knew?)
5. Myanmar
Let's start with an important caveat that, of course, we in no way support the immoral actions of the Myanmar Government in Rakhine State. That said, boycotting all travel to a country that relies so heavily on tourism would be disastrous for the vast majority of the innocent population, and so we will still offer and in fact encourage travel to Myanmar in 2019. Surrounding the almost entirely tourist free southern tip of the country, the Mergui Archipelago has suddenly registered on our radar thanks to the 2018 opening of the bohemian luxury island property, Wa Ale Resort. By Christmas this year Awei Pila will join Wa Ale and really open up the region's potential. With stunning white sand beaches, abundant colourful reefs and verdant jungle this is a great tropical alternative to Thailand's more crowded beaches. Conveniently you can also easily boat across from Thailand's Ranong to combine the two in one jam-packed culture meets beach break.
6. Turkey
The gateway to the Turkish Riviera has recently been reopened after British Airways resumed its direct route to Dalaman. With the Turkish lira having dropped in value, new hotel openings, and things stabilising a little politically, the Turquoise Coast of Turkey has never looked more appealing. With the Turkish Aegean back on the map, its turquoise seas, secret beaches and exclusive bars and clubs are peaking the interests of glamorous beach-goers usually resigned to the same old European break. Both exotic and within easy reach of the UK, the south-westerly beach town of Kaplankaya, complete with a sparkly new Foster & Partners designed marina and the brand new Six Senses Kaplankaya, is one to watch. Just south of Kaplankaya is another hot Turkish destination – the Bodrum peninsula, with an array of promising new hotel offerings. From the coast around Bodrum, day trips to the little-visited, archaeological feat of Ephesus or spending a week on aboard a traditional Turkish gulet are great to switch up the tempo. And while we're here, a trip across the country to one of our much-loved favourites, Cappadocia, never goes amiss. Although not technically new (it's been inhabited since at least the 6th century) the mix of fantastic activities from hiking, mountain biking, horse riding and ATV/quad biking here is great. Head out on historic and cultural tours of the fascinating Kaymakli Underground City, Devrent Valley and the Love and Rose Valleys; all great to combine with time on the Rivera if you have more time to spare or an activity-inclined family chomping at the bit.
7. Japan
Since the 2019 Rugby World Cup and 2020 Olympics mean more visitors than ever will be heading to Japan in the near future we reckon it's time to look beyond Honshu and explore some of the other 6,852 islands in the Japanese archipelago. We suggest starting in Kyushu, where bubbling natural onsen hot springs, active volcanoes and some of the country's best street food can be found, as well as three of the rugby world cup stadiums. You'll also find incredible and virtually people-free trekking terrain just off the southern tip of the island on tiny and UNESCO protected Yakushima Island. Here ancient and mystical forests rule the roost and it's a far cry from the in-your-face wackiness that Tokyo offers. Alternatively, for those who manage to snaffle a ticket in the Rugby World Cup ballot and want to stay close to the games, we're running with the sporting theme and keeping our eyes on the numerous off the beaten track cycling routes on Honshu, where guides can help even less adept cyclists explore via pedal power.
8. Chile
2019 marks 250 years since the birth of Alexander Von Humboldt, the 18th century explorer famed for placing Chile (and pretty much the rest of South America) firmly on the map. It seems very fitting, then, that 250 years later the Tomkins Conservation foundation, founded by the North Face and Patagonia clothing brand founders, have reaffirmed Chile's place on the map by setting out to protect Von Humboldt's old haunts with a new 1,740 mile long hiking trail in a noble attempt to improve awareness of conservation. The new Patagonian Route of Parks opens up brand new hiking routes for tourists and connects 17 national parks together in one networked route. If this development wasn't reason enough to make the 14-and-a-half hour direct trip over there, the much-awaited natural phenomenon of the 2019 Solar Eclipse is set to be a corker. With accommodation booking up faster than you can say Humboldt we're backing Upscape's eclipse itinerary for their newest Luxury camp; Outpost. Its remote position in the Elqui Valley promises to ensure crystal clear skies, so you can enjoy an uninterrupted pisco sour under the light of the eclipsing moon.
9. India
India has always been one of our favourite destinations for an authentic travel experience, but in 2019 we're honing in on the country's spiritual specialism. Between the 15th January and 4Th March the ancient city of Haridwar in Northern India will play host to Ardh Kumbh Mela, the UNESCO recognised largest spiritual festival in the world, where Hindu devotees come to wash away their sins in the river's holy water. Kumbh Mela festivals happen on rotation between four cities over the course of 12 years, and the even more special Ardh (half) Kumbh Mela happens only every six years, so this is a pretty big year for Haridwar. To mark the occasion The Ultimate Travelling Camp are setting up Sangam Nivas, a pop-up camp made up of 44 traditional canvas tents with TUTC's signature luxury interiors. Guests will be invited to partake in a series of experiences that really bring the Kumbh Mela to life, including a meeting with the local Sadhus and Seers and a boat ride to the Sangam where guests will be able to witness devotees performing absolution at the river's edge. To continue your spiritual education we at Original Travel have also put together an exclusive new Spirituality in the Indian Himalayas itinerary, which will loop through Amritsar, Dharamshala, Shimla and Chandigarh and include the new Taj Resort & Spa in wonderfully remote Rishikesh, which opens imminently.
10. Champagne, France
Here at Original Travel, we've had a tendency of overlooking France's Champagne region, but enter new and unique regional activities and a host of spectacular new hotels (or barges) and we can't wait to get a slice – or sip – of the action. Belmond's new Pivoine Champagne bargelaunched in 2018 with four exquisite cabins taking up to eight guests through the serene countryside via sparkling French waterways. There's just something so elegant about exploring chateaux, vineyards and breweries as you meander from La Ferte-Sous-Jouarre to Chalons-en-Champagne, ending the day with a glass of world class local bubbles from the comfort of the on-deck hot tub under the stars. Paralleling the excitement on land is the recent opening of The Royal Champagne Hotel in spring 2018, injecting a much-needed shot of luxury and style to the hotel offerings of the region. From barge or hotel, we recommend arranging a private vineyard tour and tastings including a backstage at Bollinger experience, along with a make your own champagne lesson and treehouse champagne bar experience for a comprehensive immersion in the region through its greatest highlights.
 11. Oman
For a second-time-Oman trip, we are encouraging you to forget the vast Arabian Desert and opulent Muscat, and instead venture off-the-beaten-track. There's no better place to do so than at the undercover desert camp that has just appeared on our radar. A base for canyoningdown wadis with expert adventure guides, and with luxury Bedouin-esque accommodation, it's a dramatic and refreshing difference to the shining marble and chandeliers of Muscat. For a city experience with a difference, our local Concierge will tell you to venture into the coastal fishing city of Seeb – where the Muscat's locals actually live. Explore the markets with a local guide who can share stories of the local culture and history, and show you the best places to sample real local food. Despite temperatures soaring into the 40's in Muscat's summer months, for a deeper cut in Oman, we think a visit to the much cooler (in every sense of the word) Jebel Akhdar Mountains makes for an ideal action-packed family summer break. At this time, the mountains are truly 'green' with ripe fruit along their terraced ridges and it's a great time to conquer the highest via ferrata route in the Middle East. In terms of new openings, the ever-elegant Ritz Carlton's Al Bustan Palace has just re-opened this October, with light and beautifully appointed rooms, an outstanding children's play area and a Six Senses spa. A watch this space mention is awarded to the area of Salalah, the lesser-visited southern capital, as the highly-anticipated Alila Salalah is set to open (hopefully) at the end of 2019.
Follow and Share with Jetsettersblog.