May Bank Holidays and Spring Is in the Air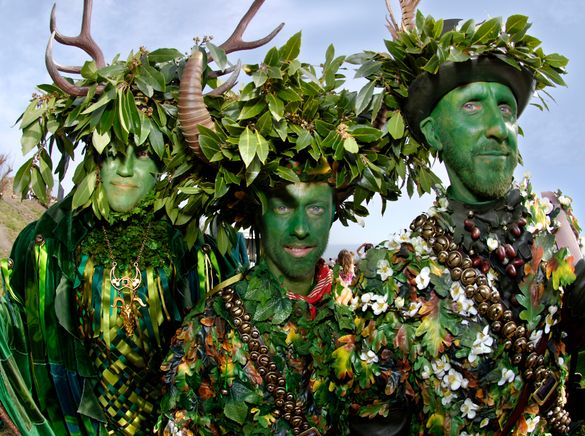 ---
Download high resolution images from Drop Box.
The annual Isle of Wight Walking Festival incorporates both of the May Bank Holiday weekends. The Festival gives walkers the chance to get up-close-and-personal with the best of the Island's stunning scenery. More than half of this year's walks are NEW for 2019, with a series of Victorian themed walks being offered to coincide with the 200th Bicentenary of Queen Victoria, one of the Island's best-known summer residents. Most of the walks are free, although some walk leaders request a donation for their chosen charity. (4 to 19 May). https://isleofwightwalkingfestival.co.uk
Jack in the Green May Day Festival, Hastings. The weekend's Morris Dancing Festival of non-stop festivities culminate on 6 May in a colourful and eccentric procession of music and dance through the picturesque Old Town of Hastings. The Jack is released from the Fishermen's Museum and, accompanied by his 'bogies' and the occasional giant, will process up to the West Hill where the Jack is slain and the spirit of summer is released. FREE. (4 to 6 May). www.hastingsjitg.co.uk
Sweeps Festival is a colourful mix of music, dancing and entertainment with more than 60 Morris sides and entertainers celebrating throughout the three-day festival. It was revived in 1981 by local businessman Gordon Newton, a keen historian who felt it was time to bring it back and today it is an extravaganza of traditional Britain. May was the one time of the year the sweeps could leave the soot behind and have some fun which included the Jack-in-the-Green ceremony. The final May celebration was held in the early 1900s. (4 to 6 May). www.enjoymedway.org/events/sweeps-festival-2019
Chiddingstone Castle Literary Festival four days of talks, performances
and workshops are set in the historic house and grounds. This year the Festival's most ambitious programme yet. Subjects include: true crime at the Old Bailey, powerful women's poetry, new insight on Henry VIII, soldiers' stories from World War II, cutting edge forensic science, 12 months of applied self-help books, cookery from home and abroad and adventures in wine. Adult events £13.50, children's events £6.00, day tickets available on Saturday and Sunday, workshop tickets vary in price. (4 to 7 May). www.chiddingstonecastle.org.uk
Winchester City Mill Chat with the friendly volunteer millers as they harness the incredible power of the River Itchen to grind South Downs wheat. They will be using the Mill's medieval technology to produce fresh wholemeal flour. FREE Milling, Wednesdays, Saturdays and Sundays, plus Bank Holiday Monday 27 May (11am – 4pm).
Kids for a Quid on the Spa Valley Railway offers a day out in the High Weald countryside from just £22 for the whole family. The restored steam and heritage diesel trains run between Tunbridge Wells and Eridge. (25 to 27 May). www.spavalleyrailway.co.uk 
Totally Tudor: Meet the Master Chef at The Mary Rose museum, Portsmouth. Visitors will be able to step into a busy naval kitchen and meet Tudor chefs working on an authentic replica kitchen of King Henry VIII's favourite warship. Demonstrations take place every two hours. (4 to 6 May, 11am to 5pm). Visitors will also be able to visit the NEW exhibition The Many Faces of Tudor England. General online admission, adult £11.90, child £5.60 includes unlimited entry for 12 months from date of purchase. www.maryrose.org
Unfest is an annual music and arts fringe festival held every Spring Bank Holiday and champions independent music. The festival centres around The Forum on Fonthill and its sister pubs on the Pantiles, The Ragged Trousers and Sussex Arms. Unfest is a not-for-profit festival and the organisers work for free, the musicians playing give their time for free and the venues provide their space for free. FREE to attend. (23-27 May) http://unfest.org
The Surrey County Show is the biggest one day agriculture show in the UK. It brings together hundreds of animals, food and drink, top class entertainment, exquisite rural crafts and competition to provide a family day out. The show is held on the 66-acre site of Stoke Park, Guildford, with a train station just a few minutes' walk away and free off-site park and ride (27 May). Early Bird prices (until 19 April) adult £16.50 (£19 full), child £6 (£7 full). www.surreycountyshow.co.uk
To celebrate the opening of the Gambledown Farm glamping site are offering a ten per cent discount for the Spring Bank Holidays (4, 5 and 6 and 25, 26 and 27 of May) only. When booking quote the code MAY10. Spring is the perfect time to visit the farm with spring lambs to bottle feed and beautiful bluebells in full bloom. Each tent sleeps six and has a wood burning stove, dining area, sofa and deck with a BBQ. Full price £156 a night per tent and 10% off £140 a night per tent. www.gambledownfarm.co.uk
Beltain Festival: Burning of the Wickerman at Butser Ancient Farm. Beltain is an ancient Celtic celebration of the beginning of summer. Visitors can expect entertainment and refreshments culminating with the burning of the wickerman at dusk. Entertainment from 2018 included Roman cooking, Falconry, Warrior Training, maypole dancing, storytelling, Anglo-Saxon re-enactors, Hook Eagle Morris Men and various stalls and traditional skills demonstrating metalwork, leathercraft, hurdlemaking, flint knapping, willow weaving, spinning, weaving and more. Refreshments include a real ale bar, Celtic mead and hot food. (Saturday 4 May, 4.30 – 9.30pm). Early bird tickets (until 1st April) adult £20 £28 full), child £15 (£23 full) under three free. www.butserancientfarm.co.uk
Gilbert White's House and Gardens in Hampshire Nature Festival in collaboration with organisations which celebrate, explore and protect the natural world. There will be stalls, talks and activities and a 24 hour bioblitz, with local wildlife experts and organisations, who will be keen to share what they do. Gilbert White was a pioneering 18th century English naturalist and ornithologist.  (26 May). Admission tickets, adults £10, child £15. https://gilbertwhiteshouse.org.uk
Tourism South East is a not-for-profit organisation with a mission to provide services and expertise that supports the performance and growth of tourism businesses and destinations.
Follow and Share with Jetsettersblog.