Pirate's Quest for an Easter Adventure: Quest for the Golden Egg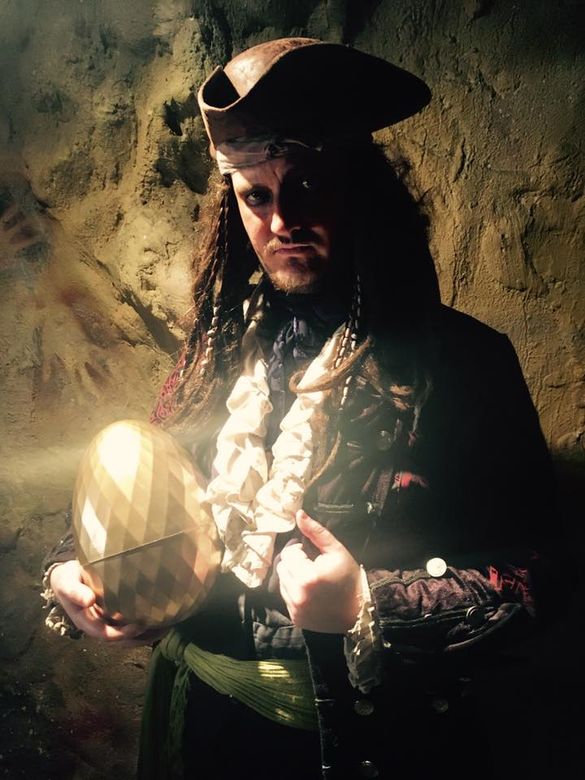 This Easter Holidays, from 24 March – 15 April, head to Newquay's Pirate's Quest for an exciting new adventure. Join the live pirate crew on the Quest for the Golden Eggwith tours running daily throughout the holidays!
Embark on the special mission set by Captain Blackbeard, as you travel back in time to the Golden Age of Piracy, almost 300 years ago…
Begin your adventure on board a Pirate Hunter's Ship, the Royal Anne. The vessel left England in 1721 with the intention of sailing to the Caribbean, but wrecked off the South Coast of Cornwall.
A real LIVE pirate from the infamous Republic of Pirates will rescue you from the sinking Royal Anne, escorting you through a secret passageway, and then acting as a guide through several detailed sets and scenes. Discover mystical caves and brave the murky streets of eighteenth century Cornwall as you look out for clues that might lead to the discovery of some chocolate gold!
Eventually you'll arrive at the Captain's Ship, ready to successfully return to the Caribbean with your Easter booty.
The authentic pirates are brought to life by talented theatrical actors, who are guaranteed to make this a unique and memorable experience. Families of all ages can enjoy a fascinating opportunity to learn something new about piracy, and experience the REAL life of a seafarer during the Golden Age of Pirates.
Tours run regularly throughout the day. Advance booking is recommended to avoid disappointment. Visitors can book online at piratesquest.co.uk
What: Quest for the Golden Egg | Pirate's Quest Newquay
When: 124th March–15 April, Easter Holidays
Why Visit: Discover a swashbucklin' adventure with a live pirate guide as you embark on a new eggciting quest for the Golden Egg.
Admission: £10.95 Adult, £7.95 Child (3-16), Under 3s go FREE
Website: piratesquest.co.uk
ENDS
For more information or images please contact: Jaimie Poyner
jaimie@flamingo-marketing.co.uk | 01637 873379
Pirate's Quest, 22 St Michael's Road, Newquay, Cornwall, TR7 1RA | 01637 873379
Notes to Editors:
The Pirate's Quest – hour walk-through experience is suitable for all ages, families and groups and allows pirate fans the chance to feel, hear, smell, and see Cornwall's intriguing legends and exciting history… brought thrillingly to life!
Admission: £10.95 Adult, £7.95 Child (3-16), Under 3s go FREE
Pre-book tours online at www.piratesquest.co.uk
Pirate's Quest has theatrical smoke effects & strobe lighting.
Unfortunately it is not accessible by wheelchairs or push-chairs.
Children must be accompanied by an Adult.
Follow and Share with Jetsettersblog.