Absolute Sanctuary Amongst Best Hotels in Thailand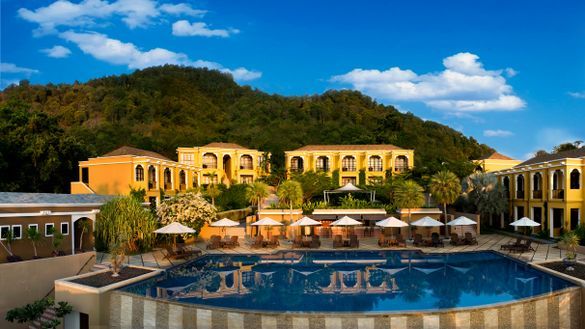 ---
ABSOLUTE SANCTUARY, Asia's leading fitness wellness resort has been awarded a Recognition of Excellence for 2018 in Asia by HotelsCombined.
HotelsCombined, the Australian-based hotel meta-search company, started an extensive survey covering different types of accommodations within Thailand. This survey is based on gathering data from millions of guest reviews, and translating them to an official Recognition of Excellence.
The HotelsCombined Recognition of Excellence is not a ranking list but a group of outstanding accommodations chosen based on a strict set of criteria. In order to be considered, properties must meet the following criteria:
-At the time of judging , a winner is rated 8.5/10 or over with a minimum of 50 customer reviews certified by HotelsCombined.
-No major customer service problems, nor recurring or unresolved issues could be detected
Moreover, HotelsCombined takes great consideration  in the way a hotel staff answers the Hotels communication team, demonstrating their commitment to providing quick assistance.
Absolute Sanctuary was found to have a high satisfaction rating among guests and travel industry experts, receiving 194 reviews for an impressive rating of 8.1 out of 10.
"We are thrilled to be working with the best hotels in Thailand and ABSOLUTE SANCTUARY is one of them" said Jenna Lee, market manager of HotelsCombined Thailand. " What is different about the Recognition of Excellence is the way information is gathered and analysed; it all depends on the guest and his or her experience with that particular accommodation".
Absolute Sanctuary's Chief Business Officer, Claire Bostock said " We are highly committed to providing excellent customer service standards and this recognition is proof of our service levels and efforts. We constantly strive to achieve 100% guest satisfaction and will continue to do so."
For more information on HotelsCombined visit : http://www.hotelscombined.com/
For more information about ABSOLUTE SANCTUARY call +6677601190 or email bookings@absolutesanctuary.com.
ABOUT ABSOLUTE SANCTUARY
Awarded 'Best Value For Weight Loss' by Condé Nast Traveller in 2014, ABSOLUTE SANCTUARY, is Asia's top wellness resort for fitness, health, lifestyle, weight management and more. ABSOLUTE SANCTUARY sets the benchmark for effective fitness wellness programs that transforms one to the best that they can be.
ABSOLUTE SANCTUARY is the first & only fitness wellness resort in Asia. They are the creators of award-winning guest experiences the benefits of which will last a lifetime. Their crafted programs leverage on their expertise in Yoga, Pilates, core programs and healthy food programs through their affiliation with ABSOLUTE YOU.
From small beginnings and a focus on yoga practice in 2002, ABSOLUTE YOU, has developed into a 360 degrees solution for fitness training and well-being, becoming the largest health and lifestyle brand in Thailand.  It achieves this through a balance in exercise programs and healthy nutrition. ABSOLUTE YOU currently encompasses the Absolute brands of Yoga, Pilates, Coreblast, Cycle, Pilates+, Fitfood and the Sanctuary resort, all targeted towards attaining active, healthy and sustainable lifestyles. Concerned with the evolution of self, not only for their clients, but also for their staff and their business as a whole, ABSOLUTE YOU offers quality instruction, consistent training, utmost professionalism and a caring, health-conscious equilibrium.
Opened on 1st April 2008, Absolute Sanctuary has grown in popularity from a destination for Detox and Yoga holidays to one where you can get firm, tone and fit. In December 2008, the resort was awarded the Best Themed Resort award by SKAL International (Koh Samui). It has also been nominated for Best Spa Cuisine of the Year for three years in a row by Asia Spa awards (since 2009) and also for Spa Retreat of the Year & Destination Spa of the year by Asia Spa awards. In 2016 the resort won the category award " Best for Yoga" by Wellness Travel Awards.
The resort underwent expansion in 2010 with the construction of a new wing housing two new yoga studios and an expanded Love Kitchen restaurant. A Fitness Studio was added in 2011. In 2013 the resort enjoyed a makeover with a new palette of uplifting colors in its décor and floor tiles.
2014 marked a milestone for the resort, as it became the first in Asia to introduce Pilates Reformer Boot Camp holidays with the addition of a Pilates Group Reformer studio to its facilities.
In 2016, the resort unveiled a new look and concept to reflect its positioning as Asia's first and only Fitness Wellness resort. In meeting the growing market of niche travelers looking for a holiday experience where they can immerse themselves in their passion for fitness, the resort's Fitness Wellness concept combines physical and mental well-being to promote long lasting health. Inline with this the resort launched its long-term 30 & 60-days Lifestyle change program for people looking to completely transform themselves
Follow and Share with Jetsettersblog.