Heritage Le Telfair Golf + Wellness Resort in Mauritius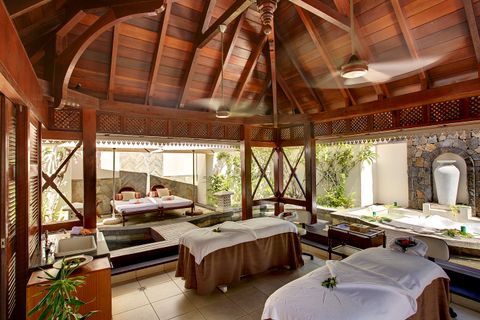 ---
Wellness is now at the forefront of the newly re-opened Heritage Le Telfair Golf & Wellness Resort in Southern Mauritius. The five-star hotel has had an extensive refurbishment and has introduced new facilities, programmes, menus and personnel focussed on holistic health. It is the first 'Wellness' labelled resort in Mauritius.
The resort's approach to wellness is all encompassing, taking care of the mind, the body, the emotions and the spirit. New three and five-day wellness programmes start with a consultation with the Wellness Director, who creates a personal plan for each client to achieve better health, whether that be mental or physical during their stay, and to teach them how to adopt a healthier lifestyle once back home.
Guests can now choose to upgrade their 7-night stay to a 'Wellness Bliss' Programme for just £45/day that lets them choose a wellness activity each day. This can include a spa treatment, private exercise class or fitness session with a personal trainer and even a health treatment (such as osteopathy).
Wellness activities have been introduced to complement the programme and include Forest Bathing in the adjacent Frederica Nature Reserve – a barefoot walk that lets the forest reinvigorate your body and fine tune your senses, Active Sea Walks – a thalassic therapy of walking against the current to release negative energy, as well as Nature Walks in the nature reserve with breathing and stretching.
A new wellness pavilion now hosts daily yoga, Tai Chi, Pilates, Qigong and meditation sessions, with a series of specialist courses planned in 2018 with leading yoga and Pilates teachers. A list of forthcoming events is available here.
To help guests become the master of their own well-being, classes have been introduced that cover aspects such as breathing, managing stress and tension, postural alignment, cathartic meditation and life coaching.
The hotel's Seven Colours Millesime Collection Spa offers several signature massages that stimulate the chakras and use essential oils that are adapted for mothers to be, kids and golfers. Other new treatments include a Ayurvedic Stimulating Massage by Thémaé, a Digestive Massage, a 3 Tea Detox Wrap and Nepalese Style Tea Exfoliation.
Healthy dishes, designed with a nutritionist and the Chef, are now suggested in each of the hotel's 12 restaurants, to complement the holistic approach to your wellbeing (gluten free, dairy free and vegetarian). Healthy breakfast corners are available daily with fresh, organic and non-processed nutrients.
Even in your luxury suite, Seven Colours offers the possibility of a wellness upgrade: a mini-bar loaded with healthy food, a scented in-room perfume of your choice depending on your mood and energies, a Chromotherapy lamp, a yoga mat, a pillow perfume and a personalised bath menu.
The wellness programmes are headed up by French osteopath, Matthieu Gossart, who studied osteopathy for five years at the Collège Ostéopathique Sutherland in Paris, after which he worked in a multidisciplinary medical practice in the north of France for six years. After several years as an osteopath Matthieu decided to adopt a more holistic approach with his patients, studying breathing techniques, meditation and nutrition as well as magnetic therapy and psychology.
Other changes made to the hotel in the refurbishment include redesigned and redecorated rooms, suites and communal areas. All rooms now include a dedicated butler and new personal beach attendants will serve drinks and food on the beach.
A Suite at Heritage Le Telfair starts from £342 per night (two sharing) on a B&B basis (www.heritageresorts.mu; +230 266 9768)
For more information about the new Heritage Le Telfair Golf and Wellness Resort visit www.heritageresorts.mu/mauritius-hotels/le-telfair-resort
Heritage Le Telfair Golf & Wellness Resort
Heritage Le Telfair Golf & Wellness Resort is part of Heritage Resorts; two five-star hotels set in the Domaine de Bel Ombre, on the unspoilt south coast of Mauritius. The Domaine offers the ultimate combination of beach, nature, relaxation and adventure. The resort has 12 restaurants, the Frederica Nature Reserve (complete with its own wellness and adventure activities), the C Beach Club, a kids' clubs, a babies' corner and a teens' club, a championship 18-hole golf course, a kitesurfing school, two spas, fitness centres and the romantic Heritage Le Chateau, an 1800's colonial French mansion now housing a fine-dining restaurant.
Follow and Share with Jetsettersblog.