The Gold Coast's Northern Enigma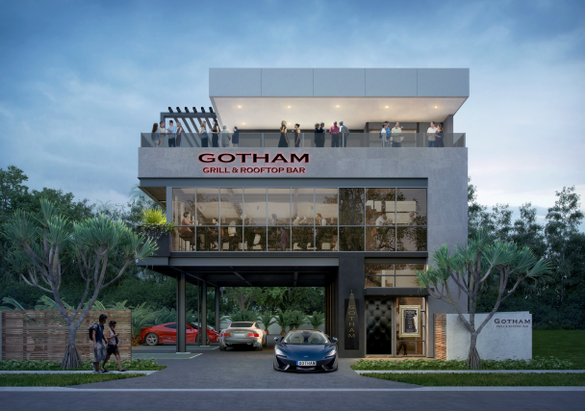 Shrouded in mystery, the long-awaited arrival of Gotham Grill and Rooftop Bar is here!
Penned as the hottest foodie haunt to launch on the northern Gold Coast, Gotham Grill and Rooftop Bar will be a dining icon, set to lure an assortment of sins and heavenly pleasures when it opens to the public on Saturday 17th March at 5pm.
Four years in the making, this is touted as the Ridgeway Group's most ambitious project to date.
Gotham Grill and Rooftop Bar is located on Bayview Street at Runaway Bay and overlooks the pristine Biggera Creek inlet. The three-tiered Manhattan-style landmark features not one, but two restaurants and bars under the same roof!
As you enter the striking and extravagant Gotham Grill and Rooftop Bar you'll discover decadent 1920's Art Décor styling at every turn. From the unmissable red velvet carpet leading up a winding staircase to the twinkling skylights of the Gotham Rooftop, to the rich wooden panelling, geometric light fittings and splashes of metallic gold – you can't help but feel that Charlie Chaplin and Coco Chanel would approve of such homage to New York's Chrysler Building.
Arriving on level two, you'll discover Gotham Grill led by culinary team Daniel Ridgeway and Head Chef Alex Kavanaugh. An intimate dining space seating up to 60 guests, Gotham Grill is reminiscent of a classic, high-end American steakhouse where celebrity couples would rendezvous away from prying eyes and corporate heavy-hitters would negotiate trade deals over lengthy lunches.
Here, guests are invited to indulge in the most succulent steak selection from across Australia and New Zealand coupled with an exquisite array of cold seafood; including freshly shucked oysters, Moreton bay bugs, scallop ceviche served on the shell, lobster tails and more. Better still, order the signature Gotham Seafood Tower to sample them all!
"Aside from top notch produce and cuisine, Gotham Grill will also offer a well-balanced beverage list to cater for all thirst.  We are also proud to offer a great back vintage list with notable rare wines from the Barossa Valley and beyond" says Ridgeway.
Proving the paradox, the final destination is the Gotham Rooftop Bar where guests can unwind in a relaxed indoor-outdoor setting with sundowner cocktails including the famed Fruit Bat libation or Alfred's Tonic.
Some of Ridgeway's favourites from the bar menu include the Gotham city pizza with its thick base, Napoli, pepperoni and loads of mozzarella; the moreish lobster rolls and the southern fried chicken burger with spicy mayo and a brioche bun.
"Northern Gold Coast was the next frontier" says Ridgeway.
"We needed to do something a little different to meet the needs of this locale and as such we have combined stylish dining with a casual rooftop bar…all under the same roof.  A little bit of the Big Apple has arrived on the Gold Coast and we cannot wait to unveil Gotham Grill and Rooftop Bar!"
Gotham Grill and Rooftop Bar is yet another dining concept operated by the Ridgeway Group – who also operate BiN 232 Pacific Fair, BiN 12 Burleigh Heads, BiN 72 Coolangatta, BiN 931 Chermside, Rivea Italian at Broadbeach and Little Truffle Dining Room & Bar in Mermaid Beach.
Opening Hours:     
Monday – Thursday – Gotham Grill & Rooftop Bar – 5pm till late
Friday – Sunday – Gotham Grill & Rooftop Bar – Midday till late
Reservations are now open for dining on Saturday 17th March and beyond.
Call 07 5537 7777 or ridgewaygroup.com.au
– ENDS –
Why Gotham?
Gotham was a village in Nottinghamshire, England dating back to the 13th Century. It's said that King John wanted to build a hunting lodge in the Nottinghamshire village of Gotham and the locals were not pleased as it would mean giving up a considerable part of their land. Gotham residents decided that the king would not be influenced by an objection, so they opted to deter him by feigning madness instead. When the king's messengers rode into the village they were met by some bizarre sights, so much so that they quickly returned to the king to warn him to go elsewhere as Gotham was filled with madmen.
Reminded of the foolish ingenuity of Gotham's residents, Washington Irving gave the name "Gotham" to New York City in his Salmagundi Papers in 1807; which was later picked up Bill Finger in naming the home of a certain superhero Gotham City.
Read into it what you will…Gotham Grill and Rooftop Bar on the Gold Coast is here!
Follow and Share with Jetsettersblog.