Virtual Tour Takes Off at Cornish Golf Resort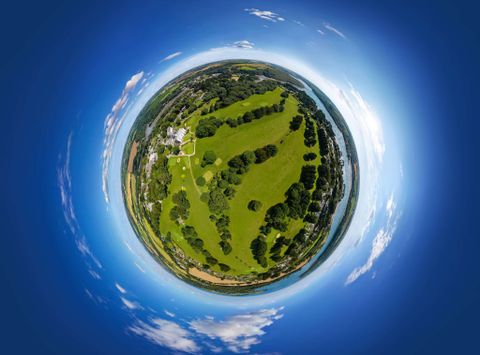 ---
The Budock Vean Hotel has become the launch-pad for one of the first aerial 360 degree interactive tours of a golf resort in the U.K.
The country house estate on Cornwall's Helford River has been working with 3deep Aerial to create a state of the art experience which allows viewers anywhere in the world to "explore" the hotel's luxury facilities inside and out as well as in the air.
The tour swoops over the estate's 65 acres of sub-tropical gardens running down to the river, to the lay out and terrain of the scenic golf course and through bedroom suites, bars and lounges to swimming pool and leisure areas.
For the grounds and golf course itself 3deep Aerial's Mike Postons shot the "tour" using an unmanned aerial vehicle (UVA or drone) which captured more than 50 high resolution images from all directions. These were then stitched together to create 360 degree spherical images.
The interactive tour was built using bespoke software and designed to work in highest quality across all devices from mobiles through to laptops and large screen, with responsive web technology to re-size automatically to fit any device.
The result is a bird's-eye view of the entire resort in its ravishing location on the Helford River which the viewer can explore in their own time via the click of a mouse or a finger on a screen.
"What sets us apart from standard aerial photography is the ability to see the complete aerial view of a location in every direction," says 3deep Aerial's Mike Postons.  "Furthermore, the interactive nature of the tour allows each user to explore the area in their own way, choosing the information that is relevant to them."
The Budock Vean is set in its own unspoilt gardens and ancient woodland, with its golf course built on gently undulating, mature parkland with narrow fairways flanked by trees. It was designed by the professional Scottish golfer James Braid around the natural landscape and today lies seamlessly within the hotel's organically managed grounds which run down through a ravine garden to a private foreshore on the Helford.
"We're really bowled over after months of planning and working with 3deep Aerial to see that our fantastic new tour is even better than we'd imagined," says the Budock Vean's owner Martin Barlow. "Anyone planning a holiday here can get a really clear impression of all our facilities in their uniquely beautiful natural surroundings – and they can plan their rounds of golf at the same time."
The 360 degree tour gives viewers detailed information across the resort on anything they might be interested in – from kayaking on the Helford River to treatments in the Natural Health Spa and descriptions of each golf hole including men's and ladies yardages and pars for each hole.
There are plans to expand the tour too: over the next year it will be enlarged to include a high resolution orthographic plan of the golf course, video flyovers for each of the holes and ground based 360 views for each of the greens – such as can be seen currently for the course's 18th hole.
For a closer look at 3deep Aerial's tour of the Budock Vean visit https://budockvean.co.uk/360/  or a short promo video of the tour can be found on the Budock Vean's YouTube channel at https://youtu.be/Kv6x033L3YQ
For more on the workings of 3deep Aerial itself see http://3deepaerial.com and for information about the Budock Vean or to book a trip – see www.budockvean.co.uk or call the team on 01326 252100.
ENDS
Photos /aerials – by 3deep Aerial and free to use – name check appreciated. The photos/promos above can all be found, high res, along with other versions at
https://www.dropbox.com/sh/4lqxjcla1pndl6a/AAD0pBgrujL1gflzCkylkHrGa?dl=0
The embed code for the promo of the tour is this (width and height fields can be edited as required):
https://www.youtube.com/embed/Kv6x033L3YQ?rel=0&showinfo=0" frameborder="0″ allowfullscreen>
The Budock Vean Hotel is a family run, luxury four star hotel with outstanding leisure facilities including its James Braid golf course, a spectacular indoor swimming pool with log fire, sauna, outdoor hot tub, natural health spa, tennis courts, private foreshore and award winning restaurant specialising in best Cornish produce. The hotel's 65 acres of sub-tropical gardens running down to the Helford River are set amid some of the most beautiful natural coastal and river scenery in the country.
For more please see budockvean.co.uk
3deep Aerial is design agency focused around interactive mapping and digital applications. Using the latest unmanned aerial technology as well as their background in web and app development, they create unique ways of documenting locations and marketing businesses.  For more information see:  com
Contacts:-
Follow and Share with Jetsettersblog.