Costa Rica 2018: The Next Big Thing in Wellness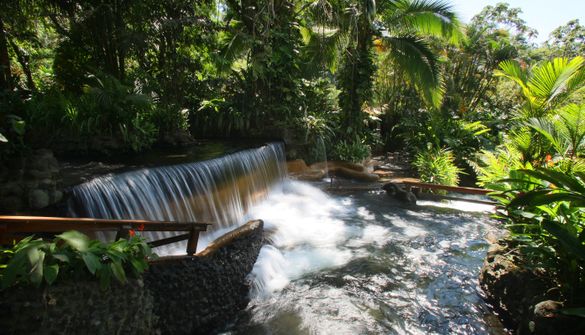 ---
The Costa Rica Tourism Board (ICT) has launched a new tourism strategy for 2018 – 'Wellness Pura Vida' – a new ethos that redefines what it means to look after the body and soul.  According to the World Health Organization, "burnout", the state of emotional, mental, and physical exhaustion caused by excessive and prolonged stress, is now a global issue. To combat this, UK travellers are increasingly combining travel with wellness, a trend that the tourist board is responding to with this new movement for 2018.
The phrase "Pura Vida" itself can be heard echoing throughout Costa Rica. Used as a greeting or expression of happiness, the phrase literally translates to "pure life," however its truer meaning is "full of life," which accurately symbolises the Costa Rican mind-set of energy and positivism that awaits visitors.
The tourist board will be working even more closely with Costa Rican hoteliers and local communities this year to develop their wellness offering; they will be promoting the use of the newest wellness techniques, but ensuring that they have a 'Tico twist' (Tico being the informal word for Costa Rican); incorporating elements such as activities, sports, organic food and local community outreach – a 360 degree attitude to wellbeing. They will also be promoting eco-friendly wellness tourism that has minimal impact on the environment.
Costa Rica offers a huge number of authentic natural wellness experiences for all visitors looking for a healing holiday. These activities include yoga, meditation, earthing, forest bathing, treatments with hot springs, thalassotherapy amongst others, and can be carried out in pleasant and tranquil natural spaces throughout the country. Smoking volcanoes, dense virgin forests, unique wildlife and endless tropical beaches make this Central American paradise one of the most diverse places on earth for a healing holiday. See our roundup of the top five iconic Costa Rican wellness experiences below:
Reconnect with nature at a wellness retreat
Costa Rica is the place to disconnect from the world. Visitors can swap technology and tweeting for an energising morning yoga session in a rainforest, a midday jungle trek and an afternoon surf lesson in a laidback Caribbean coastal town. They can reboot and recharge at one of the country's wellness hotels, many of which have practitioners which focus on the mind as much as the body.
Live the Pura Vide lifestyle
Costa Rica is not only renowned for being one of the happiest places on Earth, but also one where people live the longest. The Nicoya Peninsula has one of the highest percentages of centenarians in the world, and the region has been declared as an official 'blue zone' (one of five geographic areas in the world where people live statistically longest) by explorer and researcher Dan Buettner.
Visitors should live this 'Pura Vida' lifestyle whilst in Costa Rica, taking home new healthy habits, starting with its healthy food based mainly on grains including rice and beans (called "gallo pinto" when mixed). No trip is complete without drinking the calcium-rich water, indulging in the fresh fruits and sampling the local coffee. Other Pura Vida wellness experiences can include 'forest baths' (breathing in the fresh air of the forest) and 'earthing' (barefoot walks on the earth/sand). Reaching 100 is not guaranteed, but relaxation is!
Drop off the radar
Visitors hoping for a slice of Zen should head to the lesser known corner of Costa Rica – the Osa Peninsula. Located on the South Pacific coast, this region is a haven for those looking to experience complete unspoilt beauty and escape Wi-Fi. The opportunities for exploration are endless; iconic activities include watching the magnificent humpback whale migration, exploring the mangroves by kayak and the beaches and mountains on a recreational cycling tour, bird-watching, yoga, forest bathing and having a healthy organic meal on the beach. The area is also home to Corcovado National Park, the largest of Costa Rica's parks and home to some of the most unique wildlife in the world.
Learn something new
As well as being a wellness oasis, Costa Rica is an adventure playground. Being active and outdoors is a vital aspect of the 'Pura Vida' ethos and something which is an integral part to any wellness holiday to the country. Visitors can expect sunrise yoga, beach Pilates and al fresco group meditation. However they can also learn something new and challenging, such as surfing, horse riding, bird watching and paddle boarding.
Enjoy the volcanic hot springs
No wellness holiday to Costa Rica is complete without a visit to the hot springs, which are said to have healing and restorative properties due to the high mineral content. Visitors can harness the water for personal renewal by letting positive energy flow throughout the body. Arenal, Rincon de la Vieja, Miravalles Volcano, Orosi area, Perez Zeledon and the Caribbean are the country's best destinations for thermal soaks, some of them boasting highly-rated hot springs, mud baths and spa facilities.
For more information about Costa Rica go to www.visitcostarica.com
About Costa Rica
Nestled between Nicaragua and Panama, Costa Rica offers visitors an abundance of unique wildlife, landscapes and climates meaning a trip to this Central American country is anything but run of the mill. The country proudly shelters approximately five percent of the known biodiversity in the world and has become a global leader in sustainable practices. Visitors to Costa Rica enjoy a highly organized tourism infrastructure offering a broad terrain of activities and accommodations. www.visitcostarica.com
About Instituto Costarricense de Turismo (ICT)
Established in 1955, the Costa Rica Tourism Board (ICT), alongside its partners in the private sector, spearheads the vital task of regulating and promoting Costa Rica's extensive tourism offerings.
Follow and Share with Jetsettersblog.