Dream Palm Springs Comes to Life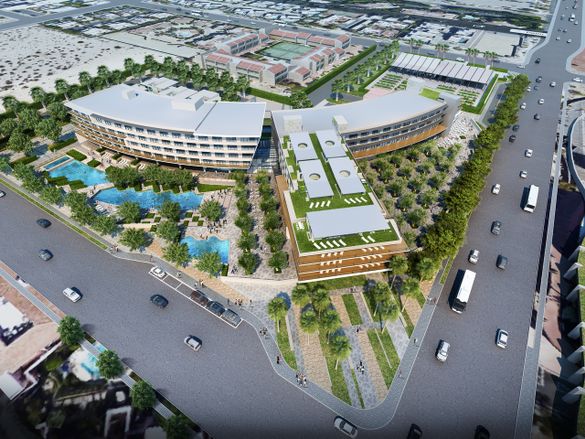 ---
Dream Palm Springs begins construction as the city's developments go from strength to strength
Construction on Dream Palm Springs officially commenced on 28 November with a ground-breaking ceremony on the corner of Amado Road and Calle Alvarado, adjacent to the Palm Springs Convention Centre. The 169-room hotel is set to open in late 2019, bringing with it 30 private residences, multiple experiential dining and nightlife venues, as well as over 10,000 square feet of flexible meeting space.
The $100 million development has paired the design of executive architect Oswald D. Lopez and Hirsch Bedner Associates (HBA) to bring the exciting project to life. HBA has centred the hotel's design on the idea of the California dream, specifically the cool, yet relaxed dream of the desert. The hotel will respect and honour the idealism of modernism, which the city is renowned for, focusing on experience before aesthetics. As with many of Palm Springs' prominent modernist architecture, Dream Palm Springs will utilise glass and open spaces to create unobstructed views and connections with the physical landscape.
The hotel's construction will add to the driving force behind the city's ongoing revitalisation project, which has recently seen the grand opening of the new Downtown and Kimpton Rowan Palm Springs hotel. Having seen a significant growth in visitors in the past few years, Palm Springs is experiencing unprecedented economic growth, which will continue to strengthen with the opening of additional hotels and continued developments to the Downtown revitalisation project.
"The Palm Springs Convention Center is a major economic driver in our city, and Dream Palm Springs is an extraordinary lodging, dining and meeting venue that will provide a tremendous attraction to high-end convention business," said Palms Springs Mayor Robert Moon. "In addition, the residential component of the Dream Hotel complex is a brilliant and innovative concept that will make available luxury primary or secondary residences that have the convenience of onsite hotel services."
With significant investment in Palm Springs resulting in new developments including Dream Palm Springs and the continued improvement of the Downtown area – Palm Springs' appeal is only going to get hotter!
For more information about Palm Springs visit: www.visitpalmsprings.com
About Palm Springs
One hundred miles east of Los Angeles, Palm Springs is a desert playground with year-round sunshine, blue skies and stunning natural beauty. Nestled beneath California's San Jacinto Mountains, the city is famed for its Hollywood legacy, Native American heritage and huge collection of mid-century modern architecture. The desert oasis boasts a wealth of adventurous hiking trails and historical canyon tours, as well as chic boutiques, world-renowned golf courses and unique experiences, including the chance to stay in the former homes of Marilyn Monroe and Elvis Presley. For more information see www.visitpalmsprings.com.                      
Follow and Share with Jetsettersblog.