Experience 'Health In A Luxurious Indian Setting in CGH Earth, Kerala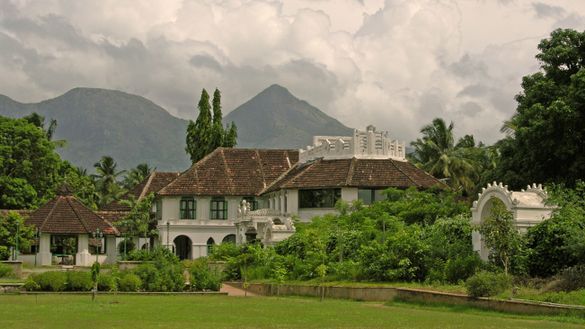 ---
Mind, Body & Spirit Perfectly Aligned with Ayurveda
Experience 'Health In Totality' Within A Stunning Indian Setting
 At CGH Earth's Kalari Kovilakom and Kalari Rasayana Healing Retreats
Considered to be one of the world's oldest holistic healing systems, Ayurveda ('ayur' meaning life and 'veda' meaning knowledge or science), seeks to balance the mind, body and spirit with a therapeutic approach that gets to the core of our personality, behaviour and lifestyle. This ancient approach is more than a mere system for curing ailments; its curative outlook charts out a complete lifestyle for disease-free living.
Whilst traditional fitness bootcamps and detox retreats may offer short-term respite or quick weight loss, for those seeking a true transformation that will revive and revitalise wellbeing for the long term, the stunning Kalari Kovilakom and Kalari Rasayana wellness centres from CGH Earth deliver an experience that will allow you to align your emotional, mental and physical health with life changing results.
A chance to discover 'Health In Totality' within an inspiring setting, the two breath-taking luxury hospitals are located in Kerala, on the southwestern Malabar Coast of India, where they offer a bespoke healing experience that will enable you to become aware of your connection to nature, its elements and cycles.
At its core, the dynamic duo of treatment centres offers a chance to revive your wellbeing with a focus on:
Complete detox (Panchakarma Chikitsa)
Body Purification (Shodhana Chikitsa)
Stress management
Weight management
Healthy ageing
Solving specific ailments such as diabetes, gastro issues, hormonal and metabolic disorders
Sidarthan Dominic, Managing Director of CGH Earth expands on the concept; "In the modern world, where we are often caught up in the compulsions of a stress inducing lifestyle that breeds ill health, it can be all too easy to utilise modern medicine to tackle the symptoms. By contrast, the Ayurveda approach that governs CGH Earth's Wellness Destinationsseeks to address the root cause of our conditions, by delivering a curative and inclusive approach to healthy living and healing that allows us to pause and reflect on some crucial questions regarding our daily habits. By addressing those habits that are causing ill health and aligning with nature, we can transform our overall mental and physical wellbeing to achieve a new level of vitality."
The Ayurveda process at CGH Earth's wellness destinations seeks to address the key statement of WHAT DO WE TRULY NEED?  With a dynamic focus on recognising our body type and listening to ourselves to go beyond the one size fits all approach.
BODY TYPE
The basis of healing comes from understanding what suits our body on a bespoke, individual level. This is reviewed based on the bio-energies in our body called Doshas (Pitha, kapha and Vata) which, in combination with the five elements of nature, determine our unique mental, physical and emotional constitution.
LISTENING
The body is a wonderful mechanism that has its own self-healing processes at work to repair itself however, for many of us in the modern world, we fail to listen to what our body is communicating to us. We also increasingly distance ourselves from our body's inherent needs, suppressing our bodily urges which leads to an accumulation of toxins and their manifestation in the form of diseases, sending us rushing to seek medical intervention.
Ayurveda encourages us to be more mindful of our body and its messages so that living without disease is a natural process. In contrast to western medicine, Nature sits at the core of the Ayurvedic healing process with little or no dependence on chemicals and their toxic effects. Everything that Ayurveda prescribes is rooted in a knowledge base gathered from studying thousands and thousands of plants, medicinal herbs and our body's response to them based on mutual chemistry.
This includes:
Food – with the pace of life accelerating we are so driven by urgency that we rarely pay attention to what we feed our bodies and what we truly need from a nourishment perspective. Ayurveda prescribes a diet plan based on personal body type, with a focus on fresh and organic food, alongside mindful or meditative eating where the full essence of food can be assimilated by the body in an engaged and aware manner.
Breath – so many of us simply do not breathe in a way that nourishes our body, favouring short, shallow, panicked breaths that leave us stressed and lacking vitality. Ayurveda will guide you on how to breathe correctly based on the environment and your body needs.
Nurture – what affects the body, affects the mind and vice versa. This symbiotic relationship is tackled by Ayurveda with practices such as yoga and meditation which seeks to heal internally and develop a healthy body and mind.
Sleep – we all know that sleep helps to repair and revitalise the body, but we often fail to understand when and how to sleep correctly for our personal wellbeing, alongside what we should be incorporating into our lives to improve our sleeping habits. Sleep is reviewed in a scientific manner and is curated to suit our bespoke needs.
Whilst the entire CGH Earth portfolio centres on an Ayurveda approach, Kalari Rasayana and Kalari Kovilakom offer a unique experience for anyone eager to stop treating the symptoms of an unhealthy lifestyle, addressing the true underlying causes to enable them to lead a happier, healthier and more enriched futures.
The two healing retreats deliver two unique yet equally impressive experiences…
Kalari Rasayana – Calm Your Nerves Amongst Coconut Groves
http://www.cghearthayurveda.com/kalari-rasayana/
Located in the lap of the Paravur backwaters and surrounded by thick coconut groves and floating mini-islands, Kalari Rasayana or the 'Song Of the Lake' is a place that heals by its very tranquility, delivering a destination where you can experience the quiet unfolding of Nature's play in all its hues and bask in the peaceful rhythm of everyday life.Get ready to calm the nerves created by your urban lifestyle by gazing at the gentle waves, watching the fishermen going about their daily rounds on their boats, hearing the distant roar of the sea beyond the horizon, tracking the trains moving across the bridge over the backwaters and observing the Kingfishers, the Cormorants, the Mynahs and other birds that habitually visit this place, absorbing the warmth emanating from the staff members and the happy ambience of an open space.
The impressive kitchen at Kalari Rasayana is fiercely dedicated to the preparation of health-inducing food for the guests using natural and organically grown ingredients. Each meal is tailor-made to suit each guest's health condition and body type and served with love and care while unobtrusively conforming to the discipline of traditional rituals.
Kalari Kovilakom – A Palace For Ayurveda
http://www.cghearthayurveda.com/kalari-kovilakom/
Located near Kollangode in the Palghat District of North Kerala, India, and fringed on one side by the majestic Western Ghat mountain ranges, Kalari Kovilakom is a 200-year-old palace where history meets natural tranquility. Set within the grounds of the old Vengunad kingdom, Kalari Kovilakom offers 18 well-appointed suites with modern amenities and a clinic with 12 treatment rooms.
Originally belonging to the Vengunad chieftains, direct descendants of Prince Dharmavarman, the Kalari Kovilakom Palace was originally surrounded by land rich with Venga trees that have healing properties. Dharmavarman is believed to have come to Kollangode to seek healing for a serious skin ailment. The fresh spring waters and the mountain air cured him. Later his grandson Vira Ravi is said to have inherited the land and begun the legacy of Kalari Kovilakom.
It took the visionary zeal of the CGH Earth Group to retain the palace's legacy and historical value while converting it into a place for traditional Ayurvedic healing. Thanks to their efforts, the spirit of tradition has been kept alive at Kalari Kovilakom.
Unique to Kalaria Kovilakom is the focus on classical arts, especially Kathakali dance and Carnatic music. These cultural programmes are an essential part of the daily ritual at Kalari Kovilakom. Dance and music performances, with the use of traditional Indian instruments such as mrudangam, flute, violin, harmonium etc depicting mythological stories are a way of life at the wellness centre.
The 'Kollengode Arattu', a traditional temple festival held annually during the first week of January to honour the Kollengode deity 'Avvappan' has been a custom passed down through the generations with which Kalari Kovilakom is closely associated. Featuring a resplendent procession of elephants, along with the 'Panchavadhyam' – a classical musical ensemble of five different instruments and performances, the festival lends the whole atmosphere a carnival-like feel.
Both wellness centres are certified and accredited by the NABH (National Accreditation Board for Hospitals and Healthcare providers) and adhere to the strict tenets of the old school of Ayurveda.  In addition, as pioneers in responsible tourism in India, with a credible background spanning over five decades, you can rest assured that CGH Earth's signature Ayurveda offerings nourish both you and the nature they draw inspiration from.
For those seeking to tackle the cause of good health rather than consistently treat the symptoms of disease, the CGH Earth portfolio of wellness destinations offers a unique escape that will invite you to lead a healthier life that seamlessly combines mind, body and spirit.
Stays last 14-28 days depending on treatment
Prices start from $9,500 excluding flights.
Follow and Share with Jetsettersblog.