Experience Vietnam by Water, Land & Sky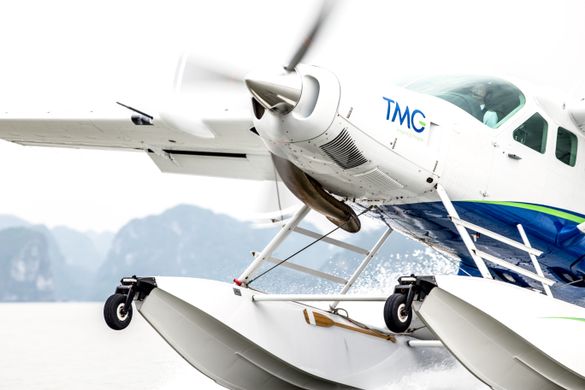 ---
TMG Hospitality, Vietnam's leading hospitality group, is offering visitors unique ways of exploring Vietnam with newly launched transportation and touring options. Newly launched products include a new cruise, the Victoria Mekong and exciting new flight routes from Hai Au Aviation.
Vietnam by water
To experience Vietnam by water, join the Victoria Mekong cruise which is the newest addition to the TMG hospitality group with the Maiden voyage taking place on the 11th December 2019.
The Victoria Mekong is a 35-cabin ship and facilities include a sundeck, bar and restaurant, cocktail pool and pool bar, spa with massage service, lounge area with bar, games room and a gym.
Life in the Mekong Delta is lived on, by or near the water. The Victoria Mekong cruise is designed to provide visitors with an authentic experience and the shore excursions provide a genuine insight into the life of the Mekong Delta people. Passengers will be given the opportunity to visit the Tiger Temple on Tiger Island, a plum wine distillery in Tan Loc Island, and to watch the age-old traditional silk fabrication process in the only remaining Silk Village in Tan Chau. The ship is equipped with solar panels, all lights are low energy consumption, water is treated and recycled on board, natural and local materials are used whenever possible, and the usage of plastic is limited.
Passengers have the option of a cruise which is five days upstream or four days downstream. The upstream cruise departs from Can Tho and ends in Phnom Penh. The downstream cruise departs from Phnom Penh and ends in Can Tho. The itinerary will transport passengers across the lush, green landscapes of the Mekong Delta in Vietnam all the way to Cambodia's capital Phnom Penh in four-star comfort with superior service.
Prices start from £815 per person (based on two people sharing cabin in Deluxe main deck) for four nights and three days on the downstream itinerary, from Phnom Penh to Ho Chi Minh. Low season runs from 1 April until 2 June or 15 July to 30 September. The downstream cruise departs on a Sunday and the upstream cruise departs on a Wednesday.
For more information please visit: www.victoriamekong.com
Vietnam by sky
To experience Vietnam by sky, hop on board one of the new flight routes launched by Hai Au Aviation.
Vietnam's historic city of Hue and the new 'must-visit' of Da Nang are now connected for first time ever by flight. This April, Hai Au Aviation launched new daily intercity flights which last 40 minutes and provide an attractive alternative to the two-hour road trip by car, bus, train or motorbike. The flights take travellers over some of Vietnam's most beautiful coastal scenery, including the stunning Tam Giang Lagoon. In addition, passengers can choose between two options when choosing to travel between Hue and Da Nang by these flights: they can board a transfer flight between the cities which includes 15 minutes sightseeing, or they can board a scenic flight in either Hue or Da Nang. If visitors don't plan to travel between the cities, they can board scenic flights to experience each city from the air in 30 minutes.
Hai Au Aviation has also launched a new flight route from Da Nang to Dong Hoi, currently the only airline offering a direct service along this route. Dong Hoi is the gateway to the UNESCO-listed World Heritage Site of Phong Nha-Ke Bang National Park, well-known for its tropical forests, an extensive cave system with underground rivers, and Son Doong, the world's largest cave passage. Passengers will take in stunning views of the Central Vietnamese coastline, including the lush Son Tra Peninsula, the famed Hai Van (Sea Cloud) Pass which zigzags its way through the forested Truong Son mountain range, Lang Co Beach, and the "fish mazes" of the 24km-long Tam Giang Lagoon where three rivers empty out into the sea. History buffs will also enjoy flying over the former Demilitarized Zone just north of Hue and the historic Dong Hoi Citadel.
The new flights come at a time when Da Nang is fast becoming the new 'must-visit' city in Vietnam. The city used to be a seen primarily as a stop off point by travellers en route to Hoi An but is now making its way on to all of the travel hot lists due to its modern resorts, picturesque beaches and rapidly evolving street food scene.
Prices for scheduled flights start from £230, prices for scenic flights start from £122. Passengers flying from now until the end of September can take advantage of a 30% discount.
For more information please visit: https://www.seaplanes.vn/en/
Vietnam by land
To experience Vietnam by land, catch the Victoria Express Train which is one of the most deluxe trains on the Hanoi – Sapa route and it is exclusively reserved for the Victoria Sapa Resort's in-house guests. The Victoria Sapa Resort & Spa is modelled after a mountain lodge with views over beautiful Sapa with its iconic rice paddies and forest treks. The area is renowned for its beautiful hiking trails.
The Victoria Express train has two cabin types including two berths and four berths. The cabins are designed with individual reading lights, baggage storage, air conditioning system, wooden panels and other comforts. Every passenger is welcomed with a drink, hot or cold towel, complimentary Wi-fi and newspapers.
Prices start from £70 per person in a shared cabin.
For more information please visit: https://www.victoriahotels.asia/en/hotels-resorts/sapa/victoria-express-train
Follow and Share with Jetsettersblog.