Free Family Days Out in Cheshire This Half-Term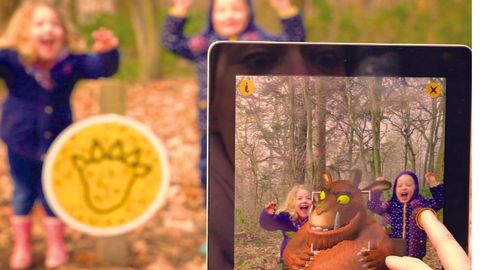 ---
Cheshire, 3 October 2017: Cheshire is the place to be in October half-term for families seeking inspiring events that are sure to stave off boredom. Here are six of the best, while more ideas can be found at http://www.visitcheshire.com/whats-on.
The Sleep Walk at Little Moreton Hall
New for 2017. Families can take a fascinating journey through a night's sleep, Tudor-style, at this 500-year-old black-and-white manor in the Cheshire countryside. On the hall's self-guided Sleep Trail, they'll find out how our ancestors slept sitting up and took a little break from their slumbers in the middle of the night, and also hear specially commissioned music inspired by the theme.
Until 29 October 2017, Little Moreton Hall, near Congleton (visitcheshire.com/whats-on/the-sleep-walk-at-little-moreton-hall…), free with admission, adult £9.05, child £4.50, family ticket £22.60.
Gruffalo Spotters' Trail at Delamere Forest
New and free for 2017, kids can follow in the footsteps of the Gruffalo at Delamere Forest in the heart of Cheshire. Young families can find clues and collect evidence on the 1.8-mile trail, bringing to life the characters in Julia Donaldson's popular children's story using a free downloadable app. They'll meet the Gruffalo, too, in the shape of a larger-than-life sculpture hidden in the trees.
Until 5 November 2017, Delamere Forest, Delamere (visitcheshire.com/whats-on/gruffalo-spotters-trails-at-delamere), free.
The Enchantment of Chester Zoo
This unique immersive experience returns to Chester Zoo courtesy of the innovative performing arts organisation Wild Rumpus. The race is on to save the zoo from a sorcerer who intends to cast a spell that will send everyone to sleep. Kids can help the wise old owls gather clues from incredible characters, including giraffes and orangutans, to foil his dastardly plot.
From 21-31 October 2017, Chester Zoo, Upton-by-Chester (visitcheshire.com/whats-on/the-enchantment-of-chester-zoo), free with admission, adults £16.36, child £13.18, family discounts.
Meteorites & Fireballs at Quarry Bank
Astronomy isn't just for boffins, as revealed at the interactive inflatable Cosmodome at Quarry Bank. Here, children can journey into space with the help of resident scientists, taking part in experiments and activities that uncover the wonders of meteors, fireballs, friction and more.
From 23-27 October 2017, Quarry Bank, Styal (visitcheshire.com/whats-on/meteorites-and-fireballs-at-quarry-bank), £2 with admission, adult £18.15, child £9, family £45.30.
Autumn Adventures at Beeston Castle
Kids can go on the hunt for scarecrows in the woodland park at the medieval hill fort of Beeston Castle, which overlooks Cheshire from its dramatic perch on a rocky crag. And when they've tired of their detective work, they can make their very own scarecrow, too.
From 21 October to 5 November 2017, Beeston Castle, Beeston (visitcheshire.com/whats-on/autumn-adventures-at-beeston-castle), adult £7.10, child £4.30, family £18.50.
Dunham's Lost Years – Shadow Puppet Trail
Dunham Massey will keep the kids busy this half-term spotting shadow puppet silhouettes of the people who once lived in this grand Georgian mansion. Then they'll get the chance to create a shadow puppet show in the historic setting of the Great Gallery.
Until 1 November 2017, Dunham Massey, near Altrincham (visitcheshire.com/whats-on/dunhams-lost-years-shadow-puppet-trail), free with admission, adult £8.60, child £4.30, family £21.60.
To book, call 01244 405340 or visit http://marketingcheshire.co.uk Follow Marketing Cheshire on Twitter @VisitChester_ or@VisitCheshire, on Facebook atfacebook.com/visitchesterandcheshire, on Instagram atInstagram.com/visitchestercheshire and on YouTube atYoutube.com/user/MktgCheshire/videos  Follow the blog atvisitcheshire.com/information/blog
For further information, images, or to arrange press trips, please email: travelnews@traveltappers.co.uk. Alternatively, contact Kate Simon on 07939 526109 and kate@traveltappers.co.uk or Simone Kane on 07811 161839 and simone@traveltappers.co.uk. Traveltappers is a trading name of Little Black Book Creative Ltd
Follow and Share with Jetsettersblog.