Further Afield Relaunches With Refreshed Collection of Inclusive Properties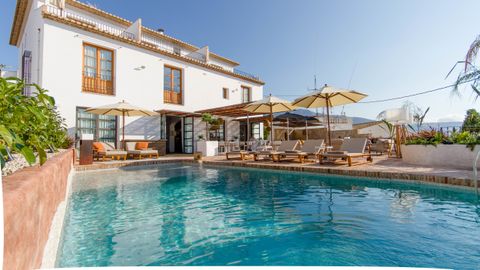 ---
Spain, 10 October 2017:Further Afield (020 3488 2079; www.furtherafield.com), a collection of places to stay that guarantee a welcome for all, has relaunched under new ownership with a new, improved and easier-to-use website. More than 150 hotels, B&Bs and self-catering properties – some newly opened – have been chosen to appear in the collection by the new owner, David Matthews.
Further Afield was originally founded to meet the need for genuinely gay-friendly accommodation – which is as necessary as ever following tour operator Virgin Holidays' report last week that one in three LGBT couples has suffered discrimination while on holiday. Further Afield will continue the tradition of hand-picking properties that share the values of inclusivity. This approach has also been expanded to feature a new and growing list of accommodation that offers easier access for people with disabilities.
New functions include links to members' booking pages for a swifter user journey – Further Afield guarantees best rates because bookings are made direct with owners, and also features exclusive deals. A wish list can now be created, to enable easier planning. Plus, Further Afield will develop a partner scheme for the benefit of its travellers, the first of which has been formed with inclusive insurance company Emerald Life, which is offering a 5 per cent discount on policies.
A variety of brand new properties on the site include: Hotel La Serena, an elegant townhouse property in Altea, Spain; Maison de la Vaure, a chic estate in Charente, France; and Blackbird Barn, a stylish barn conversion in Herefordshire.
Speaking about the new site, David said: "Further Afield has always represented a community of properties and travellers who share a belief in the importance of inclusivity; a collection of carefully chosen places to stay that you'd be happy to recommend to anyone. The new site provides an improved showcase for the amazing places that make up the collection and makes the journey to booking an easier one. I'm incredibly proud to be embarking on the next phase of the collection's development and to be working with the Further Afield community."
David, who also co-owns the guesthouse Almohalla 51 near Malaga in Spain, has taken over Further Afield from its previous owners, Simon Forrester and Andrew Craven. The collection was founded in 2009.
To book, visit www.furtherafield.com  Follow Further Afield on Twitter @GoFurtherAfield, Facebook atfacebook.com/FurtherAfieldEscapes and Instagram atinstagram.com/travelsfurtherafield  Follow the blog atwww.furtherafield.com/blog
Further Afield is a collection of places to stay that share the values of inclusivity. All the properties on the site are hand-picked by owner David Matthews, who has visited many of them himself, while others have been brought to his attention by Further Afield's travellers, close friends and colleagues whose judgement he trusts.
Follow and Share with Jetsettersblog.