Golf Insurance 4U Free Golf Holidays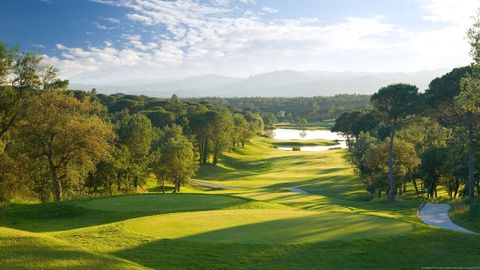 ---
Golf Insurance 4U has come up with an incredible incentive for customers who purchase one of its innovative policies by offering the chance to win a free golf break at a host of top European destinations.
Anyone who buys one of the three types of cover will be entered in to a free monthly draw with a lucky winner scooping a trip abroad.November's first prize next month is a mini-break to the prestigious PGA Catalunya Resort on Spain's Costa Brava, which includes accommodation on a B&B basis and green fees for two people based on sharing a twin or double room.
Golf Insurance 4 U's Martin Tyrrell said: "As a thank you to our customers who purchase any of our comprehensive and great-value insurance policies we would like to give them a chance to win some fabulous trips abroad to play golf."We have teamed up with some of the best resorts across the continent and will be offering these amazing gifts to one customer and guest every month.
"Golf Insurance 4U is proving to be a hugely popular product in the market place and we want to continue to build this exciting brand with future deals."
Golf Insurance 4 U, a subsidiary of the innovative new company Million Dollar Holdings, is offering a brand new fully inclusive insurance product that is designed by golfers for golfers.
The new platinum excess-free package, the first policy of its kind, is offering comprehensive world-wide cover which gives golfers more flexibility, and choice, and ensures they're covered against all eventualities for less than £4.79 per month.
Golf Insurance 4 U offers three levels of protection – silver, gold and platinum, costing £23.99, £39.99 and £57.50 respectively. Every policy also includes a year's free membership to Million Dollar Club where you can take advantage of great offers from a range of partners.
MDC is a membership scheme that delivers a wide range of benefits and offers as well as giving customers the opportunity to save more than £1,250 per year on household shopping bills, while giving the opportunity to earn loyalty points against its golf products, golf breaks, tee times, holidays, events and a new golf insurance cover.
PGA Catalunya is one of the world's leading property developments and boasts two established championship-standard golf courses located near the picturesque town of Girona.
The Stadium course was recently voted the No 1 course in Spain for the third year in a row, while the more sedate Tour course provides constant challenges and spectacular holes to delight players of all levels.
Set among 300 hectares of mature forest woodland, Catalunya is also home to a golf clubhouse, private lounge, restaurant, and residents' club for owners, complete with indoor and outdoor swimming pool and children's pool, indoor spa pool, tennis courts, fitness centre and treatment rooms.
Million Dollar Holdings is a new company that has incorporated Million Dollar Hole in One (MDHIO) along with established tour operators Leisure Link Golf Holidays and Golf Amigos to form one innovative business to create new experiences, events and escapes for golfers across the UK. For more information on the products and to purchase a policy for the chance to win the golf break, visit www.golfinsurance4u.com.
ENDS
Information for journalists
Press release written and distributed by Azalea on behalf of Million Dollar Holdings.
• Million Dollar Holdings is a brand-new company that has been formed from Million Dollar Hole in One and golf travel operators Leisure Link Golf Holidays and Golf Amigo. It will deliver a host of golf services, travel products and new programmes to benefit all golfers, including fully comprehensive, value-for-money insurance cover, together with a range of customer benefits, to give players peace of mind on the course and save money off it.
• Golf Insurance 4U is a brand-new range of insurance products designed by golfers for golfers to protect against any eventuality with three bands of cover – silver, gold and platinum – with the option of an innovative excess-free solution.
• Million Dollar Hole in One competitors win a selection of golf prizes for landing on the green and if they score a hole in one at one of more than 40 courses in Spain and Portugal, they get the chance to shoot for a $1m hole-in-one during an all-expenses paid trip to Las Vegas.
• Leisure Link Golf Holidays and Golf Amigos are both long-established award-winning golf tour operators that have delivered tailor-made golfing holidays to a host of UK and world-wide destinations.
• The people behind Million Dollar Holdings are Martin Tyrrell, Kevin Stowe, Tracy Aslam, Doug Fisher, Jamie O'Doherty, Steve Ingle and Gordon Murray.
For further information or to arrange an interview with any of the founders, please contact Nick Ive on 01730 711920 or email nick@theazaleagroup.com
Follow and Share with Jetsettersblog.