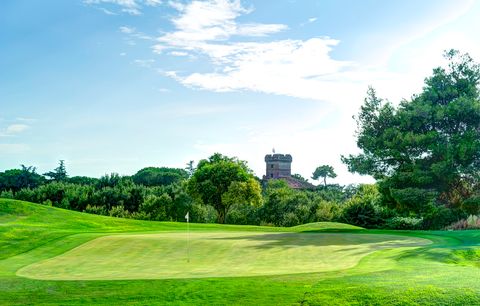 'Up-and-Coming' Italy Is Miles Ahead in Magazine's Golf Awards
---
Italy has been hailed as Europe's best 'up and coming' golf destination in 2017 in the Square Mile magazine golf awards – and Italy Golf & More, the first pan-Italian international promotional golf project, has played a major role in raising its profile. Italy has been hailed as Europe's best 'up and coming' golf destination in 2017 in the Square Mile magazine golf awards – and Italy Golf & More, the first pan-Italian international promotional golf project, has played a major role in raising its profile.
Square Mile, the leading luxury lifestyle publication for the City of London, said in its awards' editorial: "… now is the time to look beyond Italy's vibrant culture and incredible history, and tee it up in this unappreciated European gem."
It added: "Out of Europe's golfing superpowers, Italy is perhaps the most overlooked … the romance and charms of this boot-legged country continue to elude the masses. For those who have enjoyed the fairest fairways in Italy, such a lack of love from the golfing community is a mystery."
With more than 140 18-hole courses, Italy is the ideal destination to combine a golfing break with the chance to experience many other historic, cultural and gastronomic delights.
Recently released figures show the number of international green fees booked in Italy has risen by 40 per cent during the last three years, while recent research for the 2017 World Travel Market found 60 per cent of UK people surveyed would prefer to visit Italy rather other European countries.
With Italy Golf & More leading the way – its collaboration of 12 regions covers 85 per cent of the country's golf courses – and momentum continuing to grow ahead of Italy hosting the Ryder Cup for the first time in 2022, the number of rounds played by international golfers rose by 200,000 between 2014 and 2017.
Bruno Bertero, project co-ordinator for Italy Golf & More, said: "We are delighted that Square Mile has acknowledged the increasing popularity of Italy as a golf destination. There continues to be a real appetite for people to play golf in Italy, which is reflected in the impressive rise in the number of international visitors over recent years.
"Everybody involved with Italy Golf & More has been thrilled with the positive feedback we have received since we launched and we firmly believe the reputation of Italy as a golf destination – and consequently the number of golfing visitors – will continue to grow."
With 20 airports in the UK operating regular flights to all over Italy, the country has never been so accessible, while its warm climate and mixture of mouth-watering cuisine, fine wines, spas, history, culture and beaches make it the perfect location for a golf break.
For further information on Italy Golf & More, please email info@italygolfandmore.com or visit www.italygolfandmore.com 
ENDS
Information for journalists
Press release written and distributed on behalf of Italy Golf & More by the Azalea Group. For media enquiries, please contact Pete Simm on 01730 711920 or email petes@theazaleagroup.com
Italy Golf & More
Italy Golf & More is a collaboration between 12 private sector partner regions, the Italian Golf Federation and the Ministry of Tourism (MIBACT), who have come together to embark on a seven-figure investment to increase awareness, and future golf tourism traffic, from key European markets to Italy.
The partner regions consist of Friuli Venezia Giulia – the leading partner region of the project – Lombardy, Piedmont, Lazio, Veneto, Liguria, Emilia-Romagna, Puglia, Sicily, Sardinia, Marche and Umbria – who together boast 119 of Italy's golf courses – with six further regions falling under the investment of the Italian Golf Federation.
• A high-resolution Italy Golf & More brochure may be downloaded for editorial purposes from www.italygolfandmore.com
• For information from partner regions and the Italian Golf Federation on golf product, package deals and high-resolution images for editorial purposes please contact:
EMILIA-ROMAGNA www.emiliaromagnagolf.com / info@emiliaromagnagolf.com
FRIULI VENEZIA GIULIA (PromoTurismoFVG) www.turismofvg.it and www.turismofvg.it/en/Golf / info@promoturismo.fvg.it
LAZIO (Regione Lazio – Agenzia Regionale del Turismo) www.visitlazio.com / cmanzione@regione.lazio.it 
LIGURIA (Agenzia Regionale per la Promozione Turistica "In Liguria") www.turismoinliguria.it/en/liguria-en/active-holiday/golf-en.html  info@agenziainliguria.it 
LOMBARDY (EXPLORA S.C.P.A) info@in-lombardia.it  / www.in-lombardia.com
PUGLIA (Agenzia regionale del turismo Puglia Promozione) www.agenziapugliapromozione.it  / www.weareinpuglia.it – promozione@viaggaireinpuglia.it
SICILY (Regione Siciliana – Assessorato Regionale Turismo Sport e Spettacolo) www.visitsicily.info  sergio.scaffidi@regione.sicilia.it delreg@federgolfsicilia.it
PIEDMONT www.piemonteitalia.eu / www.federgolfpiemonte.it
VENETO Consorzio di Promozione Turistica Marca Treviso www.golfinveneto.to / info@golfinveneto.to Regione Veneto – Direzione promozione turistica integratapromointegrata@regione.veneto.it
MARCHE www.turismo.marche.it  www.destinazionemarche.it comunicazione.turismo@regione.marche.it
UMBRIA www.umbriatourism.it  mmorosetti@regione.umbria.it
SARDINIA Regional Department of Tourism Handicraft and Trade https://www.sardegnaturismo.it/en  https://www.sardegnaturismo.it/en/sardinia-golfmoretur.promozione@regione.sardegna.it
ITALIAN GOLF FEDERATION www.federgolf.it   / info@federgolf.it
Follow and Share with Jetsettersblog.