Health Resort, Chiva-Som, New Longevity Wellness Offering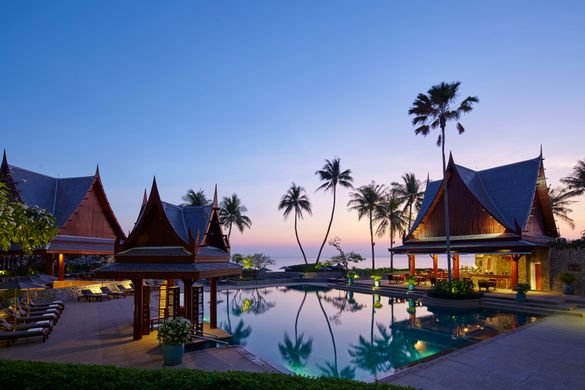 ---
Famed for its exceptional and comprehensive wellness offering, international health resort Chiva-Som has launched a new holistic anti-ageing service. The brand new Longevity Wellness consultation by anti-aging expert, Dr. Pijak Wongvisit, will be available to guests on Tuesday and Wednesday each week.
Dr. Pijak Wongvisit, who specialises in Anti-Aging, Regenerative Medicine and Cell Therapy, is joining the Chiva-Som team to introduce Longevity Therapy to their award-winning retreat offering. In line with Chiva-Som's ethos the therapy is a combination of conventional and alternative medicine.  His healing method goes beyond curing physical symptoms in isolation and introduces a holistic approach to promoting optimal balance and function in all aspects of mind, body and spirit. The ultimate goal is to promote sustainable wellness throughout the ageing process and maintain the best possible quality of life for years to come.
During the Longevity Wellness consultation, guests' current health status is assessed, addressing key contributing aspects to past and present conditions, including genetic and environmental factors, unique life circumstances, as well as noting individual health goals and aims. During this time, specific issues and habits known to provoke premature ageing and resulting age-related health conditions will be tackled, with practical tips offered to support the objectives of increased wellbeing and longevity. Following the consultation, guests will, as always, be provided with a comprehensive personalised wellness plan they can follow and implement in their day to day lives. This integrative and thorough wellness care offering focuses on specific areas which include:
– Prevention of premature ageing and retaining youthful vitality
– Cardiovascular health
– Mental function and reducing the risk of age-related memory decline
– Hormonal balance and metabolism
– Effective weight management
– Revitalising energy and restoring restful sleep
– Preserving muscle and bone health
– Nutrition depletion from prescription medication
The world-renowned health resort reopened its doors earlier this month to reveal the results of its latest six month closure as the penultimate stage of renovations took place. The full refurbishment will be complete in November 2019 when the resort will unveil a brand new and highly-anticipated era of wellness.
A Longevity Wellness Consultation costs 5,500 THB (£130) per 50 minutes session and a follow up session 2,750 THB (£65) per 30 minutes session.
Elegant Resorts offers a 7 night stay from £5,995 per person.  Price is based on two persons sharing an Ocean Deluxe Room on a retreat package including a 50 minute Longevity Wellness Consultation, 3 wellness cuisine meals per night, daily spa treatments, a follow-up consultation and more, economy class flights from London Gatwick with Qatar Airways including private car transfers. Based on 07 March 2019 departure. Valid 6 January – 30 April and 1 November – 19 December 2019. For further information, please contact Elegant Resorts Reservations on 01244 897271 or visit the website.
Chiva-Som Hua Hin is Asia's first comprehensive wellness resort, providing proven transformations towards optimal wellness.  Nestled in seven acres of tranquil grounds, it's a beachfront resort dedicated to revitalising the mind, body and spirit (represented by its tri-part logo).  Western practices and Eastern philosophies are brought together in the wellness resort which provides services for guests to develop healthy habits and lifestyle transformations; it has been recognised by readers and industry experts alike as one of the outstanding wellness resorts in the world for since its launch 23 years ago.
The Resort is committed to operating at the world's highest environmental standards in all levels of operation. Since its launch, the Resort has been dedicated to operating as ethically and sustainably as possible.  Their dedicated CSR team has implemented many initiatives, policies and practices for    energy efficiency and conservation, waste water treatment and reuse, fresh water conservation, waste minimisation and recycling, air quality management and environmentally friendly product usage.
A few other recent awards include:
'Top 5 of Favourite Destination Spas' – 'Condé Nast Traveller Reader's Travel Awards 2017' (India)
'Green Era For Sustainability Award'- Otherways Association Management & Consulting Awards 2017
'Asia's Best Wellness Retreat 2017' and 'Thailand's Best Wellness Retreat 2017' – World Spa Awards 2017 (UK)
'Medi Spa of the year' – Asia Spa Awards 2017
'Outstanding Wellness Spa Destination in Thailand' – Asian Lifestyle Tourism Awards 2017
'Top 6 of the Best Overseas Luxury Health and Wellness Property 2017 (1st Runner up)' – Luxury Travel Award (Australia)
'Best Global Wellness Resort of the Year' – Spa China Awards 2017
'Top 5 of the Top 20 Destination spas, the number 1 Destination spa in Asia' – Condé Nast Traveller's Readers' Travel Awards 2017
'Top 10 International Destination Spa' – Travel & Leisure World's Best Reader's Choice Awards
'Top 3 wellness retreats worldwide (runner up)' – Traveller's World Magazine (Germany)
'The World's Best Destination Spa' – Condé Nast Traveller magazine (UK edition) Readers' Travel Awards 2016
'The Best Overseas Hotel (Top 10)' – Voyage Magazine's 2016 Best Value Awards (China)
"The Best Overseas Hotel (Top 10) 'Best International Small Hotel' and 'Best International Spa Hotel'- International Hotel Awards 2016
'Best Wellness Spa + Health Management resorts around the World' – Conde Nast Traveller China Reader's Choice Awards 2016
'Best Luxury Wellness Resort, Thailand 2016' – Global Brands Magazine Awards 2016
The beachfront resort is located in the town of Hua Hin, which lies 185 km south of the capital of Bangkok. It can be reached by car in under three hours, private plane in 25 minutes from Bangkok and chartered helicopter in 40 minutes from Bangkok.
Follow and Share with Jetsettersblog.