Luxury Family Hotels Tips for Holidaying With Young Children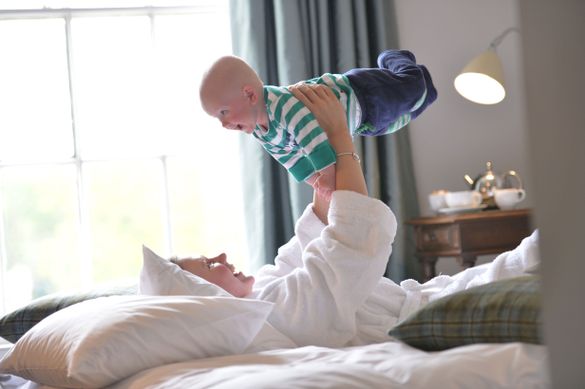 ---
Travelling with newborns and young children can be a challenge, but with Luxury Family Hotels celebrating its 30th Birthday this year, no one knows better than them how to ensure that parents and their children get the most out of their UK holiday.
Top Tips:
If going on a long journey, plan your breaks and suitable feeding stops. It will make the journey less stressful for everyone!
Check that the destination is baby friendly. Many places say that they are 'child friendly' but what they really mean is that they tolerate children. There's a huge difference. If they ask about yours AND your baby's needs when you book in, you can be pretty certain you are on to a winner!
If you choose the right destination you DON'T HAVE TO TAKE THE KITCHEN SINK. Truly baby friendly places provide the lot…bottle sterilisers and warmers, potties, in room fridges, baby cots, baby cutlery, baby beakers etc. It takes all the hassle out of going away and will remind you of pre-baby get-up-and-go times!
If you are wanting a real break, choose a hotel rather than self-catering for an indulgent treat. After all, who deserves this more than new (exhausted) parents. Choose the right family hotel and they will provide freshly pureed baby food, baby listening or sitting (so you can enjoy a date night!) and even offer you childcare in the day so you can actually read the paper or have a relaxing spa treatment.
Check out the menus. Nothing worse than treating yourself to a luxury stay, only to find that family friendly means basic food for mum and dad too!
Do take advantage of midweek offers – you can often get a good deal when holidaying with young children if you can be flexible and take a midweek stay.
Baby's First Stay Away package is ideal for those who can take advantage of a midweek break, particularly as there is no need to come away with everything but the kitchen sink, plus there is milk, pureed food made to order.
All of the Luxury Family Hotels are great places to go for the first time away with a baby without having to worry about disturbing other guests! All the staff are really friendly and hands-on too.
Baby's First Stay Away package includes:
A two-course candlelight dinner each evening for two adults whilst taking advantage of the hotel's complimentary baby listening service
Two hours in the Ofsted-registered creche (called The Den)
A special Baby Breakfast Club so parents can have a lie-in if they wish
A personalised welcome hamper and all the baby equipment needed to ensure the stay is a home away from home
A 30-minute Spa treatment
Rates from £369 for a dinner inclusive two-night break. Suitable for babies 3-18 months.
For bookings, please telephone 0844 482 2152 or visit luxuryfamilyhotels.co.uk
Ends
Luxury Family Hotels
Luxury Family Hotels is a group of five luxurious country house style hotels across the UK.  The properties in the group are:
–        The Ickworth, Suffolk: a magnificent 18th century estate owned by the National Trust, surrounded by 1800 acres of parkland with 27 bedrooms, 11 apartments in The Lodge and a three-bedroom apartment in its Butlers Lodge.
–        Moonfleet Manor, Dorset: a handsome Georgian manor overlooking Chesil Beach and the Fleet Lagoon with 36 bedrooms, extensive gardens and in a magical setting.
–        New Park Manor, The New Forest: a 17th century hunting lodge in the heart of the New Forest reputed to be King Charles II's favourite, with 25 bedrooms, an outstanding spa and wonderful views out over the surrounding wildlife and forest landscape.
–        Woolley Grange, Bradford-on-Avon: the original Luxury Family Hotel, a Jacobean Manor House which has 25 individually styled bedrooms, a great spa and pool and 14 acres of gardens to enjoy complete with tennis, an outdoor pool and lawns just perfect for cricket or football.
–        Fowey Hall, Fowey, Cornwall:  an impressive Queen Anne mansion thought to be Toad's original 'Toad Hall', with 36 rooms, rambling gardens and spectacular views of the estuary and coastline
Each hotel offers all the baby equipment you need from cots, highchairs, books and toys to pureed food, milk warming and a free baby monitoring service, so you can even have the chance to relax and enjoy an adult meal à deux.
Follow and Share with Jetsettersblog.