New Accommodation in Savoie Mont Blanc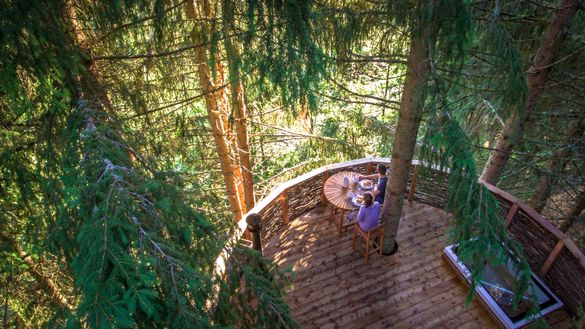 ---
Back to nature
Savoie Mont Blanc has more and more unusual types of accommodation that will delight nature lovers.
Be in a bubble
Close to the pretty village of St Jean d'Aulps in the Portes du Soleil, at the edge of the forest, Les Bulles d'Aulps is opening a third bubble dome.
Nestled in trees, the bubble domes offer cosy accommodation and unique views of the surrounding stunning summits of the Vallée d'Aulps. When night falls, enjoy the magic of the stars in a place where there's total peace and quiet.
From €139 for 2 with breakfast.
http://www.savoie-mont-blanc.com/en/offre/fiche/bulles-d-aulps-capsules/611672
At the foot of the Tête de Bostan in Morzine-Avoriaz, Les Billes des Mines d'or offers luxury accommodation in two giant bubbles. Surrounded by beautiful alpine nature, guests can spot ibex, marmots and chamois.
Each bubble has a bathroom, a terrace and a spa. Breakfast and dinner are served in the bubble or on the terrace.
Treehouses
Between Geneva and Annecy, Les Cabanes du Salève offers several luxury wooden huts. La Cabane perchée des Pitons is a treehouse with a hot tub on its terrace. Les Convers, La Thuile and Les 13 arbres are three wooden huts built in a Canadian style, all beautifully decorated.
La grotte d'Orjobet is a Finnish Kota, ideal for families.
From €140 a night for a hut.
www.lescabanesdusaleve.fr/cabanes-saleve
Located between Megève and La Clusaz, Cabanes Entre Terre et Ciel (meaning 'huts between earth and sky') is another fun place to stay and enjoy nature. Choose between three styles of huts:
Cabane Nid is built like a nest and has a 30 metre-square roof terrace, which is 9 metres high and offers breathtaking views of Mont Blanc.
Cabane Mont-Blanc is a luxury treehouse with a spa and sauna.
Cabane du Ruisseau is the perfect place to stay with children. The hut is accessible via a 12-metre-long rope bridge, and there is a big slide and a play area under the hut.
From €280 for 2 with breakfast.
www.cabanes-entreterreetciel.fr/
New places by the lakes
Savoie Mont Blanc has four large lakes: Lake Geneva, Lake Annecy, Lake Bourget and Lake Aiguebelette. All of them have nice beaches and an average temperature of 24°C in the summer.
Lake Bourget
Lake Bourget is France's largest natural lake.
La Maison des Pêcheurs, located by Lake Bourget at Viviers-du-Lac, has a new owner: Maison Morel. Maison Morel already owns and manages several successful places in the area, including the brasserie of the casino in Aix-les-Bains. The 15 hotel bedrooms are being completely revamped, along with the restaurant's terrace.
Le Week-end Hotel, also located at Viviers-du-Lac, is being renovated; this is along with its restaurant, Les pieds dans l'eau.
The campsite of Sierroz in Aix-les-Bains has seven new 'Cocos' – a new type of cosy and fun accommodation that is in between a tent and a mobile home.
Lake Annecy
Located at the Sources du Lac d'Annecy, the Château de Faverges is a fortified castle turned into a hotel. It boasts 44 beautiful bedrooms as well as three large reception rooms.
Five-star hotel Le Clos des Sens, in Annecy-le-Vieux, has created a new bedroom with a contemporary and cosy design. Part of Relais & Château, this beautiful hotel now has 11 rooms.
The luxury family group Maison Fenestraz is opening an outstanding apartment in a listed building in the centre of Annecy.
The Imperial Palace is a four-star grand hotel by Lake Annecy, and it has totally revamped its suite on the top floor. The interior designer, Marie-Laure Marrel, has kept original features such as the armchairs and the Giogetti bedhead and added some contemporary touches with a Kelly Hopen bath and designed lights.
The suite is 160 metres square with views over the lake.
www.hotel-imperial-palace.com/en
New chalets
Chalets des Grands Montets is a group of three luxury chalets. Two opened in March 2018, and a third one will open this summer. Each chalet has its own style: La Ferme d'Estelle is a typical mountain farmhouse; L'Alpage de Paul is set up like an alpine pasture chalet at the heart of the Mont Blanc Massif; and L'Atelier de Charlotte has the creative atmosphere of an artist's workshop.
The family-run group PVG is opening a new chalet in La Clusaz called Le Chalet de la Douceur. It includes two luxury apartments with a sauna, a steam room and stunning views over the Aravis mountain range.
Follow and Share with Jetsettersblog.